As you read this there is still quite a bit of uncertainty as to when the various professional and collegiate sports leagues and their respective teams will resume play. Some sports may see play begin relatively soon, but without any fans in the stands. For us, that means that big TV screens, immersive sound, both broadcast television and streaming devices as well as streaming devices will, more than ever, be key to enjoying sports as play begins.
One answer, presuming that the weather cooperates, is to bring a TV outside, but for many that is problematic for large screens. Of course, you can install a set specially designed for outdoor installation and use, and there are brands and options that enable you to that. Typically, however, the sets designed for outdoor use, though very capable, have been relatively expensive and have been the sole purview of specialized brands.
That is, until today.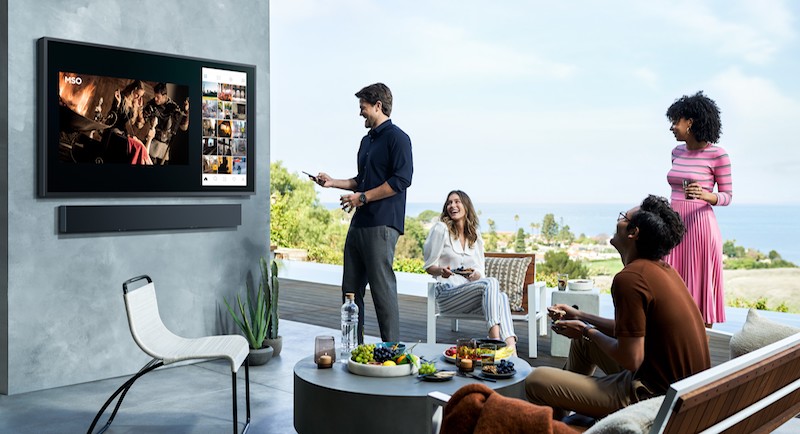 With the unveiling of their new "Terrace" line of products, Samsung has become the first major, legacy brand to offer TVs and a soundbar for outdoor use. This has already become a growing market, even before "safer at home" guidelines and restrictions, and whether by intention or lucky coincidence, Samsung has what may just be the right product at the right time.
An outdoor TV has to be more than just weatherproof, as the Terrace models are IP55-rated for weather and dust resistance. For viewing in bright installations, these 4K QLED models have a brightness level of 2,000 nits under the control of adaptive picture technology that is said to optimize the image for the surroundings. An anti-reflective coating is also there to minimize glare.
Connectivity is also an issue when a display is removed from conventional content sources. Samsung's Terrace models address that with Wi-Fi to access streaming channels, three HDMI 2.1 inputs, and HD-BaseT connectivity that uses Category wiring, presumably run through a conduit for connection to cable boxes, DVRs, streaming devices, optical players, and other sources that remain inside the house.
For many streaming services all that is needed is the broadband connection via Wi-Fi, as the Terrace sets include Samsung's Tizen-powered Smart TV experience that delivers and curates content with Samsung TV Plus and its 120 free linear content channels.
Rounding out the feature set is HDR-10, HDR-10+, and HLG. The latter will be important, as live sports in 4K may make extensive use of that format. Voice control is available using Amazon Alexa, Google Assistant, and Samsung Bixby, with both RS-232 and IP control support available. VESA mounting systems are accommodated for wall mounting.
Three models are available at 75 inches ($6,499), 65 inches ($4,499), and 55 inches ($3,999).
Yes, Terrace sets all have two-channel, 20-watt audio, but in the great outdoors that might not be sufficient. To solve the audio demands, there is also a Terrace Soundbar, obviously designed for outdoor use and carrying the same IP55 rating as the displays.
This is a 3-channel product with 210 watts of power that accommodates both Dolby Digital and DTS Digital Surround sources. For audio content, a wide range of formats including MP3, WMA, AAC, FLAC, and WAV may be decoded. Designed by Samsung's audio team in Valencia, CA, the sound is optimized for outdoor installations.
For outdoor use, connectivity and convenience is key. To eliminate the need for any wiring that might create a problem, both Wi-Fi and Bluetooth are present to match the displays, but an optical digital input is also present. Alexa and SmartThings also may be used for control.
Both a wall mount kit and a Terrace TV mount kit are included, and the MSRP is $1,199.
Put together with a barbeque, some ribs, burgers, chicken, hot dogs, or plant-based burgers, the liquid refreshment of your choice, and some properly spaced deck chairs, an outdoor video/audio system may just be what the sports-starved fan will enjoy until they are able to sit in the stands again.
Samsung's new Terrace products will certainly an interesting new outdoor entertainment option to fill the void left by empty arenas and stadia.