Savant sent me their new Smart Audio WiSA Soundbar 55 bundled with two subwoofers, surround speakers and the new Pro Remote X2. I knew this review would require me to strap on my toolbelt and do some serious custom installation work, but I felt up to the task. I wanted to make sure all their products were all installed and configured as intended.
Savant launched the Smart Audio Soundbar bundle earlier this year as a way to offer a complete home control and audio system solution integrated together (which appears to be an industry exclusive). A Savant dealer can take the speaker bar, Savant Pro Remote Control, mount a TV, and that's it. Nothing else is required. The smart home control host, capable of integration with lights, thermostat, shades, and more, is built-in to the the soundbar. This type of approach is novel and designed to deliver a high selling margin, all-in-one solution for a world where true surround sound installations are much less prevalent and soundbar installations have become the norm.
Unboxing the Savant Smart Audio WiSA Soundbar 55 Bundle
Savant sent me the following:
1 Smart Audio WiSA Soundbar 55 with two WiSA Subs Bundle
1 Pair Smart Audio WiSA Surround Speakers with matching stands
1 Savant Metro Keypad
1 Savant Pro Remote
All the gear showed up packaged in brown cardboard with each piece snugly cocooned in Styrofoam.
I removed the Soundbar first. It's very well built and heavy. The top of the bar features a recessed track where the included VESA mount adapters attach. I proceeded to lay out the rest of the pieces and parts to get it ready for mounting.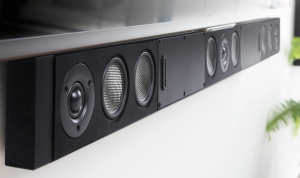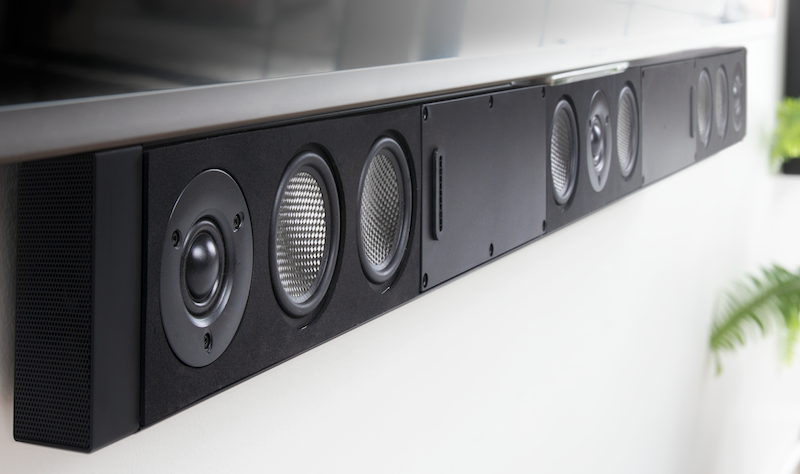 Installation and Configuration
I decided to pair the soundbar with a wall-mounted 65-inch Sony 4K TV and Apple TV. Savant touts its Apple-approved Siri voice integration with the Pro Remote X2, and I wanted to put that to the test.
I know these products are meant to be installed by Savant dealers, but I was surprised there weren't any instructions included showing how the VESA mount adapters should attach. I eventually settled on a configuration which may or may not be Savant approved, but it's not coming down anytime soon!
After fishing the cabling and installing the soundbar on the wall, I dressed all the wire and installed the source components. In addition to the Apple TV 4K, I added in an Xbox One and a gaming port for my kids' myriad throwback video game systems.
Savant's National Retail Sales Manager, Aaron Gutin, set up a call where he guided me through the programming process. I watched as he zipped through Savant's RacePoint Blueprint software, digitally rendering my physical connections. After a few minutes, he asked me to test the setup and, voila! It all just started working. I've been installing technology a long time and seldom do things just work seamlessly the first time.
I sent a test tone through all of the WiSA speakers after pairing them to the system and was impressed by how easy the setup process went. I pulled up a Dolby 5.1 surround sound demo and my jaw dropped. This simple speaker bar system with wireless surrounds and subwoofers produced an amazing sound profile, including a low end that shook my floor joists.
Aaron assured me the subwoofers would never bottom out, and the tuning capabilities of the system were on par with any high-end sound system. I saw this for myself as we both looked at the speaker bar's web interface, where channel level settings are easily adjusted. The Smart Audio Soundbar defaults to playing "all-channel stereo" unless overridden by another digital signal. I'm sure this was intended to drive down service calls where customers complain about the rear speakers not working. I demoed a few movies, including the Ready Player One, U2: Vertigo 2005 // Live from Chicago, and 1917. Spoken dialogue was crystal clear and easy to discern with action scenes appropriately imaged to maximize true surround sound. Savant has sound modes slated for a future release, which will come in handy for customers wanting to switch between two-channel and full-surround listening on the fly.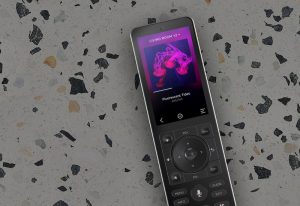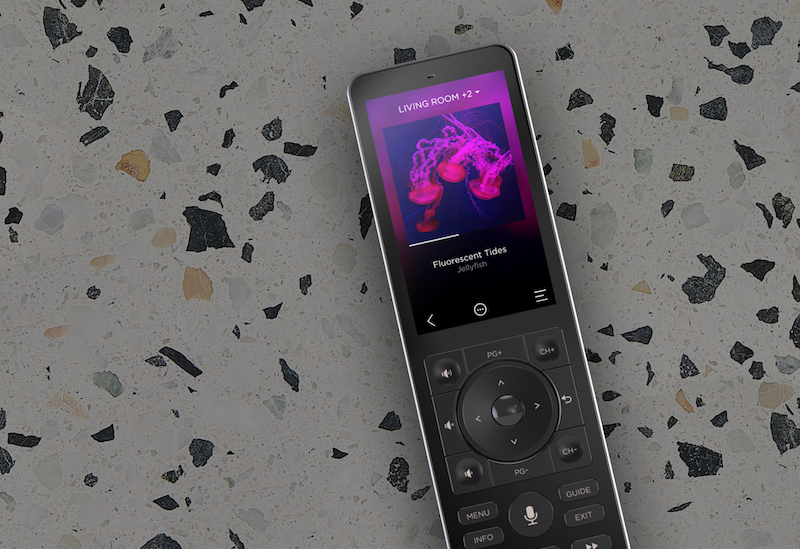 I paired the Pro Remote X2 with the Apple TV 4K via Apple's HomeKit and began testing the Siri integration via the microphone button on the handheld. A press and hold yielded fast voice recognition and global searching throughout the Apple TV. It's the first time I've seen a universal remote from the CI channel do voice search well. This feature alone sets Savant in a completely different category from its competitors. When combined with Savant's slick app user experience (the component iconography on the remotes is clean and well designed), it's clear a new bar has been set (no pun intended).
Aaron also walked me through the creation of "Savant Scenes" within the app. A huge standout here appears that the homeowner can do a lot on their own without needing to call their dealer. I set the lighting, turned on some music and chose to capture a scene based on those settings. Most other control systems make you program scenes from scratch, so having a way to capture current settings (like the way the lights and audio should be set before a party) puts a tremendous amount of autonomy in the hands of Savant's end users.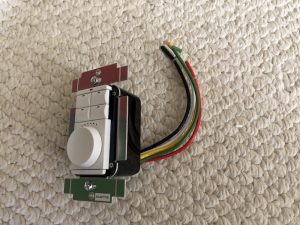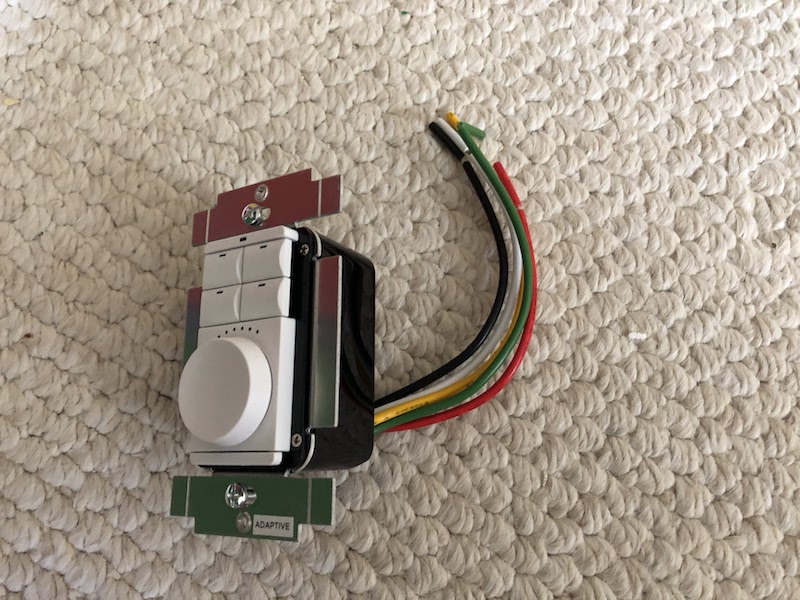 Engagement is the key to ongoing enjoyment of any system, and Savant shows off its user experience design chops with features like "Savant Scenes." I labeled the scene within the app and set one of the Metro keypad buttons to turn it on and off. It felt very empowering to accomplish all of these activities within Savant's app without needing to "phone a friend." Other control system companies would do well to take note.
Final Report on the Smart Audio WiSA Soundbar 55 Bundle
Savant appears to be obsessed with customer experience and usability. This obsession has paid off with the debut of the Smart Audio WiSA Soundbar 55. I highly recommend taking another look at Savant if it's been a while. The company appears to be quietly going about their business and building a loyal following one raving fan at a time. This soundbar bundle (MSRP from $3,000) is a killer one-room solution, and I can see dealers using it to help their customers dip a toe into the Savant ecosystem and expand from there.