This week, Savant is reaching out to all current owners of its smart home systems to let them know about upgrade opportunities available from their custom integrator. Upgrades can be delivered remotely using Savant's cloud tools or during a safe, professional visit from integrators who are considered essential workers by the federal government.
The campaign highlights the availability of the Savant App, which turns a TV screen into a giant Savant control interface via Apple TV and the soon-to-ship Pro Remote X2 remote control. For each premium-finish Pro Remote X2 purchased, Savant will donate a portion of proceeds to the COVID-19 relief effort.
"We've worked hard coming up with a thoughtful way to drive business for the integration channel in a safe and considerate way during this pandemic," explained Savant President JC Murphy.
Murphy acknowledged that the custom integration industry, while deemed an essential infrastructure workforce by the federal government, is experiencing the pandemic shutdown in wildly different ways, depending on their location.
"Each Savant integrator is handling their business and local circumstances differently, and Savant is supporting them all as these regional scenarios evolve," Murphy noted. "Some integrators have reported that they have been supporting consumers who have requested enhanced connectivity and security during these challenging times."
Savant hopes to help drive even more business from consumers to their integrators, whether remotely (via the cloud) or in person.
In addition to reminding consumers that many custom integrators are still hard at work and available to them, they also are explaining how Savant's investment in a cloud infrastructure over the last three years enables certain component upgrades to occur remotely.
"If there's an opportunity to go into the home, then that's great," Murphy said. "But there are also a couple of products that dealers can preload and send to their clients that they can plug in themselves. The Savant Home app is exciting and so is the new X2 remote."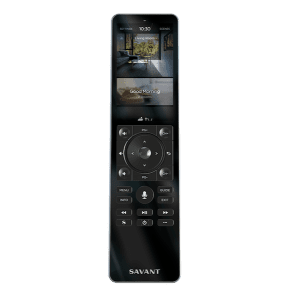 The Savant X2 delivers a full range of control for Services and Scenes, including Entertainment, Lighting, Climate, and Shades. It also includes Siri voice control, color control with Savant TrueImage lighting, plus the ability to select different video tiling layouts right from the screen.
The new remote empowers users to personalize the smart remote experience, including adding and organizing icons for control of Favorite Services, Favorite Channels, and Savant Scenes. The X2 remote can be tailored for the functionality of the room or to the individual user, making interaction with smart home features a breeze for every member of the family. The Savant Pro Remote X2 is also designed to provide users with quick access to the all-new Savant Home App for Apple TV, a groundbreaking smart home control center displayed on a TV screen.
The X2 features an all-aluminum chassis, backlit buttons, and a 3.1-inch high-resolution glass touch screen. The standard finish is called Space Gray, and the two premium finishes are Rose Gold and Jet Black (with a portion of proceeds going to COVID-19 relief).
After launching their direct-to-consumer outreach this week, Savant is encouraging its dealers to take advantage of a One Firefly campaign that the company is also funding to enable personalized communication from integrators to their clients, further promoting their availability and upgrade opportunities.
"We're funding this One Firefly template, so all of our dealers can send out three different thoughtful communications over the next couple of months to reinforce our messages," Murphy added. "We're also reminding end users about the features that they can do for themselves, such as Savant Scenes, which gives them the ability to build a scene on their own, inside the app. We want them to know that there's another way they can get even more use out of their Savant system."