Seymour-Screen Excellence is now shipping TRIM, a fixed-frame motorized masking film screen that was designed as a more affordable home theater solution. The system is offered in 1.78 and 2.40 aspect ratios from 90- to 150-inches wide and in custom sizes. It is available with the company's 4K Enlightor Neo acoustically transparent and 16K light-rejecting Ambient-Visionaire surfaces, as well as its Radiant White and Gray series.
Seymour-Screen Excellence's flagship True Aspect Masking (TAM) systems can be configured as either constant height (native 2.40 format with side motorized masking) or constant width (1.78 format with top and bottom masking). The masking panels are finished in a sheer black speaker grille material for acoustical transparency.
For home theater enthusiasts that aspire to this same kind of Hollywood screening room experience yet have a more modest home theater budget, Managing Director Chris Seymour devised the TRIM series. TRIM provides the same kind of 2-way masking control and performance yet at half the cost of TAM.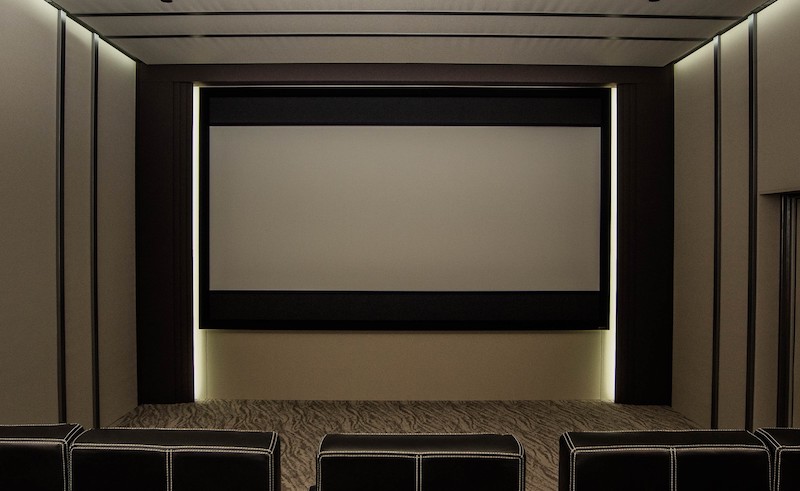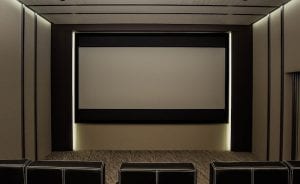 "For TRIM we designed our Infinite Black borders to be removable. This makes it possible to ship the entire system nestled in a cardboard box," Seymour said. "This significantly reduces cost because we don't have to ship in wooden crates like we do with the TAMs, which on average weigh 700 pounds and require up to three days to build. It also gives the option that if the velvet border gets damaged, the panels can be inexpensively repaired or replaced."
Seymour further brought costs down by opting for DC motors to drive TRIM's masking assemblies. They can be independently controlled via IR receiver, trigger, dry contact, RF, RS-232, Ethernet, or Z-wave.
TRIM is available in 1.78 aspect ratio with horizontal motorized masking or 2.40 with lateral motorized masking. Widths range from 90- to 150-inches wide with custom sizes also available. TRIM's borders measure 3.7-inches wide and are finished in the company's lush Infinite Black velvet borders. The Enlightor acoustically transparent fabric screen surfaces attach with either grip-channel or posts. The Ambient-Visionaire and Radiant screen surfaces attach by either grommets or O-rings.
TRIM is shipping now. MSRP spans $5,000 to $10,000 depending on size, and before motor and control accessories and installation costs.