The one thing you can be sure of is that at some point in time a product will stop working properly and smart home products are no exception. According to Parks Associates, "33% of consumer electronics device owners report experiencing problems with their device over the past year." To make matters worse, because of the technology in smart home products, the issue may not be that the product is truly broken; it could be that:
A new software update has caused the product to not work properly
There is an unintended interaction with another smart home product in your home
An issue with a cloud service is affecting the operation of the device
Any number of other possible causes
The complexity of these devices, and how other devices in a home can affect their operation, will leave the average person banging their head against the wall when faced with an issue in their home.
To make matters worse, when calling the manufacturer's tech support for the product having an issue, a homeowner can find themselves in a game of finger pointing where tech support claims the issue the homeowner is facing is really due to another product in their home. Calling tech support for the other product results in finger pointing back to the original product leaving the homeowner caught in the middle.
To be honest, this is why people with the financial means have had their smart home systems installed by professional smart home integration companies. They have the expertise, and experience, to create a seamless ecosystem out of products from multiple manufacturers and to support the system when there are problems. However, that expertise comes with a price tag that puts working with these firms out of reach of many people that desire to create a smart home.
Fortunately, there are now options for homeowners seeking support for their smart home when something isn't working properly.
Support.com is not a household name. However, they have been in the business of providing technical support for over 20 years and have a staff of over 1000 tech support professionals called Tech Pros. Further, they will provide support on almost any device in a home no matter where, or when, the homeowner purchased it. This includes smart home products, PCs running Windows (versions 7 through 10), Macs, Smart TVs, printers, routers, smart phones, home theater components, gaming systems, and more.
Some examples of common tasks that a tech support professional at Support.com performs are:
Virus removal
Operating installation assistance on a Windows or Mac computer
Setting up backups on a Windows or Mac computer
Computer software troubleshooting
Home network setup and security
Troubleshooting problems with apps and syncing on a smart phone, tablet, or other connected device
Setup and troubleshooting problems with a smart home devices such as Ring doorbells, Nest thermostats, Fitbits, and more
Consumers can obtain support two ways:
Using, free, online, step by step, diagnostic tools called Guided Paths ®
A paid monthly subscription for unlimited support over the phone, chat, or virtual house call
I explored the Guided Paths trying several different smart home questions and found good depth to solutions they offered a consumer. For example, in the online form on the Support.com web site I entered "My Nest thermostat isn't turning on my heat." I received a number of different guides to choose from including:
How to reset a Nest Smart Thermostat
How to keep a Nest Smart Thermostat secure
How to install the Nest app
How to fix issues on a Nest Smart Thermostat
How to set up a Nest Smart Thermostat
How to connect a Nest Smart Thermostat to WiFi
And more
Again, I want to stress, that this online tool is available to anyone to use for free. Support.com only charges for phone and chat support with a professional tech support person, and you can even schedule a time that is convenient to have the Tech Pro call you for support.
There are several options for phone and chat support with a professional:
$59.99 for support for a single issue with a single device
$9.99 a month (no minimum commitment) for 24/7 unlimited support for all the devices in your home
$99.99 for a year of unlimited 24/7 support for all the devices in your home
Talking on the phone with someone only goes so far when trying to solve a technical problem with a smart device in your home. To overcome this limitation the Support.com Tech Pro can, with the customer's permission, perform a "virtual house call." The Tech Pro, using proprietary software, does a remote connection to the customer's computer so the Tech Pro can connect to other smart devices in the home to solve issues; all while the homeowner is watching what is being done. For solving problems with devices, such as a smart TV, whose menu system isn't available through a computer, the Tech Pro uses Support.com's proprietary SeeSupport software. This software works with the customer's phone, or tablet, to share video and images with the Tech Pro. The Tech Pro can then lead the customer through the process of fixing the issue and can even annotate an image to help the customer through the process.
If it is determined that a device in the customer's home is faulty, and needs to be repaired, the Support.com Tech Pro can only do so much. Support.com doesn't offer repair services so the Tech Pro can only:
Advise the customer to check the return policy at the store where the device was purchased
Advise the customer to contact the manufacturer, or extended warranty provider, if the product is under warranty
If the device is out of warranty, then the customer has to determine if it is worth repairing. If the device is worth repairing then it is up to the customer to find a reputable, local repair facility. Support.com doesn't maintain a database of repair facilities and their services don't include helping a customer to locate one.
However, these days, the nature of smart devices is that innovations are happening so fast that if a product breaks, after the warranty period has expired, it may be better to replace the item than to repair it. The rapid advances in technology have lead to this disposable economy we live in today.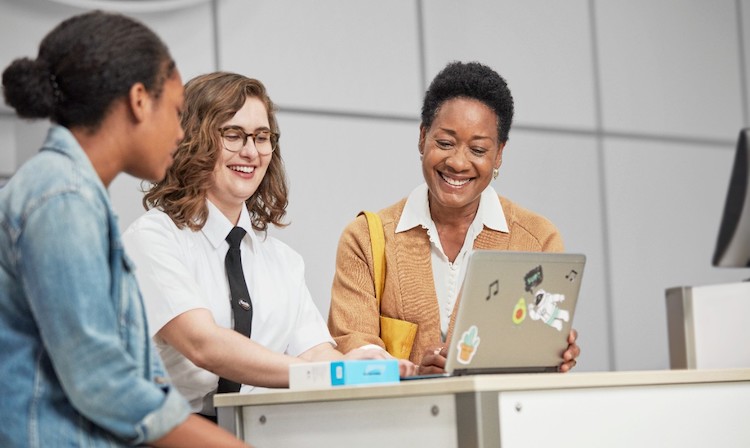 Best Buy, on the other hand, is a household name. Most customers are aware that Best Buy's "Geek Squad" is available for in home services, such as mounting a TV on the wall. However, most people aren't aware that Best Buy offers much broader, subscription based, support services.
A membership in Best Buy's Total Tech Support provides a customer with support for all the technology in a home, no matter where they purchased it, for $199.99 per year. A Best Buy Total Tech Support subscription includes three tiers of support:
Phone support to solve problems with any technology based product in your home
In store services, available by appointment, for additional services, such as installing a new radio, GPS, amplifier, or speaker in your car.  And, more.
Discounted price on in home services.
Once you are a member of the Best Buy Total Tech Support program, for the discounted price of $49.99 (per service) a Geek Squad member can visit your home for:
Home Theater Installation and Setup
Appliance Installation, Setup and Haul-Away
Connected Home Installation, Setup, and Troubleshooting
Computer Support
Members also receive a 20% discount on advanced services including:
Home Theater – Advanced Wire Running, Advanced TV Mounting, Advanced Speaker Installation, and More…
Wired Camera Installation
Appliances – Advanced Cooktop Installation, Advanced Wall Oven Built-In, Built-In Refrigerator Installation, and More…
Car Electronics – Advanced Marine/Motorcycle/Off-Road Vehicle/Golf Cart Installation, and More…
Mobile Phones – Battery Replacement, Screen Repair, Component Repair
Finally, besides all the above services members receive:
20% Off Geek Squad & AppleCare Protection Plans
Free Internet Security Software for Up To Ten Devices
Similar to Support.com, a Geek Squad member can remotely connect to the customer's computer to access various devices on a customer's network; or to address issues with the network itself. In fact, according to Matthew Smith at Best Buy, the majority of smart home problems that Best Buy helps customers with turn out to be issues with the customer's network; not with the smart home product itself.
Both Support.com and Best Buy provide people with a reasonably priced, comprehensive program, of support services. Support.com's membership is less expensive than Best Buy's Total Tech Support program. However, Best Buy offers members both in store and discounted in home services for those that need additional assistance. Which of these two programs is best for you depends on your technical expertise and your needs.
So, if your smart home starts acting as if it is haunted, with lights turning on, and off, or your thermostat causing icy temperatures inside, you have a choice of people to call to help solve the problem and exorcise the demons.