A smart home water monitor and leak detector is an incredibly useful technology to include in a smart home. From an environmental standpoint, according to the U.S. Environmental Protection Agency, the average household's leaks can account for nearly 10,000 gallons of water wasted every year and 10 percent of homes have leaks that waste 90 gallons or more per day." Not only is that money wasted on a water bill but, according to Home Advisor, the cost to repair and cleanup water damage can, typically, run between $1,151 and $4,753.
Even worse, a serious leak, for example from a frozen pipe that bursts, can occur when a family is away from their home or on vacation. The resulting damage can even be more extensive, and the resulting repairs can cost much more. The new Flume 2 Smart Home Water Monitor is an innovative tool for monitoring residential water usage and detecting leaks.
Flume was founded in 2015 during the height of California's historic drought, and they released the initial version of their smart home water monitor in 2016. (Check out Henry Clifford's review of the original Flume product here.) Flume's 2020 second-generation update consists of two parts, the Flume 2 Sensor unit that is installed by simply strapping it to the home's water meter and the Flume 2 Bridge that connects to the home's Wi-Fi network and wirelessly connects to the Flume Sensor.
The Flume 2 Sensor is powered by four AA lithium batteries, which will last around two to three years. This simplifies the installation because, unlike most other water monitors, the Flume 2 Sensor doesn't have to be powered by plugging it into an outlet. An additional feature that simplifies installation is that the Flume Sensor communicates with the Bridge over a 915 MHz link. This allows the Flume 2 Sensor to be located up to 1,000 feet from the Bridge.
Flume 2 measures the water being used in the home using the same technique that was leveraged in the original Flume Smart Home Water Monitor. When water flows through a water meter, it spins a magnetic disc inside the meter. The faster the flow of water through the meter the faster the disc spins. The Flume 2 Sensor measures the magnetic field from the spinning disc to determine the flow of water.
On the one hand, Flume's measurement technology makes Flume 2 Smart Home Water Monitor very simple to install – simply strap it to an existing water meter using one of the included rubber straps. However, it does limit the sensitivity of the Flume 2 Sensor to the sensitivity of the water meter that happens to be installed at a home. Depending on the water meter, Flume 2 Smart Home Water Monitor can detect leaks of between 0.01 gallons to 0.08 gallons per minute. In comparison, the Flo by Moen leak detector is capable of detecting a leak as small as a single drop per minute. However, the Flo by Moen requires that the main water line to the home be cut for installation, a task most would feel more comfortable handing off to a plumber, adding significantly to the cost of the device.
Flume 2 Smart Home Water Monitor offers a number of improvements over the original Flume Smart Home Water Monitor:
The batteries last twice as long and are easier to replace
It stores the water data it collects for up to 60 days so in the event of a Wi-Fi outage none of the data is lost
There is a stronger, more reliable connection between the Flume 2 Bridge and the Flume 2 Sensor to ensure there aren't any interruptions in communications.
The design of the Sensor has been improved to be more durable
It can detect the difference between water used for irrigation and water used inside the home to better pinpoint opportunities for savings and make it easier to catch leaks
It provides improved insight into your past and current water use, helping to save water and money
It works with 98% of residential water meters installed in the U.S.; a significant increase over the first-generation Flume Smart Home Water Monitor.
Coming in 2021, it will be able to use AI to identify the specific appliance and fixture in the home that is using water. Water usage reports will then be able to be broken down by each appliance/fixture to provide homeowners with a more detailed understanding of how water is being used. Flume hasn't announced if this will be a free service (as is done by Phyn with their leak detection product) or as an add-on, paid service (as is done by Moen with their Flo by Moen leak detector)
It should be noted that Flume does more than just sell their smart home water monitors to consumers. Flume partners with utilities that provide drinking water to homeowners and businesses so these utilities can lower the demand for water by their customers. They do this by supplying customers with Flume Smart Home Water Monitors. Some utilities that have partnered with Flume are the San Antonio Water System, California American Water, Round Rock Texas Utilities and Environmental Services, and others. A full list of Flume's partners can be found here. If your water utility is on the list there may be rebates available on your purchase of a Flume 2.
Hands on with Flume 2 Smart Home Water Monitor
Flume 2 comes packaged in a simple, recyclable, corrugated cardboard box. Included are:
Flume 2 Sensor and batteries
Flume 2 Bridge and a plug-in power supply
Two alternative straps for attaching the Flume 2 Sensor to your water meter
Gloves to protect your hands from dirt and grime when working around your water meter during installation
A plastic T-Handle tool to assist a homeowner in lifting the cover off their water meter
Instructions printed on the box to download the app; which will walk you through the installation process
Flume 2 is very easy to install, though I ran into a unique challenge because of where I live. More on that later.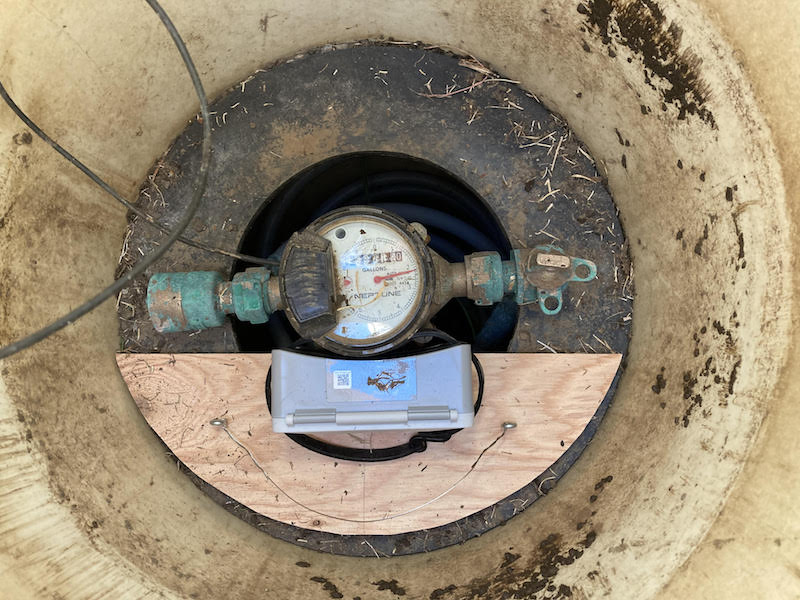 Flume offers apps for both iOS and Android. After downloading the Flume App from the appropriate app store and giving the app the usual permissions to send you notifications, etc. you will need to create an account. The account will allow you to view your water usage data on multiple devices as well as view your data when you login to the Flume web site.
Next, the app will ask you to describe the location where Flume 2 is installed. This includes providing a name for the location (Flume 2 supports homeowners with multiple properties and a water monitor installed at each one), address, name of the insurance company (Flume works with a few insurance companies who sometimes provide discounted rates to customers that have installed a Flume 2 Smart Home Water Monitor), building type, the type of irrigation system (soaker hose, sprinkler system, etc.), how often the lawn is irrigated, the number of people living in the home, the number of bathrooms, and whether there is a pool.
Next, you will need to simply scan the QR codes on both the Flume 2 Sensor and Bridge. This allows the Flume 2 Bridge to identify the Sensor it is receiving a signal from and to link the Bridge with your account.
At this point, you need to plug in the Bridge. After the Bridge boots up it will begin to broadcast its own Wi-Fi SSID. You then connect to that SSID with your smart phone and go through the process of connecting the Bridge to your own Wi-Fi network by selecting the network from the list of available ones and providing the Bridge with your Wi-Fi password. Once the Bridge is connected to your Wi-Fi network, it will also connect to the Flume 2 Sensor.
The next step is to take a clear photo of your water meter using the smart phone you are running the Flume app on. This photo is automatically uploaded to Flume. Flume will use it to identify the specific make/model of your water meter. As I described earlier, the Flume 2 Sensor works by sensing the magnetic field created by the water meter as water flows through it to your home. Depending on the make/model of the meter, different amounts of water will have flowed through the meter for each change in the magnetic field that the Sensor detects. Correctly identifying the meter is critical for Flume 2 to provide an accurate measurement of your water use.
The photo I initially took wasn't clear enough to identify the meter. Through the messaging section of the Flume app, I was contacted by Flume support to take another picture of the meter so they could try to identify my water meter.
The next step is to fasten the Flume 2 Sensor to your water meter using the attached rubber strap. This is where I ran into problems. Most people's water meters are reasonably accessible. I happen to live high in the mountains in the western U.S. where it can get very cold during the winter. To keep the water in my meter from freezing, it is located at the bottom of a four-foot deep, 18-inch diameter pit with an eight-inch thick foam insulator placed on top of the meter. There was no possibility of my reaching down to strap the Flume 2 Sensor to my meter.
To work around this problem, I cut a piece of plywood to form a shelf that I was able to lower down next to the meter. I then lowered the Flume 2 Sensor down onto the shelf and pushed as close as possible to the meter. This turned out to be close enough for the Sensor to measure the magnetic field created by water flowing through the meter and everything worked fine.
With the Sensor installed you next have to turn on a faucet in your home, so the water is flowing. Then the system goes through a calibration process that, according to Flume, "allows Flume 2 to learn how to read the homeowner's specific meter based on the magnetic waves generated by the meter when water is running. Flume uses a number of proprietary measures to ensure accuracy in reading a meter and translating that information into actionable data."
After the calibration process is complete (it only takes a minute or two) the Flume App created two alerts based on the information I had provided about my irrigation system and the number of people in my home. In my case these alerts included notification if water is running longer than my longest irrigation system cycle and notification if water is running at a rate of five gallons per minute for 15 minutes. These alerts can be edited, or deleted, in either the Flume App or through the web interface.
An interesting feature of Flume 2 Smart Home Water Monitor is that it includes the ability to specify both emergency contacts and additional authorized users. For example, a vacation home might have a property manager that monitors the property when it is vacant or rented. This person could be specified as an authorized user so they can monitor water usage at the property. In addition, a homeowner could specify a friend, or neighbor, as an emergency contact. This person wouldn't have access to all the water usage information but would be notified in the event of a leak when the homeowners are away. These are both very useful features.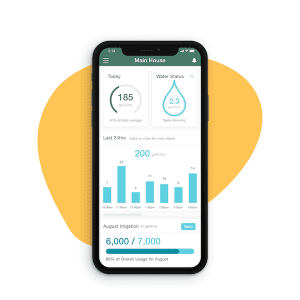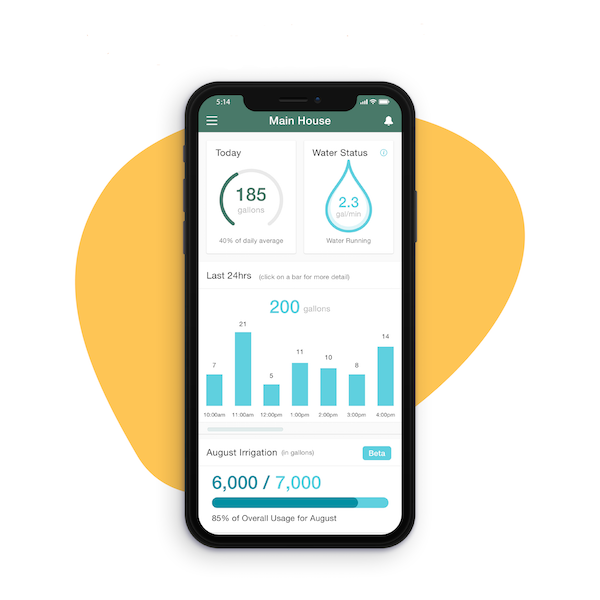 Finally, you are taken through a quick tour of the different features of Flume 2 Smart Home Water Monitor and the associated Flume App including:
The ability to view up to the minute status
The dashboard that provides a detailed view of water usage, notifications, Sensor battery level, settings, and the ability to contact Flume
Notifications for leaks, how water usage is doing against the budgeted amount, and signal loss
The web portal that provides the same views of water usage data, the ability to view notifications that have occurred, and the ability to adjust settings
The availability of a public applications programming interface (API)
The app and the web portal make it easy to monitor your water usage. The dashboard is especially useful at providing a snapshot of water usage in a home. You can view a bar graph of water usage each hour over the last 24 hours, whether water is currently running and if so at what rate, how you are doing against your weekly water usage budget, and any recent notifications that have occurred.
With this information you can quickly see, for example, how much water is being used when someone takes a shower. Then, to save water, you can either work to change a family member's behavior or make an informed decision on the impact of purchasing a new, low-flow shower head. Flume claims that after installing a Flume Smart Home Water Monitor that the average user reduces their water consumption by 10 percent.
The Flume 2 App allows you to dive into the details of your water usage. First, as I said above, the dashboard shows you a bar graph of your water usage each hour over the last 24 hours. Tapping on the graph changes to a minute-by-minute view of your water usage.
In addition, the detailed view of water usage allows you to view water usage data by hour, day, week, month, or year. In addition, you can choose to optionally include water used for irrigation in the graph and graphically compare your water usage to similar households.
All this gives a homeowner a unique insight into their water usage. It provides a very useful tool for saving water and therefore money on their water bill.
It is important to note that I was not able to test the capability of Flume 2 to differentiate between water flows to interior appliances/fixtures versus water flow to an irrigation system. With nighttime temperatures here in the mountains already dropping down into single digits, my irrigation system has been shut down for some time.
Smart Home Integration for Flume 2
Since the introduction of the original Flume Smart Home Water Monitor Flume has published an open API for smart home integration, which is a step I highly applaud. Unfortunately, because the company took extra steps to create a very secure API, that has made it challenging to work with for many programmers. Because of this I'm only aware of two smart home platforms that have been integrated with Flume Smart Home Water Monitor: SmartThings and Home Assistant.
The API provides the ability to query water usage data in many different ways. While this could be very useful to someone very interested in looking at their data in detail to try and find ways to save water, it doesn't provide the two features that would be of most use when integrating Flume 2 with a smart home processor/hub:
A water leak notification so the smart home processor/hub could automatically shut off a motorized water valve to stop water from leaking into the home and causing damage
The ability to automatically enable/disable away mode when the homeowners are away and can't address the emergency. The emergency contact is only sent usage alerts when Flume 2 is set to away mode and setting Flume 2 to away mode can only be done manually in the app. A homeowner could easily forget to do this in the rush that usually takes place while preparing to leave on a vacation or business trip. The ability to set Flume 2 to away mode needs to be integrated into a smart home. For example, setting the home's alarm system, which is integrated with the home's smart home processor/hub, to vacation mode could automatically inform Flume 2 to enable away mode. Another way this might be accomplished is to use location information from family members' smart phones. When all the family members are over, for example, 50 miles from home, away mode could automatically be enabled. When family members return and are close to home, away mode could automatically be disabled. Again, this could all be done through integration with a smart home processor/hub.
It would be ideal if these actions were integrated locally through the Flume 2 Bridge so, for example, an internet outage wouldn't impact the system's ability to have the water supply shut off in the event of a leak. And, the smart home processor could inform the Flume 2 Bridge when away mode is enabled/disabled. If there was an internet outage at that exact time, the Bridge would hold that information, as it does with water usage data, and upload the information to the Flume cloud as soon as internet access is restored.
In addition, performing these integrations between a smart home processor/hub and the Flume Bridge on the homeowner's local network would lessen the security needed compared to these actions being enabled through a cloud service, which has limited the current the number of smart home platforms integrated with Flume Smart Home Water Monitor.
Flume 2 Pros and Cons
Flume 2 Smart Home Water Monitor is very easy to install and provides very good insight into water usage in a home. This insight will be even further improved in 2021 when Flume releases the ability for the system to provide water usage information for each fixture/appliance in a home.
There are, however, some ways I think Flume 2 Smart Home Water Monitor can be improved.
It needs to include the ability to trigger a motorized valve to shut off the flow of water in a home when a leak is detected to minimize damage. If this was done as described above through integration with a smart home hub, then a device like the Dome Z-Wave Water Valve Actuator would be an easy to install solution. I believe it would also expand the ability of homeowners to get reduced rates on their homeowner's insurance when a Flume 2 is installed.
It would be nice if signal strength between the Sensor and Bridge was displayed in the app so the homeowner would know the impact of positioning the Bridge in different locations in their home.
The Flume 2 App is designed for a smart phone and locked in portrait mode. For use on a tablet it would be nice if it would support rotation to landscape mode. In many cases, people with tablets have a keyboard attached to them which makes using the tablet in portrait mode problematic.
The outdoor leak rule is too simplistic. It is just based on the amount of time that Flume 2 detects that water is flowing to the irrigation system. Instead, Flume 2 should have a homeowner walk through sending water to each of the irrigation systems zones so it can measure the flow rate. Then, if Flume 2 determines that water is being used by the irrigation system and the flow is too high it should report this as a leak instead of simply looking for water usage beyond the time of the longest sprinkler cycle.
As a further argument for this approach the timing of irrigation cycles can be problematic when an intelligent irrigation controller is automatically adjusting the time it waters a lawn based on weather conditions. So, the amount of time it takes to properly irrigate a lawn in August, when it is typically very hot and dry, is much greater than in the spring when it is cooler and typically raining quite a bit.
While most people live in urban and suburban settings where their water use is metered there are a great many people who live in rural settings where their water comes from a well. There are too many technological developments that have ignored this population. It would be nice if Flume developed a sensor that worked for homeowners that use well water and would the provide the same leak detection capabilities in rural areas of the country.
As I described above, easier integration with smart home processors/hubs of leak notifications and the ability to enable/disable away mode.
Conclusions – Flume 2 Smart Home Water Monitor
Flume 2 Smart Home Water Monitor is a great tool for a family to monitor water usage in their home and save money on their monthly water bills. It isn't the most sensitive leak detector on the market, but it is certainly one of the simplest for a homeowner to install. The product's one significant drawback is that it doesn't include the ability to trigger a smart home processor/hub when a leak occurs so a motorized valve can be closed, minimizing the damage from a leak. Instead, it simply notifies the homeowner or emergency contact of the issue and relies on them to address the problem.