Security industry players are working to overcome or minimize the impact of limitations that may affect system performance in the case of an emergency. Lower costs for more sophisticated devices are making solutions more available, and new innovations are coming to the market.
Camera technology has increased even while costs for these devices have come down. Video doorbells are a product category that is less than 10 years old and has already seen significant improvement. Just a few years ago, Ring and Nest doorbells had 720p resolution and are now 1080p or even 4K with substantial enhancements in motion detection. Some models have expanded their audio data gathering to a three-microphone array.
These more powerful cameras at the access points can better surveil the home's exterior, and even more, cameras can be placed in the yards, gardens, and driveways as they are incorporated into more outdoor devices.
Vivint's outdoor camera pro, for example, uses the edge power of its Ambarella chipset to perform video analytics rapidly so suspicious activity can be met with voice messaging or lights as a warning and potential deterrent. Outdoor floodlights with cameras such as those offered by Google Nest can provide more information on a security event than the more common outdoor light with a motion detector.
There are also new monitoring technologies that can contribute to a home security solution in the interior of the home. Radar devices can monitor movement patterns inside the house without creating a privacy concern because the device is not truly listening or watching. Wi-Fi and RF-based sensing software can leverage existing connected devices to detect motion in and around the home.
False alarms are a source of frustration, regardless of the type of alarm, for both homeowners and small-to-medium businesses. Many states and municipalities have put forward initiatives to fine security providers for false alarms instead of home dwellers, and many existing laws require some form of prior verification of a real emergency before contacting emergency responders, which can further delay onsite arrival for true emergencies. The security industry has scored some recent wins against these local false-alarm fines, with several states banning local municipalities from fining security providers for the false alarms caused by their customers, but the ideal circumstance for all is to reduce the number of false alarms.
The reduction of false alarms is a major goal for device manufacturers in the space. It involves some of the system's most advanced technology, including video verification and artificial intelligence. Improvements in analytics and the proliferation of these technologies across the security device ecosystem can reduce the number of false alarms. Parks Associates' research data indicates consumer expectations are high that the security industry will solve these challenges.
The best result in a security event is for the event to be interrupted or deterred completely. New security solutions, enabled by smart home connectivity and remote control, can enable quicker automated notifications, more immediate and direct intervention, and a more effective system. Smart home connectivity and remote control allow for homeowner-enabled intervention before first responders arrive.
Smart security cameras with two-way talk allow homeowners, renters, and SMBs to see whether anyone approaching their home is a friend or intruder before reaching the house. They can communicate directly to the visitor, offering a welcome greeting or issuing a verbal warning through the camera's speaker system. Additionally, personal security apps, such as Bond, offer preventative live security monitoring and give users on-demand access to certified bodyguards and safety professionals to assist with a number of safety-related situations that users might find themselves in.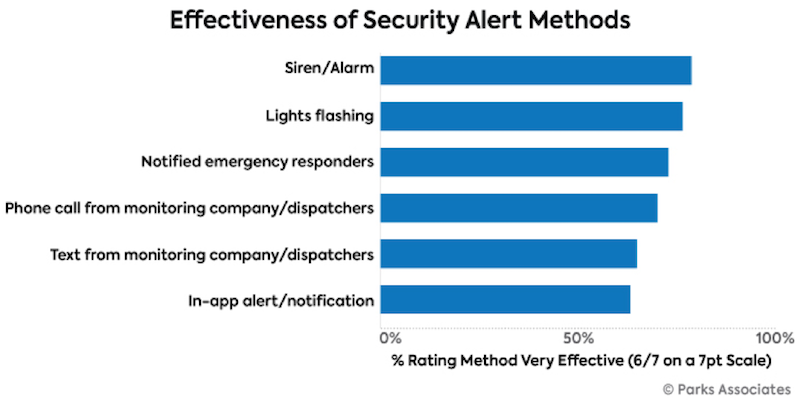 Some of these situations may be serious but not enough to warrant a 911 call or trigger a security alarm system. Further, neighborhood safety apps, such as Citizen, allow for communal surveillance in a smart version of traditional neighborhood watch programs.
These apps can provide real-time home security footage, safety, and emergency alerts to a user's neighbors and community to prevent or help intercept home intrusion. The popular Nextdoor app can warn neighbors of recent break-ins so residents can take additional precautions. With connectivity nearly ubiquitous and smart home and security technologies constantly advancing, there are opportunities to develop and offer more unique and effective security solutions that can directly intervene and deter intruders before significant property loss occurs.
Regardless of system type and monitoring status, security system customers demand optimal response times between security events and the arrival of first responders. Networked cameras and smart doorbells can show users what is going on, but more active solutions are needed to prevent property damage or loss.
New device innovations and security-adjacent tech present new opportunities for security systems to move beyond alerts and detection and to interrupt the intrusion. To build on recent growth in the space and expand into new customer segments, security device-makers and service providers must work to enhance the appeal of their products and expand the scope to further prevent loss or damage, which would strengthen the peace-of-mind benefits of their solution.
Please visit www.ParksAssociates.com for more information on this research or download the firm's whitepaper "Zero Response Time – Security System Intervention" in collaboration with Essence.