The HDL200 from Nureva is the audio solution that Zoom calls have been missing.
When it comes to videoconferencing technology, audio quality is often one of the biggest trade-offs. Most of the combined camera/speaker units that I've seen offer decent picture quality and fall short with "tinny" sound. They're simple, and they're awful.
In a world where audio is 50% of the experience, it's odd to see such lousy setups occupying the majority of offices, conference rooms, and huddle spaces.
Nureva is looking to change that with their HDL200 audio system, delivering far field microphone technology coupled with a stereo speaker bar. They sent me one to demo, and I couldn't wait to try it out.
Related: Zoomification: Improving the Zoom Experience to Live, Learn, and Worship
Unboxing the Nureva HDL200
The Nureva HDL200 arrived inside a long thin cardboard box with an easy to understand quick start guide underneath its folding cover. Underneath the bar itself lay an accessory box containing the power adapter, remote control, and long USB cable. I laid everything out on the floor and set to work, following along in the guide.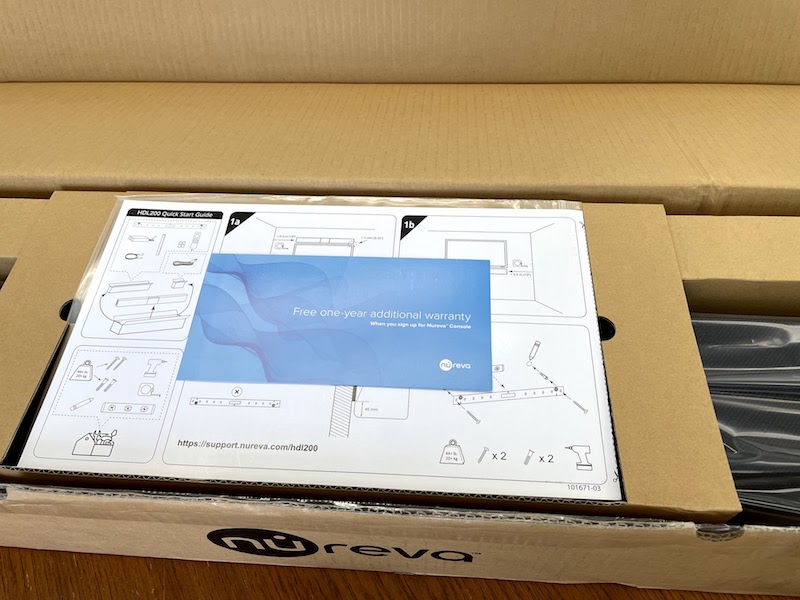 Nureva HDL200 Installation
The instructions prompted me to make the necessary USB connections and power up the HDL200. The next step involved me downloading the Nureva software onto the Intel NUC PC I was using as my test unit.
I booted up the app, which quickly found the HDL200 and prompted me to update its firmware. Connections and setup went very quickly, and I was ready to log in to my first Zoom call within five minutes.

I fired up a Google Meet session and asked one of my colleagues to jump on a "Watson, come here" test session. Kelsey obliged and we ran through a few minutes of talking back and forth. She said my voice came through clearly from all parts of my office (a 10×20-foot space).
Nureva uses a technology called Microphone Mist to fill the room with virtual microphones capturing voices near and far. Nureva claims Microphone Mist outperforms comparable beamforming solutions because there aren't any dead zones. I found this to be an accurate observation during testing.
My colleague sounded great, beating the pants off the combination camera and speakerphone unit that I had previously connected. I turned the volume up a bit in my office and again the HDL200 rose to the occasion with no distortion and decent midrange (while most of the speaker phones out there now tend to offer a shrill high end with no low frequencies whatsoever).
Larger rooms can be outfitted by combining two of the HDL200's larger sibling, the HDL300, together. I decided to play some other content since the HDL200 now replaced the speakers on my computer. YouTube videos, music, and presentation audio all sounded great through the HDL200. I also like that the included remote made it easy to adjust the volume and mute my own audio with ease.
Final Report
I love that Nureva is seeking to decouple cameras and speakers so that we can begin to enjoy high-quality audio and microphone sensing technology across small office/home office, huddle space, and conference room environments without breaking the bank. A price tag of $1,599 for a combination microphone/speaker bar might sound like a lot, but compared to the cost of living with lousy sound or the many thousands of dollars it takes to recreate similar results in a custom solution, the HDL200 is an amazing deal. I highly recommend grabbing one of these for your office ASAP and putting an end to the nightmare of lousy sound on Zoom calls.