Whisker Labs developed its award-winning Ting smart electrical monitor to help prevent home electrical fires. Whisker Labs provided me with a Ting sensor to evaluate and see if it lived up to the marketing.
According to the Electrical Safety Foundation International, home electrical fires account for an estimated 51,000 fires each year, nearly 500 deaths, more than 1,400 injuries, and $1.3 billion in property damage. Each year in the United States, the Foundation says, arcing faults are responsible for starting more than 28,000 home fires.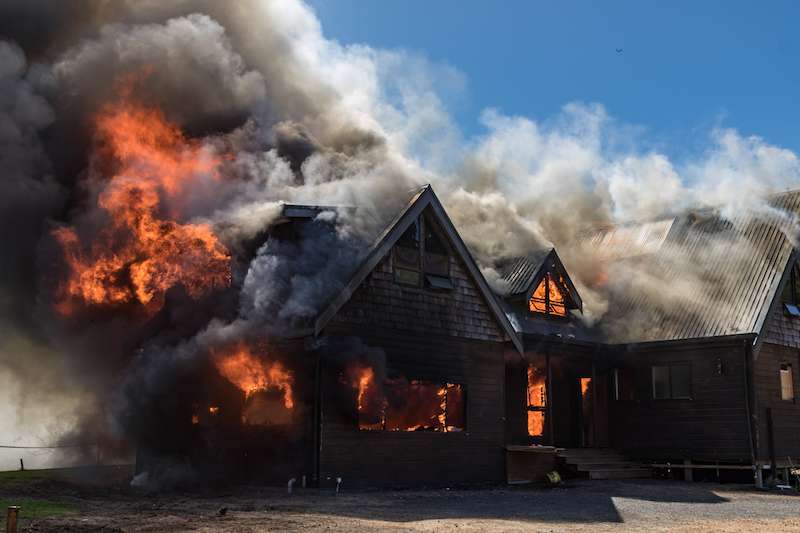 Whisker Labs was founded in 2014 to develop sensor hardware and software to improve how energy data is collected and consumed and to help address this issue.  Ting was then launched by Whisker Labs in 2018, and in 2019 Whisker Labs sold off all other parts of their business to focus exclusively on Ting.
Ting leverages electrical sensors and machine learning algorithms that detect micro-arcing within a home's electrical wiring and alerts homeowners of problems before they cause fires.  According to Whisker Labs, Ting is finding electrical fire faults at a rate of 1 in 150 homes without generating a single false alarm.
How do Electrical Fires Start?
Over time the wiring and electrical devices in a home age and can develop problems. For example:
Over years, as plugs are inserted and removed from an electrical outlet cracks can develop in insulation of the wire going into the plug leading to sparks and a fire
A staple used to secure an electrical wire behind a wall may have damaged the wire's insulation when it was installed during the home's construction. Over time that damaged insulation can degrade; eventually leading to sparks and a fire
The insulation inside a component (typically a capacitor) of a power supply for any electronic device can degrade over time and fail. Many people have experienced the burning smell when this occurs. If not attended to this can lead to a fire.
The insulation on extension cords can be damaged by general wear and tear, vacuums running over the cord, etc. This can lead to sparking and fires.
How Does Ting Work?
In its purist form, electricity being generated by the power company looks like a perfect 60 cycle per second sine wave. However, electrical devices throughout a home will alter the electrical signal as they use power. The unique changes made by different devices are used, for example, by the Sense energy monitor to identify devices in a home and calculate the amount of electricity used by each one (you can find an article I wrote about Sense here).
Ting is plugged into an electrical outlet in the home and takes measurements of a home's electrical system 30 million times per second. The machine learning behind Ting then analyzes the data collected by Ting looking for the signs of very small arcs, known as scintillations. These are the precursors to full arc faults (seen by a homeowner as sparks) that could cause a fire, but are not yet strong enough to do so.
Over time, scintillations will degrade the insulation around them. This combined with vibration, temperature, and other environmental factors will eventually lead to a full arc fault.
When Ting detects scintillations, the Ting support team will contact the homeowner to develop a plan to identify and mitigate the problem. If the problem identified represents a significant and imminent threat, a service call by a licensed electrician can be scheduled, and Ting will issue a $1000 credit to be applied to the electrician's service to identify and repair the problem.
It is counterintuitive to many people that only one Ting device can monitor an entire home. AC power (240 volts) enters a home on two "legs," each leg carrying 120 volts. Each leg will supply electricity to individual outlets, lights, and appliances in a home while both legs will be needed to supply 240 VAC power to appliances including electric clothes dryers, air conditioners, and electric stoves/ovens. However, a single Ting sensor is able to detect scintillations on both legs of a home's electrical wiring because they are detectable on the neutral wire that is shared across both legs of the electrical wiring.
It is important to know that Ting does connect to the home's Wi-Fi network and does upload data collected by its sensor to the Ting servers where the data is analyzed. Ting uploads approximately 160 MB of data per day.
Whisker Labs is a strong consumer advocate of data privacy. They will only share data under very limited circumstances such as sharing a homeowner's address when a partner electrician is being sent to address an issue detected by Ting. In addition, Whisker Labs will share some data with, for example, an insurance company when that company has provided the Ting device to their customer.
Hands on with Ting
The Ting sensor comes neatly packaged in a small box with a "quick start" card and a user manual.
One side of the quick start card simply provides instructions for downloading the Ting app from either the App Store or Google Play. The second side includes a customer testimonial and instructions to read the included manual.
The Ting manual is also brief but provides all the information needed to install the Ting including:
Instructions for choosing an appropriate outlet to plug the Ting sensor into
Information on the different states of the status LED
Installation instructions
Safety information
Information on different circuit breaker panel configurations that could require additional Ting Sensors to be purchased for a home.  For the average home with a single main electrical panel, or a main electrical panel and one, or more sub-panels; only a single Ting sensor is required.  Homes with multiple main panels will require multiple Ting sensors.
Instructions for contacting technical support if there is an issue
Before installing the Ting sensor, you need to choose an outlet where it will located. The manual instructs you to choose an empty three-prong outlet in a less often used area of your home with the fewest electronic devices or appliances nearby. In addition, you shouldn't plug the Ting sensor into a smart outlet, power strip, smart plug, extension cord, or uninterruptible power supply (UPS).
Given the work I do and the volume of smart devices in my home this was a little challenging.  I finally settled on an outlet in our spare/guest bedroom.
Before plugging in the Ting Sensor, the manual instructs you to first install the Ting app by downloading it from either the App Store or Google Play. When you open the app, you will need to provide the app with permission to access your smart device's Bluetooth radio. Then you will be guided through the process of creating an account. As part of that account creation process you will need to provide Whisker Labs with your phone number so they can contact you in the event anomalies are detected with the electrical wiring in your home.
Next the app walks you through the normal steps to connect an IoT device with your home's Wi-Fi network by first connecting to the device using Bluetooth and then providing it with SSID and password of your Wi-Fi network. As part of that process, the app will also validate your location. With the Ting Sensor connected to your home's Wi-Fi network, and configured by the Ting app, it begins the process of monitoring the wiring in your home.
At this point you have two choices:
Sit back and relax. If the Ting sensor detects any anomalies with the electrical wiring in your home, Whisker Labs will contact you.
Use the Ting app to actively monitor your home and expand your knowledge of potential electrical issues in your home and Ting's capabilities
The Ting app is very easy to use. After leveraging it to install Ting, each time you start up the app you are immediately presented with a screen that informs you if any hazards have been detected by Ting, the current voltage of the electricity being provided to your house, and the range of the voltage being provided over the last 24 hours (whether over-voltage or brownout conditions may exist.)
A very user-friendly feature of the Ting app is that different areas of the app may include a small information icon. Pressing on this icon displays a consumer-friendly explanation of the information being displayed. For example, if you press the information icon above the portion of the main page that displays the current voltage of the electricity being delivered to your home it says:
"Voltage is a primary unit of measurement for electricity. Your utility delivers electricity to U.S. home at an average of 120V, but normal ranges can be from 108V – 132V. Any readings outside of that range can be power quality problems that can damage devices and appliances in the home. Readings greater than 132V…"
These explanations make the information in the app much easier to understand for non-technical users.
At the bottom of the page is a menu bar that allows a user to review the notifications that have been sent, display different articles on residential electrical issues and the use of Ting, view real-time data being collected by Ting, and view a history of voltage fluctuations and events on a day by day basis.
When first starting with Ting, the news section of the app provides some very informative articles. A few examples available at this time are "What to Expect When Ting Identifies a Hazard," "5 Essential Steps to Better Fire Safety in the Home," "5 Common Signs of Electrical Issues in the Home," and "Electricity 101 for Homeowners."
For those that want to see what is happening with the electricity in their home, the real-time section of the app graphically displays voltage and high frequency electrical noise (HiFi) collected by the Ting sensor. The information icon for the "HiFi" graph explains:
"HiFi is one of nearly 100 parameters that Ting measures to monitor your home's electrical network. HiFi is sensitive to "high frequency (HF) electrical noise" on your home's electrical network. HiFi is often very sensitive to arcing that is happening in your home. Not all arcing is dangerous. For example, when you turn a light switch on, an arc is often created that is completely safe…"
I have a 100-plus year old antique electrical fan. The motor on it is probably big enough to power a Tesla. Plugging that fan in and starting it up while viewing the real-time HiFi display showed a large increase in noise generated by the fan on the electrical lines in my home being detected by the Ting sensor. Given the age of the fan, I didn't leave it running long enough to see whether Ting's machine learning algorithms would have determined it to be a potential fire threat in my home.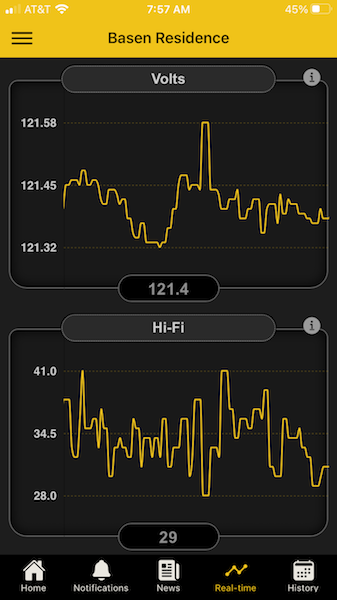 Power Grid Issue for Ting
Ting will not only sense scintillations that occur within a home it will sense anomalies in the power being provided to a home through the power grid. According to Whisker Labs, Ting can detect:
Grid arcing
Loose/Arcing Transformer Connections
Failing Transformers
Power outages
Power surges (high voltage)
Power brownouts (low voltage)
Distribution Grid faults and outages
Transmission Grid faults
Ting is developing partnerships with major utility companies and reports this data to them allowing first responders to address issues with the electrical grid before they cause devastating wildfires.
Joe McNulty, senior vice president of product and partnerships at Whisker Labs, shared a recent customer testimonial that highlights the ability of Ting to detect issues with the electrical grid:
"I purchased the Ting sensor on May 20, 2021, after reading the article about Ting through State Farm. I had some light flickering for about 10 days before I read the article and viewed the Ting website, and I wanted to see what the Ting sensor would find.
I received the sensor and set up the app on 5/25. I had noticed that the light flickering had stopped. Then June 1st arrived, and the Ting app had informed me that I had 73 events (power surges/brownouts) that day. Nothing out of the ordinary happened on June 2nd but then came June 3rd and another 52 events. Again, on June 4th, another 58 events occurred. On June 4th at 10:49 am, Ting emailed me and said they had been monitoring my electricity and that there is a potential fire hazard, and they would contact me. The email included a phone number, so I actually called them first.
Rob, an associate of Ting, told me that it looks like the issue is with Florida Power & Light (FPL) and not in my home. He said it could be a loose neutral wire or a corroded wire. I called FPL. FPL came out June 6th and checked the power and said there was nothing wrong. Meanwhile, the Ting app was still showing quite a few volt warnings/events, so I called FPL again on Tuesday, June 8th. They sent out a different technician on Wednesday morning, June 9th, at 8 am, and he in fact DID find something wrong with FPL's power. Guess what it was? A bad neutral wire, just like Rob from Ting had told me. Needless to say, I'm extremely grateful to have gotten this corrected. The fact that I had the proof to KNOW something was wrong allowed me to contact FPL a second time and confidently say to FPL there are significant voltage fluctuations still being reported on my Ting app, and there's a problem. No one at FPL had any idea what Ting was, so I got to physically show them the app and voltage spikes. Thank you for your awareness around electrical fires. I'm grateful I read the article and decided to purchase the Ting sensor. Money well spent to protect my family."
Additional Features in the Future
Ting is able to detect other electrical issues in a home. For example, when a motor starts to fail it generates specific noise on the electrical line that Ting can detect. Examples of motors that may exist in a home are sump pumps, radon mitigation fans, pool pumps, and well water pumps. Ting can also detect failing startup capacitors used in heating, ventilation and air conditioning (HVAC) systems.
In the future Whisker Labs will be incorporating the ability to report these events to customers so they can preemptively address the problem before having to, for example, try and call an HVAC technician on weekend when the temperature has spiked above 100 degrees and their air conditioner isn't working.
How to Get Ting
Ting can be purchased directly from the company's website: here. The Ting sensor comes with one year of monitoring service, a $1000 credit towards repairs for electrical hazards detected by Ting, and a lifetime guarantee on the sensor hardware. After the included one year of monitoring has expired, there is a $99 per year subscription fee to continue the monitoring service.
However, before you jump to purchase Ting on your own, you should check with your Homeowner's insurance carrier. State Farm Insurance is rolling out a program to provide Ting sensors with three years of monitoring service to qualified policyholders for free.  At this time the program is available in Arizona, California, Texas, and Ohio. According to State Farm they have already provided over 40,000 Ting devices to homeowners.
I expect that other homeowner insurance carriers are monitoring the State Farm program and may offer Ting to their customers in the future.
Areas for Improvement
There are a few ways I believe that Whisker Labs could improve Ting.
At $349, including the first year of monitoring, Ting is not an inexpensive product. Customers, in many ways, are really purchasing a supplemental insurance policy against house fires. To make Ting more accessible to customers Whisker Labs should:

Expand relationships with insurance carriers to provide Ting to their customers beyond just State Farm. Ultimately insurance carriers have to foot the bill when a homeowner has a house fire and placing Ting into homes is of direct benefit to them.
Pacific Gas and Electric Company in California had to pay over $25 billion in liabilities for their equipments' role in starting wildfires. Given Ting's ability to detect issues with the electrical grid, it would make sense for Whisker Labs to partner with utility companies to provide Ting sensors to homeowners so the utility can be informed of grid issues before they cause devastating wildfires.

One of my pet peeves is smart phone apps that don't support landscape mode. This isn't a big issue when running the app on a smart phone but it becomes much more annoying when trying to run an app on a tablet. Whisker Labs should enhance their app to support landscape mode.
Holding the Ting sensor in place inside the box it is packaged in is a piece of non-recyclable injection molded plastic. In this day and age there are much more environmentally friendly alternatives.
Conclusions
The Ting sensor, and the machine learning behind it, offers the unique ability to detect issues with both the wiring in a home and the electrical grid feeding electricity to a home. It provides value to homeowners, insurance companies, and electricity providers to prevent both house fires and wild fires.
State Farm insurance is leading the way to provide Ting Sensors to policy holders at no charge. Hopefully other insurance carriers and electricity providers will follow suit so Ting will become widely distributed to homeowners.
I can see a time, in the future, when the Ting sensor will be a part of every new home built; just like a smoke detector is today.