As we're gearing up for the holidays, here are the top products that should be on your radar this November, whether you're looking for holiday gifts or toward an upcoming remodel.
Two New Epson Home Cinema Projectors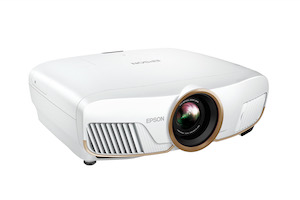 Epson has introduced two new Home Cinema projectors designed to deliver an immersive 4K experience to DIY home theaters. The Home Cinema 5050UB (MSRP $2,999) and wireless Home Cinema 5050UBe (MSRP $3,299) 4K PRO-UHD projectors feature 2,600 lumens of equal color and white brightness, HDR10, and Epson UltraBlack technology. Leveraging full 10-bit color output – plus proprietary dedicated processors for resolution enhancement, HDR and image processing – the new Home Cinema 4K PRO-UHD projectors are designed to display incredible color accuracy, brightness, and image detail.
Harman's Mark Levinson Previews New Audio
Harman's Mark Levinson recently previewed its 5101 Network Streaming, Super Audio CD (SACD) player and Digital to Analog Converter (DAC), featuring new industrial design and PrecisionLink II DAC. It was designed, engineered, and precision-crafted in the USA. With a wide range of supported digital audio sources and formats, the 5101 allows playback of physical media including SACD, CD-A, CD-R, and CD-RW. It supports FLAC, WAV, AIFF, OGG, MP3, AAC, and WMA formats.
Josh.ai Voice Control
Josh.ai continues expanding the range of voice control in the home by integrating with DISH's Hopper DVR for satellite television compatibility. Available now, this integration provides the user experience of being able to walk from room to room and ask Josh Micro to control the DISH TV experience, including navigation and content selection. After connecting to the network, Josh.ai auto-populates supported DISH set-top-boxes, including Hopper (all generations), Wally, and Joey (all models), and provides authorization instructions.
Nortek's SpeakCraft Terrazza Series Landscape Speaker System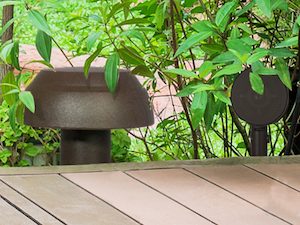 Nortek's Security & Control SpeakerCraft Terrazza Series Landscape Speaker System with the 8-inch Burial Subwoofer option are now available from qualified integrators. Consisting of four SpeakerCraft Landscape Satellite Speakers and Subwoofer, the Terrazza Series delivers a value price point with a simplified installation that doesn't require expensive high-power amplifiers. Terrazza is designed for the lower power of distributed audio amplifiers, or extended audio zones (like Zone 2) from conventional AVRs. And it can expand up to an 8.2 system without requiring additional amplification.
A2V Powered Subwoofers and Outdoor Loudspeakers
New custom A2V Powered Subwoofers and All-Weather Outdoor Loudspeakers are now available nationwide from the PowerHouse Alliance. The front-firing, in-room, A2V Powered Subwoofers are a high-quality, cost-conscious option built to suit a variety of audio and home theater installations. Dealers can select from three subwoofer models: 8-inch (A2V8SWB), 10-inch (A2V10SWB), and 12-inch (A2V12SWB), with acoustically-transparent grilles wrapped in a proprietary mesh. The A2V525OD outdoor model features a 1-inch aluminum dome tweeter and 5.25-inch polypropylene woofer. The A2V650D features a 1-inch aluminum dome tweeter and 6.5-inch polypropylene woofer.
Torus Power PowerBlock PB 5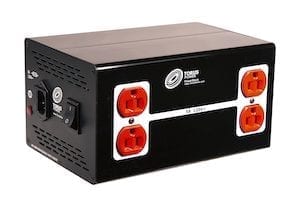 Torus Power is now shipping its PowerBlock PB 5 toroidal isolation transformer, which is designed to power and protect TVs, projectors, receivers, and source components in compact AV systems. Surge suppression and noise filtering through proprietary narrow bandwidth technology (NBT) allow sophisticated audio-visual components to deliver a lower noise floor, better dynamics, imaging and bass, and video that is notably crisper with brighter colors, deeper blacks, and a more compelling overall image.
2 AV Receivers from Onkyo USA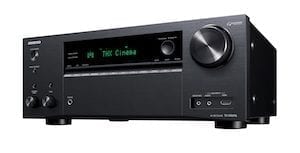 The TX-NR797 9.2-channel AV receiver ($699 USD) and TX-NR696 7.2-channel network AV receiver ($599 USD), from Onkyo USA are THX Certified Select certified and support immersive Dolby Atmos and DTS:X sound formats, 3D sound virtualization technologies, simplified audio distribution, 4K HDR support, and new proprietary functions, all of which underscore their price-to-performance advantage.The TX-NR797 is the first Onkyo product to be released under the IMAX Enhanced program, which features DTS:X immersive audio decoding that is optimized to properly reproduce the full dynamic range of IMAX theatrical sound mixes available in digitally re-mastered IMAX Enhanced content.
BenQ CinePrime HT5550
Intended for dedicated home theaters or living rooms, the BenQ CinePrime HT5550 projector combines the company's HDR-PRO and CinematicColor DCI-P3 technologies to achieve all the clarity and depth of HDR content and 100-percent coverage of Digital Cinema Initiatives (DCI)'s DCI-P3 wide color gamut standard to deliver the picture just as the director intended. It is designed to deliver true 4K performance with 3840×2160 resolution and 8.3 million distinct pixels for each frame.