LED lighting manufacturer USAI Lighting has expanded its LittleOnes collection of tiny but mighty recessed fixtures with LittleOnes Micro Doubles — two miniature downlights that double the luminosity of the LittleOnes form factor.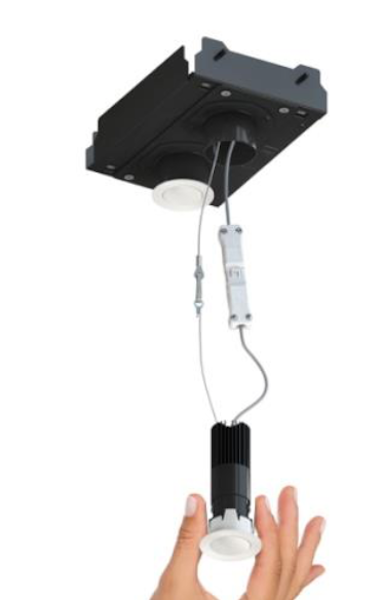 Designed with diminutive 1.25-inch apertures and delivering up to 1600 lumens, the lighting pair packs a punch while offering the brand's signature glare control technology and barely-there design appearance. Compared to traditional light fixtures, LittleOnes Micro Doubles are a small-scale solution with powerful light quality for commercial and residential applications.
Related: ProSource Hosts Lighting Technology and Learning Center Grand Opening
"The original LittleOnes collection took recessed lighting to a new scale, shrinking fixtures to one-inch while maximizing illumination, said Bonnie Littman, President and CEO of USAI Lighting. "Now Doubles have twice the impact, creating diverse lighting experiences and providing powerful general illumination for homes, art galleries, office spaces, hotels, retail environments and more."
Available in a variety of styles and combinations—Double Downlights, Double Adjustables, Double Wall Wash, or mix-and- match with Downlight and Wall Wash—Micro Doubles offer unmatched flexibility to address designers' needs in numerous spaces: corporate, hospitality, healthcare, or residential environments. Double Downlights provide superior general ambient illumination with superior glare control providing optimal light levels quietly. Double Wall Wash features LittleOnes Micro's proprietary 4-part optical system to achieve even wall lighting for navigating pathways and illuminating artwork.
LittleOnes Micro Doubles provide options for interior designers, architects, and architectural lighting specifiers that meet the requirements for nearly any project:
Complete coverage wall wash — uniform vertical light from ceiling to floor, achieved through USAI's proprietary 4-part optical system
Smooth, flicker-free dimming down 0.1% for mood and ambiance
Adjustable, aimable spotlighting to highlight art and architectural features
Square and round aperture shapes to suit aesthetic preferences
Trimmed and trimless styles to work with any ceiling material
Excellent optical design for smooth beams from narrow to wide, to eliminate scalloping, shadows, and backlight
Ability to beautifully illuminate large-scale spaces with ceiling heights up to 14 feet, achieving high light levels with standard fixture placement and spacing
Sets the industry standard for visual comfort with off-the-chart glare control
Efficiency and standard output with one remote driver per light fixture (both fixture heads dim and switch together)
Flexible independent switching and dimming for the two fixture heads, with two remote drivers per light fixture (one per head)
Standard output with one integral dimming driver per light fixture (Above ceiling access required for service to the driver. Available with trimmed fixtures only.)
Classic White and Dim-to-Warm+ LED color options
USAI Lighting is committed to helping its customers meet sustainability goals now and in the future through innovative and energy-saving light fixtures. In support of that goal, the company has worked with the International Living Future Institute to achieve Red List Approved Status for a wide range of its products, including the LittleOnes Micro Doubles. USAI Lighting products that have received this classification are identified with a Declare label and are approved for use in Living Building Challenge projects.
LittleOnes Micro Doubles offer new possibilities for designers to create mood-defining spaces with mix-and-match styles and a variety of shapes, finishes, and USAI's Classic White and Dim-to-Warm+ technologies. Designed at a miniature scale, the tiny fixtures don't detract from the illuminated space, but rather create a sophisticated light environment for high-quality interiors.