Based on Vizio's plans for new TV and soundbar products for 2021, it is clear that their new line is well aware of what the market wants. Time will tell, but this has all the earmarks of what will help keep the company at the top of the market share heap.
On the TV side of things, Vizio is on top of the "must-have" features. All of the new sets cater to the growing demand for TVs that will deliver great images with the latest gaming consoles, and all have full-array backlighting. All 4K models, which are the bulk of the new line up, include the full range of major HDR formats: Dolby Vision, HDR-10+, and HLG.
Connectivity includes at least three HDMI 2.1 inputs with eARC, dual-band Wi-Fi, and Bluetooth 5.0 LE.
Related: Vizio Product Plans Include Update to SmartCast, Addition of DTS Virtual:X
Vizio's SmartCast Streaming App Updated
Perhaps at the top of the list is an update to Vizio's SmartCast streaming app and user interface ecosystem platform. Available on all Vizio TVs, it now features faster loading time and performance and a redesigned electronic program guide (EPG).
Many of the latest streaming services have been added to the roster, such as the CW, Paramount+, and FOX Now, joining the all but mandatory Netflix, Apple TV, Disney+, Hulu, Prime Video, and YouTube TV. Along with subscription services, there is a wide range of free, ad-supported apps.
Equally important, with the inclusion of Chromecast and Apple AirPlay 2, service apps not included within SmartCast may be streamed to the TV. Even with pandemic restrictions loosening, work from home (WFH) and the use of virtual meetings for personal, as well as business, activities, these two links are critical for being able to throw videos, business presentations, family meetings, and educational video calls to the screen.
Voice Control on All Models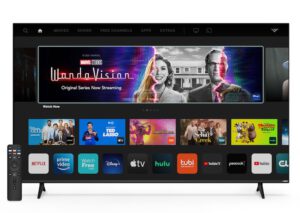 Along with standard navigation on models with handheld remotes, all models also may be controlled with voice to initiate search requests and issue commands using Vizio's free SmartCast Mobile iOS and Android apps. On 4K models, the new Vizio Voice remote makes voice search as well as control of Amazon Alexa, Google Assistant, and Apple HomeKit devices even easier.
Vizio D-Series TVs
Getting down to the actual sets, things start with the "D-Series", of which the D4 Series are Full HD (FHD)/1080p and D Series where there are both FHD models and two HD/720P models. Their relatively small sizes and affordable pricing give tribute to Vizio's stake in the lower price ranges.
While some might look down at FHD sets, their appearance in 24- and 32-inch screen sizes, as well as the 40- and 43-inch sizes in the D-Series, make them perfect for gamers. Particularly with the D4 Series adding AMD FreeSync, these may be perfect for budget-minded gamers and as computer monitors. The only downside is the HDMI 1.4 inputs.
Prices range from $139.99 to $229.99, depending on Series version and screen size. Some models are available now, with others coming in August.
V5 and V6 Series
The V5 and V6 Series set the mid-point of the new line and, as with all new 4K sets, they include the new Vizio Voice Remote.

Both series have three HDMI 2.1 inputs (4K/60) with eArc and Dual-Band Wi-Fi. The V5 Series has the widest array of screen sizes, with models ranging from 43 inches all the way up to 75 inches. The V6 Series are only available in 70- and 75-inch sizes, but they, too, add AMD FreeSync and 120Hz refresh. Those additions make them a very viable option for budget-conscious viewers who enjoy both games and entertainment on a big screen.
Pricing for the V5 series ranges from $339.99 for the 43-inch model to $899.99 for the 75-inch version. All V5 models are available now. The V6 models will be available later this month at $749.99 for the 70-inch and $919.99 for the 75-inch.
MQ Series
The fun really begins with the MQ Series, which adds both Quantum Color to the V6's AMD FreeSync and 120Hz refresh. The MQ6 adds Vizio's ProGaming Engine and claims 75 percent of Rec. 2020 color and will be available in 43-, 50-, 55-, and 65-inch sizes between now and August, at pricing ranging from $399.99 for the 43-inch model to $999.99 for the 75-inch model.
The MQ7 models add an additional HDMI 2.1 (4K/60) input, bringing the total to four. And more importantly is the first range of the new line to offer local area dimming, ranging from 16 to 32 zones, again dependent on the screen size. Similarly, brightness is improved, up to 700 nits peak brightness for the MQ7 models above 65 inches. Color space is also 84 percent of Rec.2020 for all MQ7 models. Pricing ranges from $749.99 to $1,399.99 – all with July availability.
PQ Models
Vizio's "PQ Quantum" models have always set a high mark for price/performance, and this year's new PQ sets push that legacy to new heights. Both the PQ9 and PQX Series offer four HDMI 2.1 inputs, but two of the four are capable of 4K/120.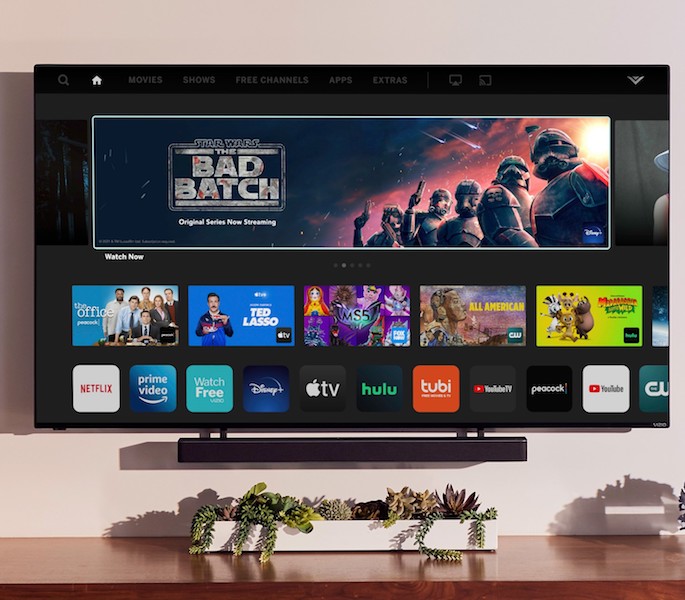 The Dynamic Motion Rate is doubled to 240Hz, and the FreeSync is upgraded ot FreeSync Premium. Also, for ultimate gaming performance, the PQ9 Quantum models up the ante on brightness to 1200 peak nits, with the 65-inch model priced at $1,399,99 and able to control 144 local dimming zones, while the 75-inch model at $2,199.99 has 210 zones. Both models also upgrade the Wi-FI connectivity to Wi-Fi 5 (802.111ac) and will be available in July.
Pricing and availability for the top-of-the-line PQX model is still to be announced, but we can report that the 85-inch set will have 792 local dimming zones, slightly higher color gamut at 85 percent of Rec.2020 and an astounding 3000 nits of peak brightness. Those items, combined with all the other video game-centric, streaming service, and connectivity features will make it a formidable competitor when it arrives.
Those familiar with my new product introduction reports know that along with all of the great new stuff, I also believe that is important to point out what the new lines do not have. Please keep in mind that these are not necessarily negatives, but just helpful to know about.
What We Don't Get from New Vizio TVs
Among the features not present in Vizio's 2021 TV line are miniLED backlighting, any sets with ATSC 3.0/NextGen TV tuners, or Filmmaker mode. It should be mentioned, however, that the new models include a very wide range of color and picture adjustments or processing modes that may be turned off or calibrated. Similarly, there are no 8K sets from Vizio at this time, though given their history it is a safe bet that when they feel the market is right, they will be there. Finally, while the current OLED models remain in the line, there are no new sets featuring that technology.
Vizio's Latest Soundbars
While many associate Vizio with video, the company also has become a very potent force in the soundbar market. The 5.1.4-channel Elevate, with built in Dolby Atmos and DTS:X along with upmixer and traditional digital audio modes, remains unchanged at the top of the line. With Chromecast built in, two HDMI inputs with eARC, and a host of other key features, it is a benchmark product at $999.99.
Moving down through the line is the M-Series, all of which also includes the two models of object-based audio systems and wireless subwoofers. The selection includes 5.1.2, 5.1, and 2.1 models, all with eARC wireless subwoofers and a host of other features that vary with channel configuration. M-Series models range in price from $299.99 to $499.99, with availability this month, except for the 2.1 M215a, which has not received an intro date as of yet.
The hot spot for soundbars is in the lower price range, and that is clearly where Vizio continues to pay close attention. All of the V-Series models offer DTS Virtual:X, DTS Digital Surround, and Dolby Audio to provide immersive sound on a budget.
At $199.99, the V51x-J is a 5.1 product with wireless subwoofer and a backlit LCD design remote. The four other new V-Series models are $149.99 for 2.1 systems with wireless subwoofers while the new 2.0 models clock in at $99.99 – perfect for "second room" or budget conscious installations.
Vizio has indeed grown from scrappy startup to a major consumer electronics powerhouse. With all of these new video/audio products and an even stronger focus on services, apps, and content distribution that ever before, Vizio is putting forth a new range of products that are centered on maintaining and expanding their market reach.