Residential Tech Today has covered many different smart locks but has yet to cover them all. In era of the global pandemic, smart lock technology is one of the leading smart home investments, along with refrigerators and home gyms.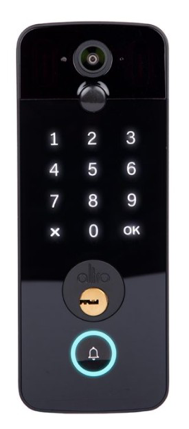 Here is a larger list of smart locks and what's going on in smart home security in 2021.
Smart locks from Altro connect through Wi-Fi and have rechargeable batteries. Their newest lock, the All-in-1, comes with video functions with two-way audio and one-way video with a live feed. Altro's lock comes with a physical key for emergencies and allows users to create profile-based passcodes friends, family, and more to use. These smart locks also have an option for instant alerts and motion detection with a subscription.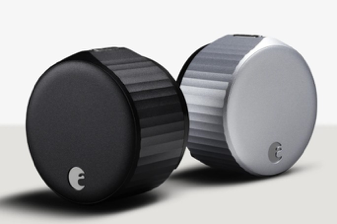 The August Smart Locks are one of the more popular brands. Most of August's products require at least a 2.4GHz Wi-Fi network. Their newest product, the Wi-Fi Smart Lock, is similar to older models but is much smaller and compact, making it easier to install and more aesthetically pleasing. August works with all both Apple and Android phones with a free app. The locks also are compatible with most AI-enabled home assistants too.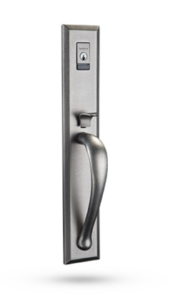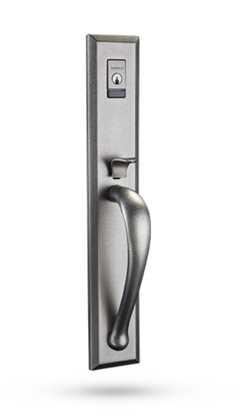 Smart locks from Baldwin Hardware are more fashionable than what one may assume. Baldwin offers many different styles, including handle sets, deadbolts, interiors, and remote access. They even have a fob (sold-separately) that can be used to open a door with a touch. The fob can be cut out with the available app for smartphones where users can control everything with the touch of a button. Baldwin Hardware's locks are not hardwired and require a Wi-Fi connection to work properly.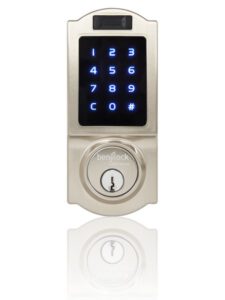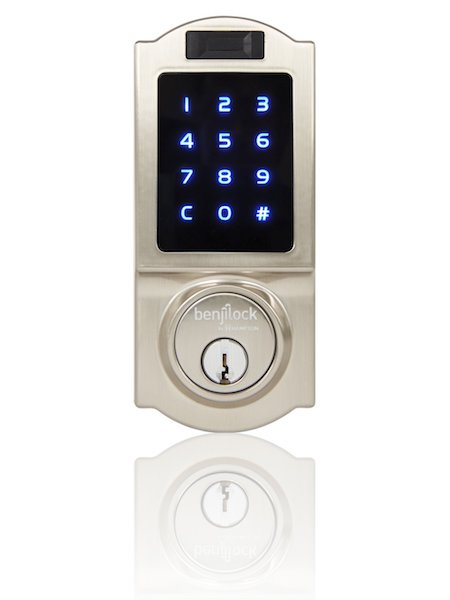 Did you know?? The initial usage of a key fob was a fashionable or functional attachment to your keys, dating as early as 1888. Today, the fob acronym is believed to stand for "frequency operated button." This technology first appeared in the 1980s within the automobile industry.
BenjiLock by Hampton
BenjiLock by Hampton Fingerprint Doorlock uses a biometric sensor that quickly scans a fingerprint and opens the deadbolt with a single touch. Users whose fingerprints are not programmed into the lock can still unlock the deadbolt without fumbling with keys. Entering an authorized access code into the digital keypad will unlock the deadbolt. Not ready to give up your key? The deadbolt also comes with a traditional key to unlock.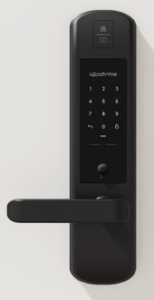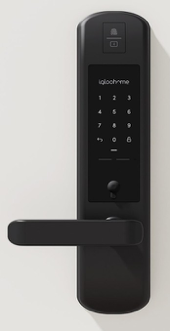 igloohome
Smart locks from igloohome are another designed to look slightly fancier than traditional smart locks. Their newest design is the Smart Mortise 2+, which features a fingerprint scanner with 2D capacitive-contact technology and high spatial resolution that works at 2 megapixels per second. This lock also doesn't need Wi-Fi because it has a G2 chip to make sure you're always able to access your home. Smart Mortise 2+ also includes the option of unlocking with physical keys and pass codes, as well.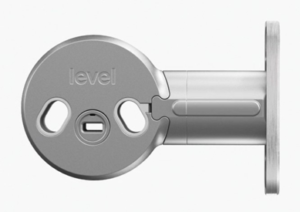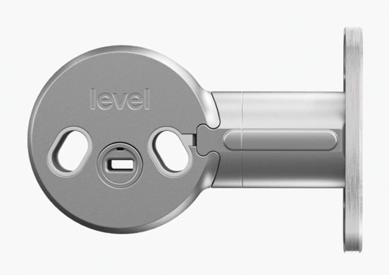 Bolt is the "Invisible Smart Lock" from Level that can be controlled from anywhere as long as users have the app or, if they are visiting, have permissions via invitations sent through email. The company's other lock is the Touch, a Bluetooth-enabled smart lock disguised to look like a regular lock. You can unlock the Level Touch in a variety of ways, including capacitive touch, programmed NFC cards, with your mobile phone, or even a traditional key. Both Level Touch and Bolt are compatible with Apple HomeKit.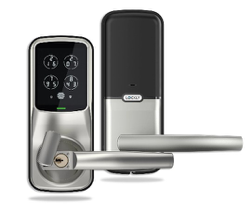 Lockly
Lockly's Smart Locks work over Wi-Fi and can be controlled with smartphones as long as customers have the app. At CES 2021, Lockly unveiled two new locks: Duo, which has dual-locking technology, and Guard, which comes with hack-proof PIN digital keypad and biometric fingerprint access. Lockly provides customers with comprehensive installation guides to make protecting your home as simple as possible.
Schlage
Smart locks from Schlage may be the most commonly seen smart lock. Their newest release is the Schlage Encode Smart WiFi Deadbolt. The lock is connected to you and your home from anywhere though the app. It connects directly to your home's Wi-Fi network, with no adapters or accessories needed for installation. The Encode allows permanent or temporary lock codes, which can be useful for house guests or house sitters.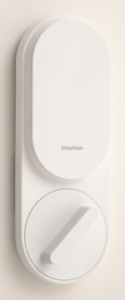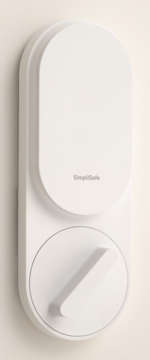 SimpliSafe
A popular security brand, SimpliSafe, offers smart locks that can be set to lock the door any time customers forget. It also keeps track of who is coming and going, so customers can be sure their child made it home from school or the contractor left when he said he did. The pin pad also notifies the owner after five incorrect attempts. After 15 attempts, the system locks the house for 30 minutes. Additionally, while there is no key needed, customers can use the app or sync the smart lock with their Alexa or Google Nest for complete hands-free unlocking.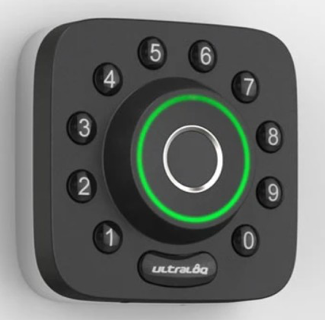 Ultraloq
Ultraloq smart locks work with Wi-Fi and are specifically designed for families. It is a keyless door that has passcodes and biometrics for the kids who forget or tell too many friends about the code. This smart lock is another that is able to be controlled anywhere though the app. The Ultraloq also has an automatic lock after 30 seconds. Their newest device is the U-Bolt Pro Wi-Fi which has Wi-Fi built into it as well as a six-in-one keyless entry.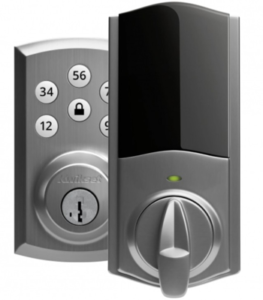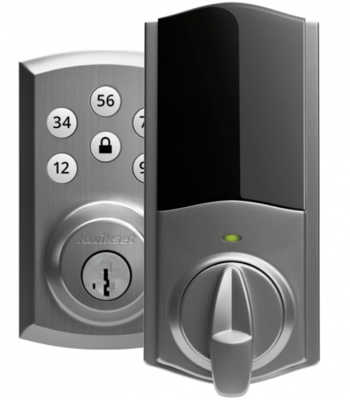 Vivint
Kwikset Smart Locks from Vivint are keyless locks that primarily unlock with access codes. Families can use up to 30 different codes, as well. When using the Kwikset lock with the Vivint Security System, everything works together. Using the Vivint App locking and unlocking doors can happen from anywhere.
The Yale Smart Locks can be controlled from anywhere through an app. The newest model, the Nest x Yale, was a collaboration with Google Nest. The lock is tamper-proof, connected to a deadbolt, and keyless. Although all of Yale's products are Wi-Fi enabled, the Nest x Yale also requires the Nest app and a Google Nest within the house.