It's Always My Fault… Or Is It?
In the world of consumer electronics and residential technology it seems that it has always been you, your brand, or your company's fault when something goes wrong or doesn't work even if that is not the case. It may feel like a parent or a teacher asking a child, "Why did you do that?" when the response is "It wasn't me" and for once it really wasn't. Sometimes that takes a lot of convincing.
In today's increasingly "streaming-centric" media, hardware and software environment, devices that you installed, either as a technology provider or as a DIY consumer may work one day, and then not the next. Services that were once compatible were fine, all of a sudden not only didn't work anymore or were gone entirely
Whose fault is it?
Actually, in most cases it isn't "your" fault. You're just the last one on the chain and because of that you end up having to take the brunt of the complaints whether it is from your family or, if this is your livelihood, your clients. The "fault," if you will, may sit in a number of places. Let's look at some recent examples so that you have a better understanding of what is going on.
Disappearing Channels
Think about a time when channels from a cable, satellite, or streaming service suddenly disappear. To make matters more confusing, sometimes the channel will disappear from one content source, but not all. In many cases, this is due to "retransmission consent," which is the legalistic term that describes the agreements that program or content owners have with distributors at the end of the delivery change. In virtually all cases, the cable or satellite provider, the streaming service provider such as YouTube TV or the streaming device manufacturer/content aggregator such as Roku does not own the content rights; a broadcaster, studio, sports team, or program creator is the owner.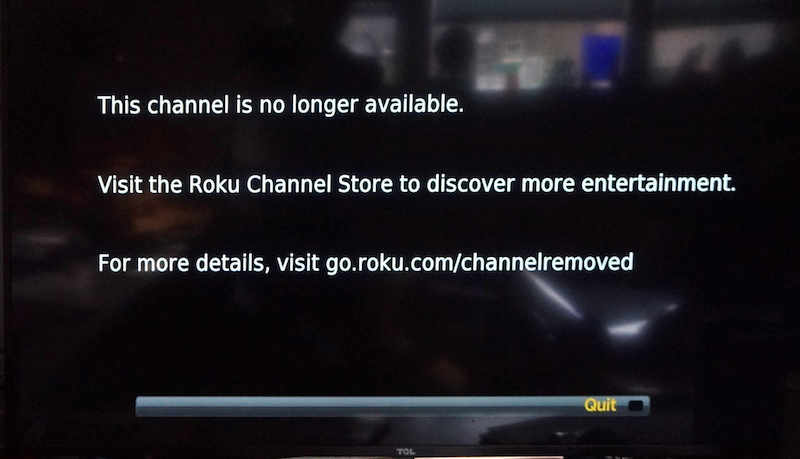 Think of this as the content business's equivalent to paying rent to the landlord. If you want to build a building on someone else's land or open a store in a shopping mall, then you must pay rent. It's the same here, and sometimes "the lease runs out." When that happens, the channel must be pulled until a new agreement has been reached. With cable and satellite content suppliers, you usually see crawls warning that a station or channel is being pulled, but not always with streaming services.
Take, for example, when Fox Sports threatened to pull their feed from Roku two days before the Super Bowl. Fortunately they reached an agreement to settle whatever the dispute was just in time for the big game. More recently, as this is being written, YouTube TV is in negotiations with Sinclair Broadcasting around the streaming of many of the (former) Fox Regional Sports Networks (RSNs) and the YES channel for the New York Yankees. At press time there is a temporary extension, but as the end of the NCAA basketball season and the start of the baseball season approach, anything is possible. After all, each side has leverage: one with content and the other with viewers that represent the eyeballs that advertisers covet.
Convincing Others That It's Not Your Fault
If you're a tech professional, be sure to use the business and entertainment press to keep watch on negotiations between content owners and distributors. If things do go to a blackout, as they occasionally do, be ready to explain what is going on and offer any available off-air and streaming alternatives. If you are an integrator, were you ready to explain a potential Super Bowl blackout to your customers? If you are a sports fan and planned a big party that Sunday afternoon, did you know what your "Plan B" would have been?
Retransmission-based channel deletions or threatened outages are sometimes big enough news that people are at least partially aware of what is going on, but sometimes a channel just disappears from streaming devices, with or without advanced warning. Again, you need to make sure that all involved know that it is not "your fault."
A second example was the closure of Sony's PlayStation Vue service on January 31. The backstory is that Sony determined that a broad-based streaming service wasn't a viable business for them despite the fact that the service was reported to have more than 500,000 subscribers. If a viewer didn't pay attention to any of the news about this and then couldn't get the service on February 1, whose fault was it? If you explained all of this in advance, you wouldn't have been the goat, but rather the dove of peace. The last version of the Vue app showed four possible alternatives. Did you make those affected aware of them and setup a replacement? That's an easy way to turn a lemon into lemonade.
One more recent example: Sling's AirTV products are a great solution to integrate off-air TV reception for cord cutters with streaming services. I've been an AirTV (provided by Sling) via the standalone AirTV app user as an OTA solution and it more than does the trick. However, one day the AirTV app, NOT the main Sling app, was gone from Roku! Did that mean that the unit was dead or obsolete? Is it your fault?
No, not at all.
What the folks at Sling did was to combine the off-air tuner with the streaming services of the main service. That is a much better solution as it shows all available content, be it OTA or streaming, in one unified menu system. Great… if you know what has happened, know how to deal with it, and take care of business. That way, it won't "your fault."
The answer here is that even though the underlying service or app may no longer be available, the "tile" for it may remain on the main screen for the device. To some that may be annoying, to others, confusing. The solution, of course, is simple. All of the major external streaming products let the user "remove" or "delete" an app or channel. It is simple enough to, if you know how to do it.
New Services, Older Hardware
In some cases, the reason for a service's disappearance is more subtle. One of the great things about external streaming devices is that they work with services to enable regular updates that expand or enhance content or user interface features. Sometimes, however, the processor and other requirements of a service update require more power than an older device might have. When that happens, the service just won't work.
A good example was a recent update of Netflix that simply wouldn't work with some older Roku models. On most models, no problem. On others that are more than a few years old, not so much. To their credit, Roku did send an email to affected owners, but sometimes people don't read them. More confusing to the non-technical crowd was when there is more than one Roku in a household it may seem odd to a user when any Roku TV and many external streamers worked perfectly with the new Netflix interface. All it would have taken to fix this was to replace the old device with a new one at a very low cost. If you did not take care of business, in this case, then it actually might have been your fault.
This may all sound illogical to technophobes, but to keep everyone happy it is your responsibility to do the research so that you know what has happened and have the answer as to how to solve it one way or another. It really isn't that hard, and your being able to resolve something that baffles everyone else further proves your value as a knowledgeable residential tech expert.