With the new MODEL 40n, Marantz wants to provide listeners with rich and satisfying sound equal to or better than what audiophiles have sought for years with stacks of equipment. Such performance is now available, the company says, in its elegantly designed single unit device when connected to speakers of the listener's choice.
"I strongly believe you don't have to be an audiophile to enjoy rich, warm sound," said Joel Sietsema, Marantz president. "With our MODEL 40n we've further perfected the balance between what we're known for – our sound – with added simplicity, gorgeous design, modern upgrades, and power. This product is truly ideal for those who require excellent performance yet find elegance in simplicity and ease of use."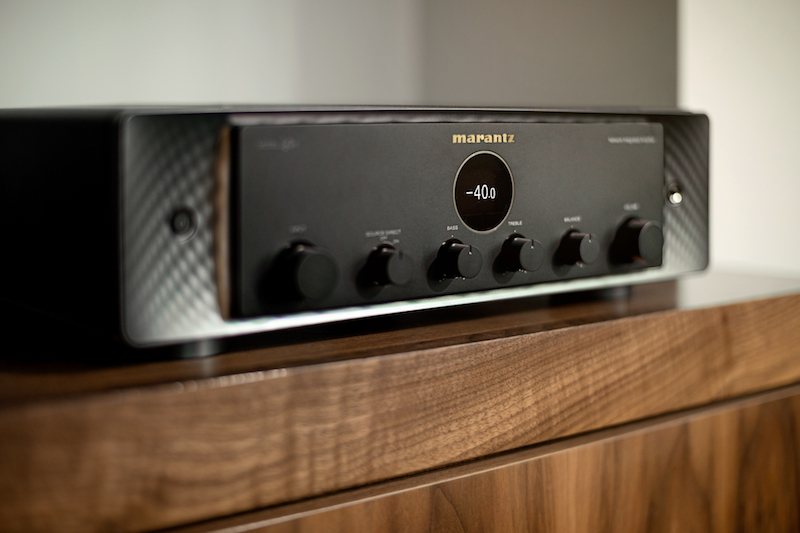 Listening to music is effortless thanks to built-in access to music streaming from Spotify Connect, Apple Music via Airplay, Pandora, Tidal, and many more services. The MODEL 40n also provides access to high resolution personal file libraries, up to PCM 192 kHz / 24 bit as well as DSD up to 5.6 MHz. Wireless connectivity options include Apple Airplay, Bluetooth, and Wi-Fi with HEOS.
The MODEL 40n offers a full complement of analog and digital inputs to accommodate any source, including Marantz Musical Phono EQ – a moving magnet phono stage for vinyl playback.
Unusual for products in this category, MODEL 40n features an HDMI ARC (Audio Return Channel) input making audio playback from a TV possible.. A dedicated subwoofer output with crossover adjustments enables users to optimize bass response, as well.
Marantz analog amplification delivers what the company calls "spacious, dynamic sound with unmatched levels of detail and clarity."
The MODEL 40n has been designed to work as the primary hub for one or multiple rooms. With HEOS Built-in technology, the entire family can enjoy their favorite music in any room for a wireless, whole-home experience.
The MODEL 40n facilitates wireless streaming via Wi-Fi and Bluetooth that is stable even in congested urban settings. For an intuitive user experience, the MODEL 40n comes with a remote control and also works with Siri, Alexa, Google, and Josh.ai voice command systems as well as the Control4 smart home ecosystem.
A new 70 watt per channel (8Ω) Class A/B amplifier stage has been developed that exceeds the performance of earlier models with similar power ratings. A larger power supply transformer, four output transistors per channel, heavy copper bus bars, and very short power pathways lower internal impedance and deliver high instant current capability making MODEL 40n highly dynamic and an excellent match for even difficult to drive loudspeakers.
The MODEL 40n leverages the company's proprietary Hyper-Dynamic Amplifier Modules (HDAMs) that deliver the most musical sound possible – from precise bass transients to smooth, balanced midrange and high frequencies from any connected loudspeaker. Leveraging curated discrete surface-mount components and the shortest possible signal paths, the HDAMs inside the MODEL 40n have been engineered to provide listening pleasure.
The Marantz MODEL 40n Integrated Amplifier will be available in two finishes: Marantz Black and Silver Gold. MSRP is $2,499 and is available at authorized Marantz retailers and online at www.marantz.com in March 2022.
Related: Denon and Marantz AV Component Upgrades Focus on HDMI 2.1 and 8K