The first two things that jumped out at me when I saw a photo of the XGIMI Halo projector were its relatively compact size and unique industrial design.
The XGIMI Halo looked to me more like a family member of a Sonos speaker, with its wraparound silver metal grille "skin," vertical orientation, and somewhat hidden lens than a traditional video projector.
Because I was completely unfamiliar with XGIMI (despite it being the number one projector brand in China), I asked the product's publicist for a review unit to see if it worked as well as it looked it pictures.
I already have a two-piece projection setup in my basement home theater, so my interest in XGIMI Halo had more to do with its potential portability and performance that would allow me to take it outside for watching sporting events and movies under the stars.
Related: XGIMI Horizon Offers Hassle-Free Home Cinema Experience
Unboxing the XGIMI Halo
The XGIMI Halo measures about seven inches high by four and half inches wide by five and a half inches deep, so it's easy to get a grip on it when you remove it from the box or need to take it to your preferred viewing location. Without more than a cursory look over the owner's manual, I was able to discern that external buttons and controls were kept to a minimum. Most control would clearly come from the supplied remote.
The metallic exterior that I already mentioned wraps around the two sides and front of the projector, allowing the 2x5W Harman/Kardon Speakers to remain hidden and able to do their thing. A variegated black plastic rear panel includes a slot for ventilation, which is below a simple row of inputs and a power button. The inputs include a DC In, an RCA jack for headphones, a single HDMI input, and a USB 2.0. On the bottom of the projector is a single "foot" with a hinge that rotates out from a flat position to tilt the projector up a tiny bit toward a screen or wall surface. The XGIMI Halo has a sturdy heft to it, and the hinged foot underneath has a tight tolerance that also reflects the company's attention to a higher build quality.
How It Performs
I initially projected an image from the XGIMI Halo onto my woven fixed screen from Screen Research in my basement home theater, which can support an image as large at 110 inches at a 16:9 aspect ratio. In a fairly dark room, the 1080p image from the XGIMI Halo looked surprisingly crisp for such a small projector, providing a properly bright and vivid image for that size screen. It was difficult to test the projector in the theater, however, because of the location of my seating, which includes an elevated platform with sofa. Although four-point keystone correction allows the XGIMI Halo to be positioned off axis, I still had a hard time finding a good placement option for it in the theater and with no internal lens positioning options, finetuning the image on the screen was tough.
As I already noted, the area where I really wanted to use the XGIMI Halo was outside, on my back deck, and that would require a new projection surface to match the XGIMI Halo.
After exploring low-tech options like sheets and giant piece of cardboard, I called on my old friends at Elite Screens to see what they would recommend. We've been chatting at trade shows for years, and I was always impressed with the California-based company's blend of pro-level projection screen offerings and consumer-friendly units. I asked about some consumer-friendly screens that could be moved in and out of the house easily. They recommended the Elite ezCinema 2, a free-standing portable projection screen that can be swiftly pulled up or retracted using a "scissor-backed" free-standing mechanism that requires no extra tools, accessories or effort.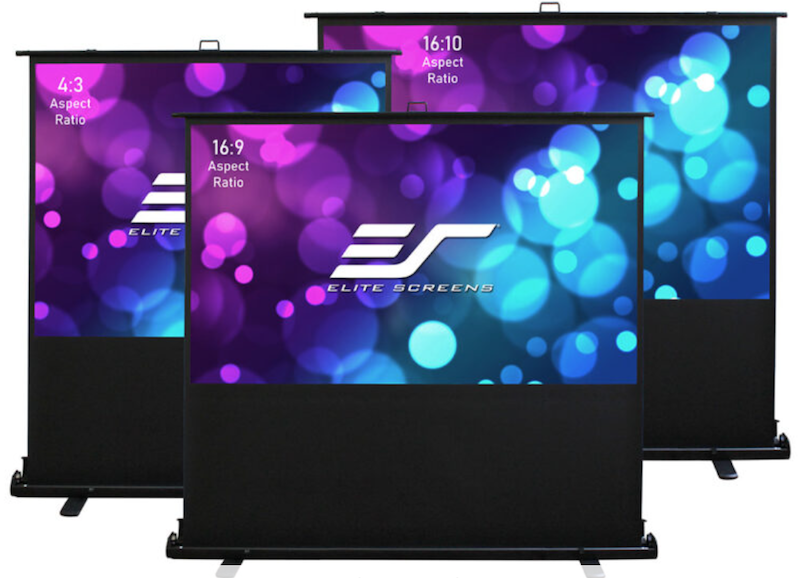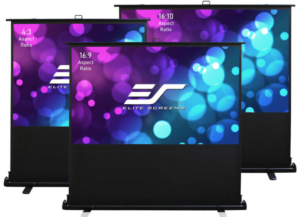 As marketed, it's the perfect "projector screen in a box" for portable presentations on the go. Its matte white material has a wide viewing angle and is masked on all four sides for enhanced aesthetics and visual contrast for a 70-inch image. The screen also comes with a black backing to eliminate light penetration for brighter image fidelity and includes a nifty travel case to keep it protected.
The Real Test Outside
One night earlier this spring, I came home from my 15-year-old daughter's play (she's my favorite actress) and because it was such a beautiful night outside (low humidity, starry sky, not too hot), I carried the Elite screen case outside, set it down along a sidewall on my deck, pivoted the two feet under the unit perpendicular to the screen, and gently pulled the screen up to its maximum height of about five feet.
I powered up the XGIMI Halo (it has a 17100 mAh built-in battery that I had been charging overnight) then positioned the projector just below and about three feet in front of the screen on a small portable TV tray. I flipped the little stand under the projector to angle the image up toward the screen, and the autofocus feature on the projector projected a test pattern. In about three seconds, the XGIMI Halo focused on the screen, and the 70-inch projected image of the projector's menu showed up on the screen with the same sharp picture with accurate colors and brightness that I would expect from my 65-inch LG TV just inside the house. I used the keystone correction to square up the image, and I was very happy with how fast the XGIMI Halo was up and running without a lot of hassles.
It was dark outside, so that helped the image look its best, but even in my office, with the lights on, the image holds up well, as long as I'm not projecting it too large (to remind myself of all of the projector settings for this article, I propped up an unopened package of office paper and projected an image only about a foot away, creating a 9-inch diagonal picture right at the corner of my desk.)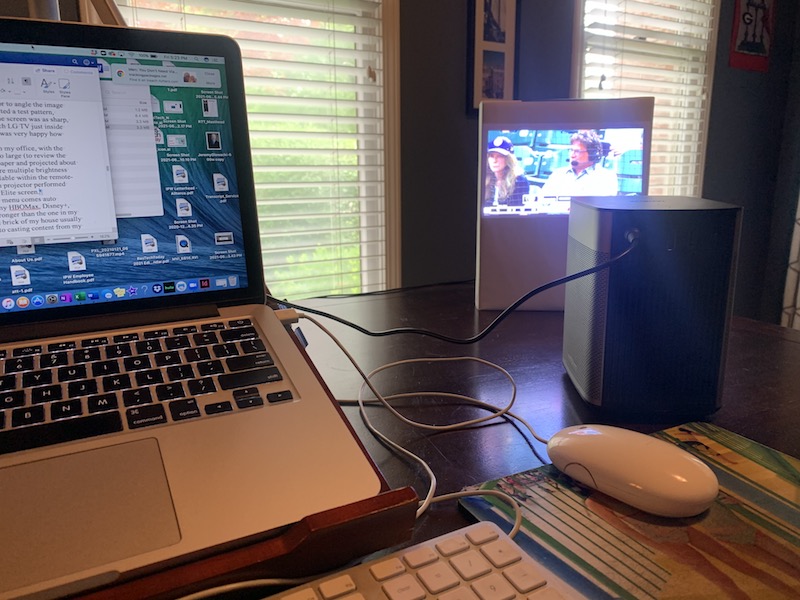 Even though there are multiple brightness options (Bright, Standard, Soft, Office, Game, and Customize) available within the remote-control-accessible settings of the XGIMI Halo, the 800 ANSI lumen projector performed much better when not having to compete with ambient light on the Elite screen.
XGIMI Halo Control System
The XGIMI Halo control system is operated by Chromecast, so the menu comes auto populated with some Android Apps. I also made sure that I linked my HBOMax, Disney+, Hulu, and MLB accounts to the projector, so some of my favorite sources would be available. The Wi-Fi antenna is strong, so the signal strength issues I sometimes encounter when contending with my home's glass and brick exterior, haven't been a problem with the XGIMI Halo, so far. I haven't had to resort to casting content from my phone nor attaching an external streaming device like a Roku stick or AppleTV via HDMI, but those are options that are available.
The only limitations that I have found with XGIMI Halo content streaming are the company's lack of content agreements with Netflix and Amazon Prime Video. To watch Netflix programming, XGIMI recommends four options:
1) Use Netflix through an HDMI
2) Use Netflix through Roku or Fire TV stick
3) Use the Chrome browser to cast Netflix to the XGIMI Halo from a laptop computer
4) Load the Kodi app
The only way to watch the Amazon Prime Video streaming service is to Chromecast it to the XGIMI Halo from a smart device. This is not awesome by any means, but in my in specific use case where the XGIMI Halo isn't even my secondary viewing option, I choose to focus on what is easy to stream. Typically, I'm on the deck either watching a specific movie that I pre-selected or a Yankees baseball game from the MLB At Bat app. I'm not usually going to sit on the deck and channel surf.
I've found that the Harman Kardon speakers, while far from Surround Sound caliber are more than sufficient for dialogue clarity and general volume level. If that's not enough for a louder environment, then there's a setting in the projector for switching to an "output" option that accommodates external speakers.
Contending with Autofocus
Initial setup is a little crazy if you don't have a proper screen because the autofocus will go into "overdrive" trying to read the projection surface and fine tuning the focus of the image. It's tempting to fire the projector right up after unboxing it, but it's best to wait until you've actually got a white, smooth surface to aim it at.
The relatively small, white plastic remote control has enough buttons so as to not be unwieldy for an infrequent user of the projector. There's a control "wheel" in the middle, a simple volume up and down toggle switch on the lower quadrant, and a home button, a "return" button, one for settings, and a couple other menu buttons. It's pretty easy to navigate through the menu and control the volume in a dark environment. For those who prefer to talk to their TV, there's also a central button that initiates Google Assistant for voice control.
Overall, my experience with the XGIMI Halo has been very positive. It's an excellent portable solution not only in the application like mine, but for someone who wants a large family room TV, without a clunky projector or a black TV screen on the wall when it's not being used. It's also a great option for as an office projector for road warrior sales types. At around $800 MSRP, it's not a cheap projector when combined with a $150 screen, but it's certainly a reasonable alternative to a premium outdoor TV or large indoor LCD.