Most homeowners maintain a strictly "don't ask, don't tell" policy regarding the plumbing in their homes. As long as the water routinely reaches the right temperature and pressure level in the shower, the toilet flushes reliably, and the dishwater doesn't leak all over the hardwoods, the inner workings of those old copper pipes behind the walls are treated as out of sight and out of mind. Well, that is until that day of reckoning finally comes, and a tell-tale damp spot appears in the family room ceiling sheet rock or the basement carpet ripples underfoot after god-who-knows-how many days of rusty water has been draining out of a collapsed water heater.
According to the American Insurance Association, water damage claims have been growing faster than other components of homeowner's insurance. Rooted in a number of different situations, $9-billion-a-year catastrophic water damage can come from natural disasters, plumbing failure, and a range of other sources nationwide.
Until fairly recently, there was really no way to prevent the plumbing failure portion of this equation, but now, an increasing number of water sensors and other smart home devices are giving homeowners at least a fighting chance. One company is so confident in its ability to protect the home, in fact, that they're willing to pay the insurance deductible if a home with their product installed experiences catastrophic water damage.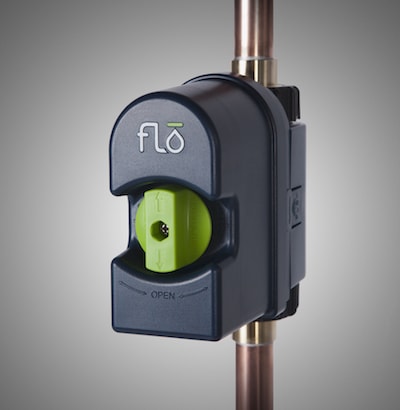 The Flo Water Damage Prevention System from Flo Technologies was invented by Henry Halimi, a mechanical engineer with 30 years of plumbing equipment experience, who honed his knowledge of the category while serving, for many years, as an expert witness for insurance companies in water damage claims.
According to Flo's chief strategy officer, Aaron Edelheit, the brilliance of Halimi's concept is that it's a whole-home protection system from just one device.
"We not only monitor water, but we're an automatic leak detection, and shut-off device," he said. "We think we're eliminating water damage and because of that, if you have a water damage claim, we will pay your deductible up to $2,500. We really think that, in the industry, it stands out that we'll not only stand behind our product and the ability of our product to protect your home, but that we also guarantee it."
The device installs where the main line enters a house. For example, in California, it would be located right outside the house, whereas in the Northeast, it will be cut into a water pipe in the basement or crawl space. The plumber-installed unit, which requires a standard 120V power connection to work, integrates a water flow sensor, a temperature sensor, a pressure sensor, and a ball valve that can automatically shut off the water. Layered on top is machine learning/artificial intelligence software that learns when an inconsistency occurs in the plumbing system.
"Let's say that your pipe bursts," Edelheit explained. "The device will know, based on machine learning/artificial intelligence, what is normal and what isn't. So it will automatically shut off the water in your house. Or, if you left your bathtub running or your garden hose running, it will alert you that there's extended water usage. If you don't respond, it will shut off the water. Or, if your pipes get close to freezing, it will email, call, or text you to tell you that the water is getting close to freezing and here's what you can do to avoid it."
The Flo System is also designed to provide preventative tests to help avoid future calamities. At night, it proactively shuts off the water to the house to run a microleak test.
"Imagine a balloon full of air…" Edelheit illustrated. "If there's even a tiny pin prick hole in that balloon, it's going to lose pressure. The same dynamics work in the plumbing system in your house because we create a closed, pressurized loop. We can detect leaks as a small as a drop a minute. It's those small vulnerabilities that lead to larger ones."
The Flo System does not turn the water off in the event of a power outage. If you want to turn your water off when the power is out (or in case of other emergencies), you can use the hex key and green manual knob on the Flo device to turn your water off/on.
A client's smartphone is command central. It allows you to receive alerts and turn your water on or off from anywhere in the world. You can view your home's water consumption, or even contact your plumber to have them come fix
a problem.
Flo is currently compatible with Amazon Alexa and more integrations are in development. The system is available direct to consumers at The Home Depot or more traditionally via plumbing supply distributors.
The Flo team believes that by combining machine learning, sensors, and a proactive nightly pressure test, they can protect an entire home and prevent almost all forms of avoidable catastrophic water damage that comes from a potable water line. They're so confident that they're willing to bet your deductible on it.