As Tim and Carol Burrow explain it, the post-COVID-19 lockdown popularity of their boutique hotel, Absoluxe Suites, in England's Kirkby Lonsdale stems from two things: their vision to provide guests a destination experience right in their suite, and the fact that the other company they own, high-tech home installation firm Majik House, integrated Control4 automation technologies to turn each suite into a remote-controlled travel paradise.
When the U.K.'s COVID-19 regulations forced Absoluxe Suites to close its doors in March, the Burrows weren't sure if their experimental luxury lodging venture would survive. After re-opening in late July, the boutique hotel in Kirkby Lonsdale is having its greatest success yet, as its four destination-themed suites attract more guests, from farther away, for longer and longer stays.
It begs the question: how could a boutique hotel success story be possible in 2020?
Reflecting World-Class Destinations at Absoluxe Suites
"Once we decided that all four suites would be designed to reflect different world-class destinations, we started to think about how we could create the most seamless, care-free lodging experience possible for the times we live in," Carol said.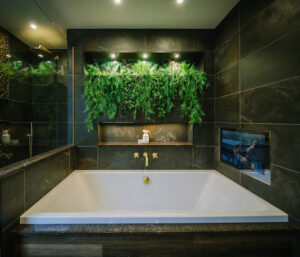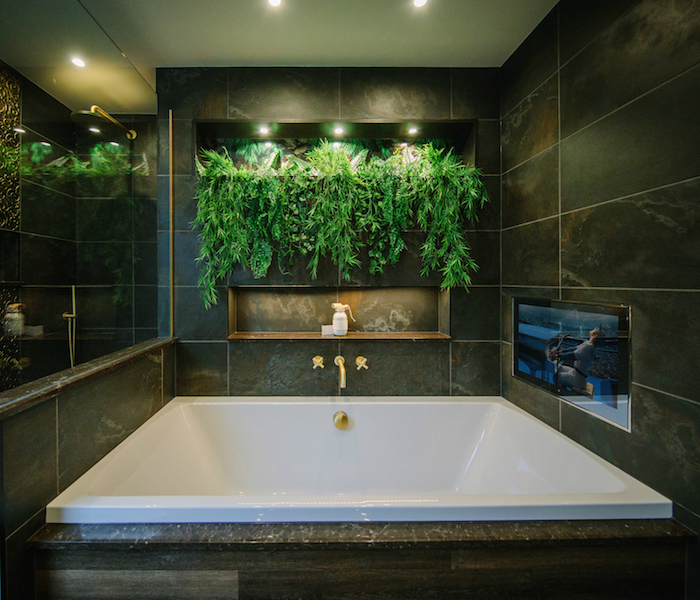 For the owners of Absoluxe, that means providing contactless check-in, emailing guests before arrival with their room's entry code, and sharing a video demo of their room that shows how easy it is to use the high-tech functions.
Related: My Evolution from Reluctant Smart Home Customer into Fully Committed Enthusiast
"Our past clientele were mostly from the surrounding area, but now we have guests coming from London, Birmingham, and even farther," Carol added. "Plus, they are staying for up to four nights, when our previous average booking was two nights."
The suites each have a completely different look, feel and ambiance, with the Oasis Suite, the Parisian Suite, the Orient Suite, and the Columbus Suite offering one-of-a-kind stays that encourage repeat visits to try the different suites. Each is operated through a Control4 automation system that ties together lighting, climate, TV, music, window blinds and CCTV into a single, easy-to-use interface, so guests have total control over their environment.
Control4 Appears on Absoluxe TVs
Absoluxe guests can access and control everything simply and intuitively via an on-screen display on the suite's TV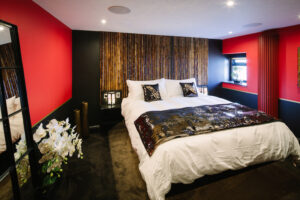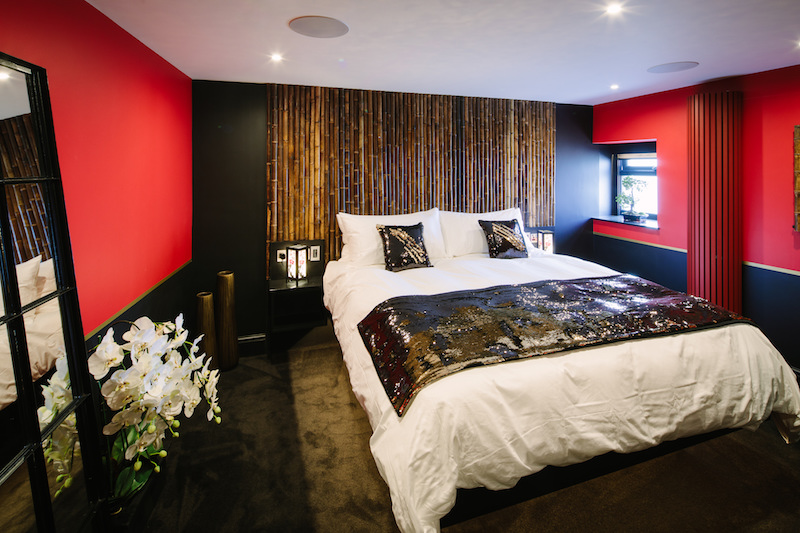 "When they press the red '4' button on the Control4 remote the interface appears instantly, and within seconds they've mastered the system and can set everything in the room exactly how they want it," Tim explained.
A quick look at Absoluxe's guest book or TripAdvisor reviews reveals that guests specifically compliment the electronics as being easy to use and providing an elevated, customized stay.
Motorized Blinds Control
In another instance of "they've thought of everything," each room has a keypad mounted near the bed to control the motorized blinds, so guests can always control them right from their bed, even if they put the handheld remote down somewhere else.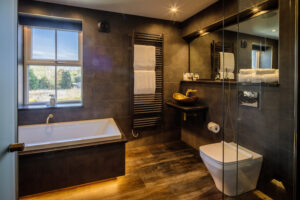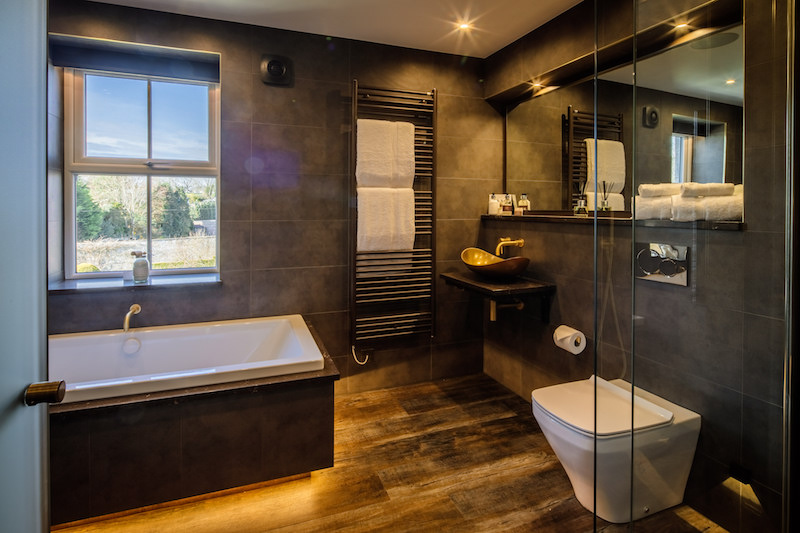 Beyond guests' ability to adjust the blinds, play music in the bathroom, or turn up the heat while lying on the couch, the technologies in Absoluxe also provide a bevy of helpful utilities for the Burrows and their staff.
The Control4 ecosystem provides full remote control from mobile devices and PCs, so the Burrows can always check in on each room's temperature, lights, speaker volume, and more, which is especially helpful when preparing a suite for guests' arrival or providing assistance that requires no physical interaction.
"Because people haven't been able to travel abroad as much, Britons are more willing to indulge on specialized experiences closer to home, where the lodging itself is the destination," Carol said. "This year's circumstances, combined with Absoluxe's experiential intentions, have helped us achieve nearly 80-percent occupancy since re-opening. That's much, much higher than before the lockdown. It shows that people still want to travel but are more comfortable with options that are simultaneously luxurious, private and entertaining."
Absoluxe Offers Sanitized, but Not Sterile, Lodging
The Burrows took every measure to attract guests, including sanitizing hot tubs after every stay and providing contactless check-in with hand sanitizer in the lobby. However, the experience is still the most important thing, so it's not presented as a sterile, clinical environment, but instead as exceptionally warm, with sights, sounds and even smells delighting travelers at every turn.
"The travel experience starts when you book and ends when you leave," Carol added, "and we do everything we can in between to guarantee we have the happiest customers. The main hallway has a large diffuser that ensures there is always a pleasant smell for arrival, and each room is pre-set to enhance the destination feeling."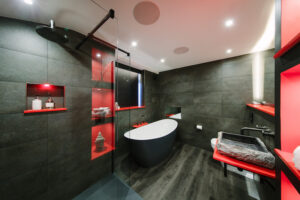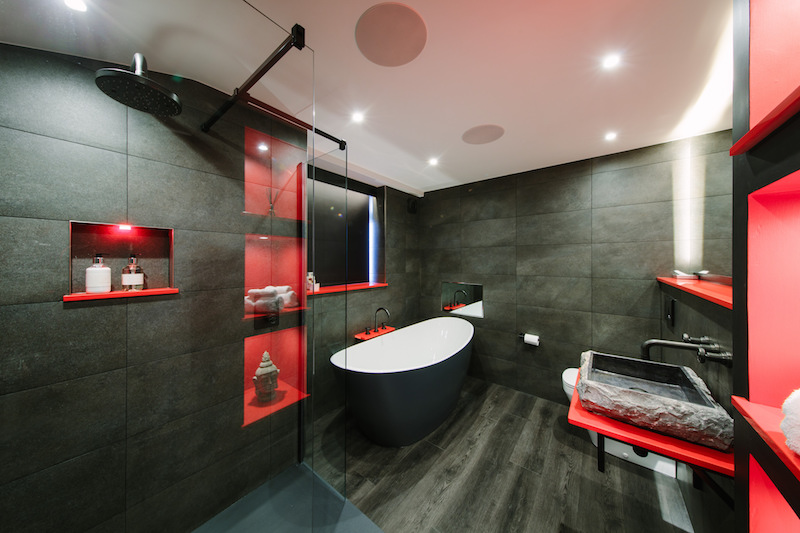 Like in the Parisian room, where guests enter to French music playing, with the blinds open if it's summer and closed in the winter, and the "goodbye" button that allows guests to shut down the whole room instead says, "au revoir."
Since the establishment does not have a restaurant, and there are no kitchens in the suites, the Burrows concocted "dine-in boxes" so that Absoluxe guests have everything they need (plates, cutlery, napkins, a tablecloth, etc.) for when they order takeaway at nearby restaurants and bring it back to their suites .
Differences Between Suites
Each suite includes minor differences, with some containing hot tubs, and different numbers of TVs. They include a 55- or 65-inch TV in the bedroom and another TV in the bathroom, while the Oasis Suite adds a third TV in the lounge area. The rooms have speakers with individual volume control, and every window features motorized blinds.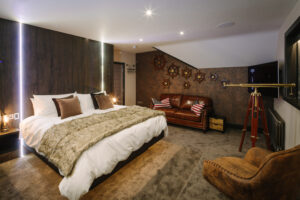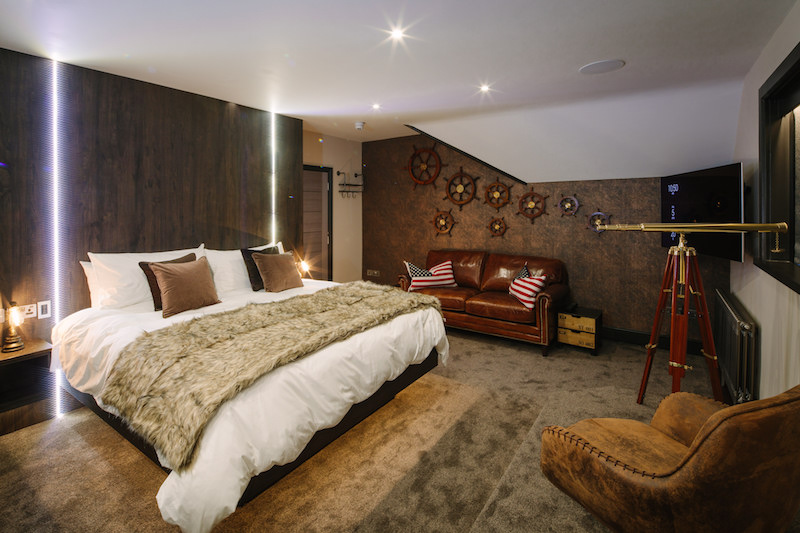 Every room in the suites are managed by its own Control4 handheld remote and system controller.
As owners of a technology installation company, Absoluxe has also become the perfect showroom to show prospective home clients what it's really like to live with home automation, rather than simply walk through a showroom for an hour.
Since opening, the Burrows have had several new clients stay overnight at Absoluxe, free of charge, so they can better understand how the systems work, decide what features they want, and gain confidence that home automation is reliable and easy to use.
"Twenty-four hours in one of these suites tells you a lot," Carol said, "and we've found that it gives new clients much more specific expectations and builds more excitement than they had from walking through a showroom. All in all, this has turned out to be a strong year for this type of business and we're excited to continue providing unique travel experiences."
In addition to the Control4 technologies that run each suite, Absoluxe relies on an enterprise-grade Pakedge internet network that guarantees fast, reliable connections for every TV, remote, Control4 component and guest device. Surveillance cameras provide a real-time view of the hallway and exterior areas, which allows staff to actually see when guests have checked in and immediately follow-up to ask if guests need anything.