Smart locking systems use electronic components and technology to control access to doors or entry points. Unlike traditional mechanical locks that require physical keys, electronic locks offer enhanced functionality and convenience through electronic authentication methods like keypads, credential readers or other advanced authentication methods.
Allegion, through its Zentra and Schlage Control brands and more, is a global leader in seamless access, working to help keep people safe and secure where they live, learn, work and visit. With more than 30 brands sold worldwide, the company specializes in security around the door and adjacent areas: everything from residential locks and portable security to commercial locks, exit devices, openers and closers, electronic access control and workforce productivity solutions.
When it comes to smart locks, property access is made easy, smart, and secure by Zentra's array of solutions. A single software platform that integrates hardware and support services unifies the brand's offerings to increase back-end efficiency for property managers and improve the overall resident experience.
Zentra was developed with operators, residents, and multifamily integrators in mind and is trusted and easy to use. It helps to give the security that meets their specific demands as well as the ease they expect.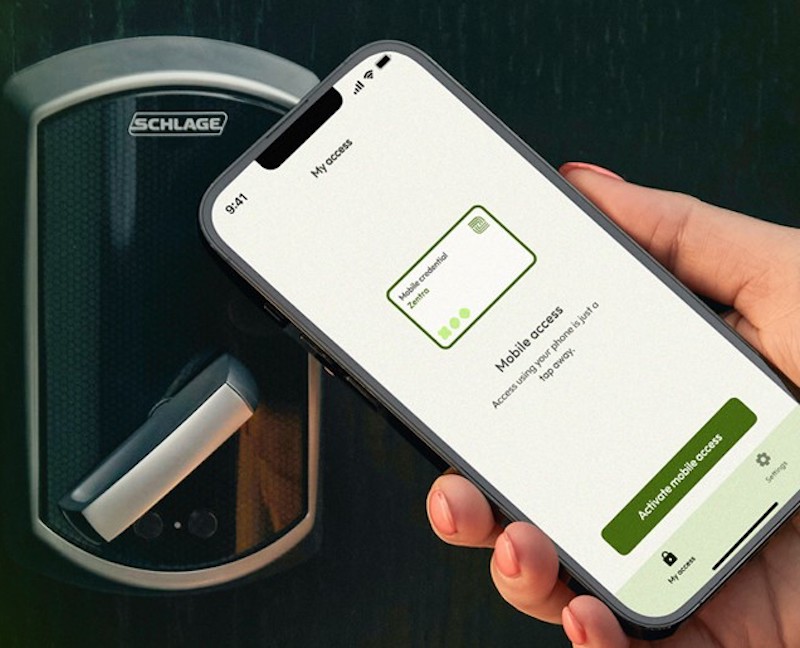 "Residents' lives are full of movement, constantly accepting deliveries, coordinating in-home or on-location services, welcoming visitors and so much more," said John Goodwin, vice president and general manager of multifamily access of Zentra. "Zentra is focused on simplifying the whole experience of selecting, installing and using smart access solutions for multifamily buildings to drive higher adoption in the market and deliver increased return on investment for property managers and owners. Coming from Allegion, a trusted name in security, provides added confidence for users and channel partners."
The Schlage Control mobile-enabled smart lock was created especially for doors in multifamily housing. Due to the design's flexible compatibility, property managers will have the ability to choose the third-party access control software that best meets their needs and will let residents enter using a smart credential or a smartphone.
With Bluetooth mobile credential compatibility, properties will save time and money in managing resident access by no longer having to deal with traditional keys, opening the door to any number of future possibilities.
"For the mobile-minded multifamily resident, we saw an opportunity to introduce the option for a solution that would enable simplified visitor access, scheduling maintenance and granting entry for services including grocery delivery and pet sitting," said Robert Gaulden, director of technology alliances, multifamily at Allegion. "Not only does this create convenience for consumers, but it helps property managers more efficiently handle some of their biggest pain-points, including package management, credential management and enabling other concierge-level amenities."