Last September, Amazon held a surprise event to introduce a myriad of new Echo devices. Well, it looks like they might be making this an annual occurrence as this year, once again, Amazon surprised the tech community with an event to debut a number of new Echo products.
In their attempt to incorporate Echo into move devices and appliances, Amazon is taking the smart home world by storm with their new products. Some of the announcements out of the event pertained to updates to previous products, like a new Echo Dot, but others introduced completely new smart home products, like an Alexa-enabled microwave. Here, we'll break down the most exciting announcements coming out of the Amazon's 2018 hardware event.
Amazon Echo Show
With a larger 10-inch screen and improved voice recognition technology, Amazon's latest update to the Echo Show makes it a fantastic improvement to the smart hub. With an eight-microphone array, the company claimed that this device has the best mic system that Amazon has ever shipped.
In addition, they also added web browsers (like Amazon's Silk and Firefox) and announced that a Skype app will be made available that will allow users to make calls directly on the Show. This new Echo Show will be sold for $229.00 and is currently available for preorder and will be made more widely available in October.
Echo Wall Clock
In an effort to incorporate themselves into more and more aspects of our lives, Amazon announced their new Echo Wall Clock. The Clock, which has Alexa voice capabilities by pairing with an existing Echo device over Bluetooth, will allow users to conveniently set alarms and timers, making the lines on the clock illuminate as time progresses. The move makes sense, as alarms and timers are two of the most frequently used Echo features and fit conveniently in a wall clock format.
AmazonBasics Microwave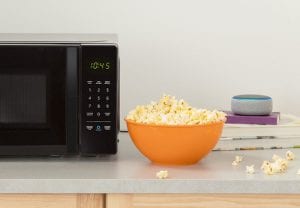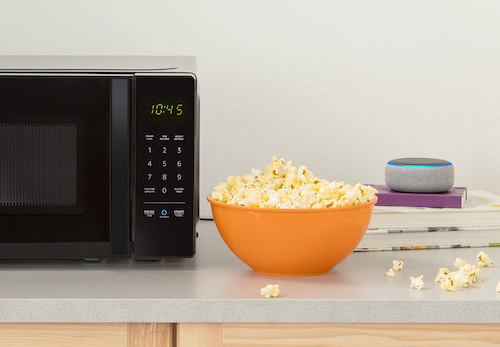 What is likely the most surprising new device to come out of the event, the AmazonBasics Microwave will come with full Alexa voice technology. At a push of a button, the microwave will allow you to choose your presets or a specific timed cook. It doesn't actually contain it's own microphone, but instead connects to your other Echo devices via Bluetooth. It's an interesting choice, but at the event they claimed that the microwave is "the most popular appliance that's out there today," but also "one of the hardest devices to integrate with."
The Dash service will also be available, allowing you to conveniently restock your pantry via your microwave. At $59.99, the microwave is set to launch November 14, bringing with it a convenience you never knew you needed.
Ring Stick Up Cam
It's dubbed the "Stick Up Cam" because of its ability to go anywhere. Built for both inside and outside utilization, the device is the first Ring camera to be designed for both environments. The camera comes in two versions: battery-powered (Ring Stick Up Cam Battery) and wired (Ring Stick Up Cam Wired). It can be easily integrated with Ring Alarm and Ring's Neighborhood app, helping users better monitor for suspicious activity.
Both versions of the camera feature motion detection, 1080p HD resolution, night vision, two-way talk, a siren, and a wide viewing angle. And of course, voice technology is being incorporated, allowing users to ask Alexa to show them any room of the house in which they have a camera set up.
Alexa Guard
Speaking of cameras, Amazon is ramping up their whole home security system. Their new Alexa Guard essentially turns every Echo device into a security device. When the user is away, the Alexa Guard flips all Echos into "Guard Mode," so that they listen for specific sounds emblematic of a break-in (i.e., breaking glass).
In addition, the home security system will come with smoke and carbon monoxide detection, and will integrate with other existing security products, like those from ADT and, of course, Amazon's own Ring products.
Alexa Smart Plug
For even further smart integration, Amazon introduced the Amazon Smart Plug. As the name suggests, the device is a outlet adapter which is Alexa compatible, meaning you can tell Alexa to turn on or off whatever device is connected to the Smart Plug. Starting at $24.99, the Smart Plug will allow users to incorporate voice control into any device that plugs into the wall.
Echo Auto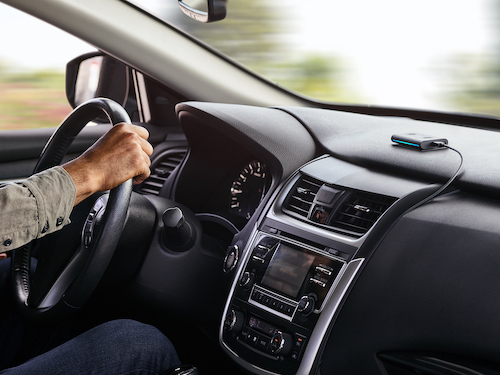 While not necessarily a home-based product, the Echo Auto shows how voice technology is continuing its integration into all aspects of our lives. Connecting to Alexa through your phone and playing over your car's speakers, the Echo Auto features eight microphones, which will allow it to make out your voice over road noise and music. It will allow users to do all of the usual Alexa commands, and when you ask for directions, the Echo Auto will send you to your preferred navigation app (Google Maps, Apple Maps, Waze, etc.)
The Echo Auto is starting as an invite-only product at $24.99, but will eventually become open to the public at $49.99.