By Dominik Jęchorek
While security continues to be one of the top drivers for smart home system adoption, there are several other benefits that dealers, integrators, and installers can tap into to close a sale or a project. One of those overlooked categories—one that can turn an average integrator into a savvy one—is energy management.
Turning to Energy Management
Energy management can weigh heavily as a "pro" when customers are considering if they want to invest in a smart home system or not. While many consumers understand that more control over the devices in their home could lead to some savings on their monthly energy bill, truly savvy integrators help customers understand just how powerful those savings could be.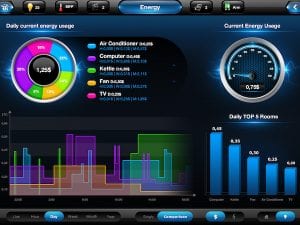 In the same fashion that "security" can be used as a selling point that varies with the needs of a customer, "energy management" is just as flexible. For some customers, security means an upgraded front door lock that they can lock/unlock remotely or check the status of while they're at work or away. For some, security means there's a smart door lock on the front and back door and door window sensors on every possible entrance into the home. For others, it could be all of the above plus a connected siren that sounds locally and notifies the police if there's unauthorized access. The point is, the perception of security varies from customer to customer and savvy installers know exactly which level to sell to which type of customer. The same is true for systems that offer customers energy management features, but it's up to the savvy installer to know, understand, and present the ideal level on a per customer basis.
For example, some customers are satisfied with a single-point approach to their energy management. In this case, a single smart wall outlet will likely serve the customer well as it grants them remote control over a device or appliance that might be particularly power hungry, such as a window-based A/C unit. If a potential customer is without central air, an A/C unit installed in the window may be the only method of cooling available to them yet running them constantly can really run up an energy bill quickly. A savvy smart home installer can leverage this information to suggest a smart outlet that not only grants remote on/off control to the end user but the ability to run a power-hungry window A/C unit on a schedule to reduce runtime and save energy when the customer isn't home. For some customers, monitoring and controlling a single appliance in their home might satisfy their perception of energy monitoring whereas others will desire more.
Use Lighting Control as a Starting Point
An installer can leverage more complex scenarios to satisfy deeper desires for a system that will make a more significant impact on energy savings. Lighting is a common starting point and easy to understand as end users identify lights left on as a major waste of energy. For example, installed connected lighting that runs on a schedule based around when users are home or away is an excellent way to cut down on energy usage yet an even more detailed method is to associate the lights in each room with a paired motion sensor that can illuminate a room when someone enters and automatically shut them off when motion is no longer detected. This is a perfect example of a savvy smart home installer solving a problem that their customer did not even know they had; this eliminates the nagging question in the back of the consumer's head of whether or not they left the lights on or off or if they're wasting energy and money keeping a room or certain part of the house illuminated that does not need to be.
No single benefit of a smart home system exists in a silo. Integrators can use this to their advantage when installing whole-home systems. Rather than relying on just one benefit, such as security or comfort, many of the benefits of a connected home become enhanced when positioned as a dichotomy or cluster. To expand upon the aforementioned window A/C unit scenario, not only can a single smart plug provide energy savings by limiting run time of a power-hungry appliance, it also provides a level of comfort during those hot days by allowing the end user to power on the unit before coming home from work so they return to a comfortable environment. In the connected lighting scenario, energy savings is just one piece of the puzzle as smarter lighting provides comfort, convenience, and even safety implications by ensuring the user never returns home to a dark house.
Integrating and truly leveraging energy management into installations is just one-way savvy smart home integrators can stand out from average installers. For many, reducing their energy usage footprint might be just as important as security or comfort. Understanding how smart home technology can be deployed in such a way that helps end users achieve their energy management goals can be a powerful bit of knowledge in an integrator's toolkit.
Dominik Jęchorek is head of sales U.S. and Canada at FIBARO, a designer, developer, and manufacturer of smart home systems and intelligent devices coming out of Europe.