Apple TV 4K, 6th Generation, has finally arrived.
There is a great blues standard by Etta James called "At Last", and after watching Tuesday's product and services announcements from Apple I was tempted to ask Siri to play it.
Related: Savant Integrates On-Screen Controls into Apple TV
Yes, Apple announced new iMacs, new iPad Pro models with miniLED screens and the long-rumored Apple AirTag. All great, but the best news for many Residential Tech Today readers was the unveiling of a new 6th Generation Apple TV 4K, after waiting for many years and watching competitors such as Roku, Amazon's Fire TV, Google's Chromecast, and Nvidia Shield significantly update their streaming product lines.
What's New with Apple TV
In this 2021 release, the current Apple TV's A10X Fusion processor will be replaced with the A12 Bionic for significant improvement in video processing to enable 4K HDR, including Dolby Vision with 60fps/High Frame Rate (HFR) playback. Apple is working with streaming service providers across the globe to release content with HDR/HFR, and iPhone 12 owners will be able to use AirPlay to stream content that they have shot with Dolby Vision at 60fps. For those displaying new flat panel TVs at retail or in showrooms, this gives you an added tool for showing your own custom demo material.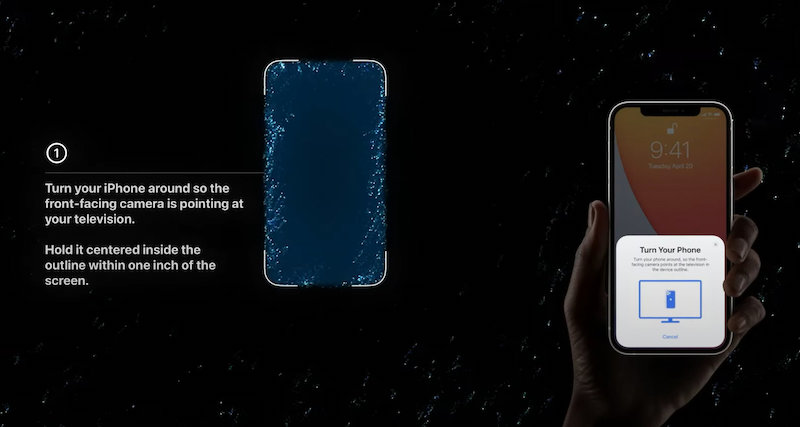 Elsewhere on the "inside," there are two very important upgrades that may well enable the new Apple TV to have a shelf life equaling the close to four-year gap we've just bridged. The Wi-Fi has been upgraded to Wi-Fi 6/802.11ax to go along with the Gigabit Ethernet and Bluetooth 5 added with the previous model.
Perhaps even more noteworthy, the new Apple TV 4K can output content via an HDMI 2.1 port. Still a rarity among external streaming products, this further insulates the user from any forthcoming changes to content distribution that require the newer, higher level, video connectivity. It will be interesting to see if Apple's continued expansion of its Apple streaming game service takes advantage of the features of HDMI 2.1
One final new feature made possible by the A14 Bionic chip in combination with the light sensors in many iPhones running iOS 14.5 or later is a color balance process that reads the image on a TV screen and compares what is seen to what are said to be "industry-standard specifications" to adjust the video output for optimal color accuracy and contrast. Keep in mind, however, that this does not eliminate the need for a baseline calibration of the display, itself. The correction is applied within the Apple TV 4K, so it obviously cannot adjust the image from other external or internal sources.
A Totally Redesigned Remote
Last, but certainly not least, the new Apple TV 4K will come with a new and totally redesigned remote. From an appearance standpoint, the black top face is replaced with the silver color of 100-percent recycled aluminum case.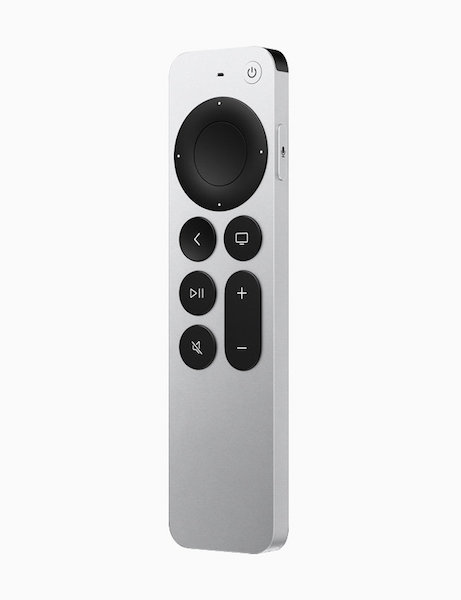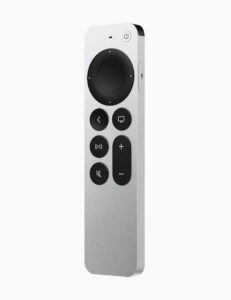 More importantly, it addresses my personal beefs with the current Siri remote. First, it is a bit thicker, and that hopefully makes it easier to hold. The button layout is dramatically different. The square touch surface has been replaced with a round shape, outlined with an outer ring circle. That not only helps the user contain their finger more precisely within the sensor area, but it has four directional dots in the cardinal directions and can act as a scroll wheel. Combined, this will make it demonstrably easier to navigate and control.
The rest of the buttons on the remote have also been repositioned. A TV power on/off button is now at the upper right corner, and mute button has also been added. Thanks to the added depth, there is room for the Siri button to be moved to the right side of the remote, making it easy to find and use.
Pricing the New Apple TV
Putting this all together, the new, 6th Generation Apple TV 4K keeps its place in the higher high-end of the market. Those hoping for a less expensive Apple TV will be disappointed. At $179 for the 32GB model and $199 for the 64GB model, something to compete on price with Roku, Fire TV and Chromecast just isn't in the cards here. That said, particularly for anyone invested in the Apple ecosystem this new product will likely be a "must have". Pre-orders begin on April 30th, with product availability set for the second half of May.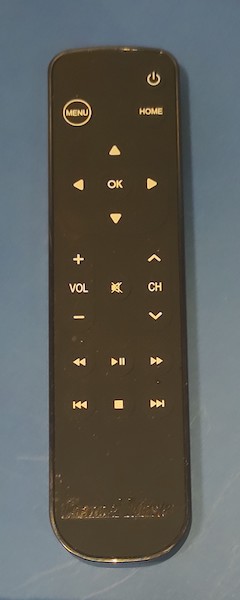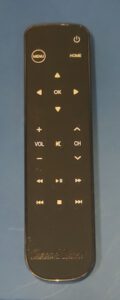 If you don't feel the need to replace your current Apple TV but hunger after the new remote, it will be available separately for $59 and will work with the 5th Gen Apple TV 4K and the 4th Gen Apple TV HD. That latter unit will continue to be available with the new Siri remote for $149.
However, if what you really need is a new remote, take a look at Channel Master's "Simple Remote". With thanks to Channel Master for providing a sample, it totally replaces the touchpad with, as the name implies, simple directional and a fuller set of "transport" buttons. No, it is IR, not wireless and there is no mic for voice control, but for those like me who have problems with small touch pads, at $25 it is an interesting remote alternative.
A Quick Rundown of Other Apple News
For all the focus here on the new Apple TV 4K one has to mention that there were more than a few other announcements from Apple. The long-rumored Apple AirTag, a lost object locator that at $29 will be a strong contender to the likes of Tile. All-new iMacs in six colors, powered by Apple's own M1 chip and featuring a 24-inch, 4.5K display, a six-speaker audio system and Dolby Atmos playback, a three-mic, mid-field array and beamforming technology to improve intelligibility and minimize feedback, TouchID and many other significant improvements at a starting price of $1,499.
Rounding out new product announcements are two new iPad Pro models. The model with an 11" screen will start at $799, but the focus is likely to be on the 12.9-inch model that starts at $1,099. The latter is the first tablet with a miniLED-driven display for significantly improved image quality. Add $200 to the price of each size and you add 5G cellular capability.
All of that is great and should be a big hit with the Apple-verse. However, for me, and I suspect for those who are Apple TV device fans, the long wait for a great new model is finally over. At last!