From penniless father to world-class wrestler, from a lover of film to larger-than-life movie star, Dave Bautista has put in the work. He's also a student of the craft, wants to act alongside the industry's best, and loves to tell a story through performance.
He wasn't always this big though. Bautista was a shy, gangly kid growing up on the streets. Since, he's had to overcome an introverted personality and the financial hardships of a young family to get his start.
For the last two decades, Bautista has enjoyed the life of a six-time WWE wrestling champion, roles in films like Riddick, Blade Runner 2049, and the Guardians of the Galaxy movie franchise as Drax.
While the COVID-19 pandemic has delayed a long list of movie premieres and episodes from our favorite theater, Netflix, Apple, or Hulu feature, the star of Dave Bautista has gotten brighter.
Related: Ralph Macchio Talks Tech, the Switch to Netflix, and Season 3 of Cobra Kai
Recently, Residential Tech Today caught up with him to talk not only about his time as a wrestling champion and tech interests, but his upcoming projects like Dune, See, and Army of the Dead.
Residential Tech Today: Can you tell us how you started in entertainment?
Dave Bautista: It's not a very glamorous answer. I needed to make some money because I was broke. To be honest, there wasn't much I was qualified to do. Other than lifting weights, I didn't pursue a lot right out of high school. I loved working out, it was so therapeutic for me.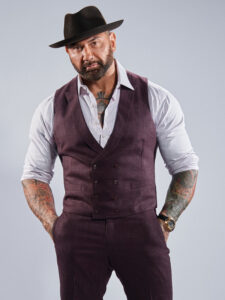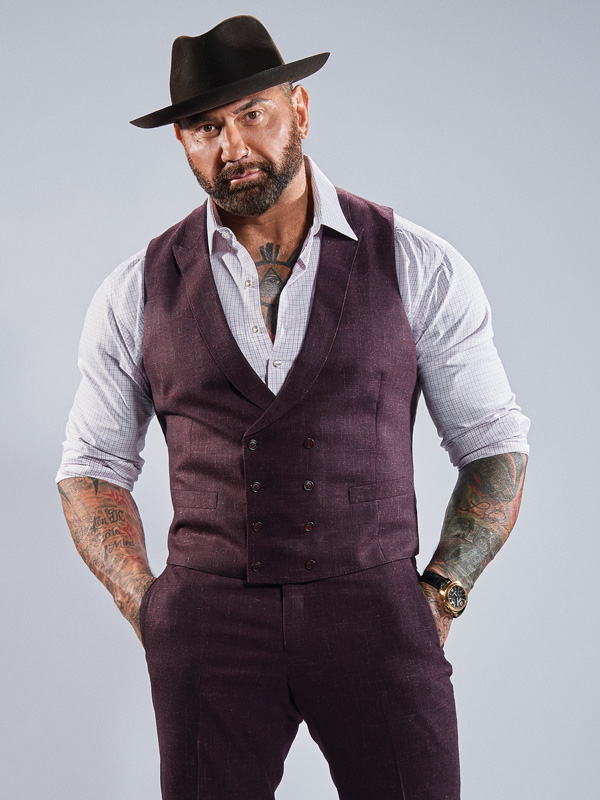 But closing in on 30 with two kids and no money, I figured I'd give professional wrestling a try. It was so hot at the time, and I looked the part, right? Back then, when I told people about my plans, they looked at me like I was crazy because I was such an introverted person.
I just didn't have many options, so I went after it. And it wasn't long before I became obsessed with wrestling. I fell in love with it. I fell in love with the entertainment side of things.
Although I was shy as a kid, I always wanted to be one of those flamboyant guys. I still struggle being in the spotlight. Fame can be a bit overwhelming for someone like me, but I love telling stories through performance.
RTT: Your career is firing on all cylinders right now with work on Netflix, Apple, and of course, Dune. What's the next year look like?
Dave Bautista: Dune has been pushed [to Oct. 1, 2021] I understand, and was anticipating this delay, but I'm like most fans – I'm dying to see this movie. I also did a film for Netflix called, Army of the Dead, and it has been pushed back as well. It is a fun take on zombies and should be released in the first quarter of next year.
But I am really looking forward to Dune. The movie means a lot to me and to the fans. It was a long journey from Blade Runner to Dune, so it is personal. I am also back in Canada now because I am signed up for a TV series called, See, with Jason Momoa.
In addition, I have something coming out that I can't talk about. It's a project I've worked on now for about four years and has some big names attached to it. So, I'm sorry I can't say anymore because I'm kind of teasing it here.
But it will be a big deal and I think people will love it. And of course, we will finally be going into Guardians of the Galaxy 3, and I am excited to get this done and bring it full circle.
RTT: Did you see the original Dune? Did you take anything from it and add it to your current interpretation?
Dave Bautista: No. Not at all. Dune in 2020 is a reimagining, not a reboot. It won't even remotely resemble the original film. The characters and film are much different, and this version will also be much closer to the novels.
I am not knocking the original, I just don't think it was true to the books. And of course, special effects have come so far since then.
RTT: How do you approach acting?
Dave Bautista: It becomes an obsession, and I crave to work with the best performers in the world. It is how I learn. I am an on-the-job learner. It was the same way in wrestling, and it has been the same in acting and making films.
I love breaking down stereotypes in characters and making my performance change the audiences' expectations of what a character is supposed to look or sound like. I love being a student, and I take pride in being a student. It's how you get ahead in life by putting yourself in that role to grow and learn.
RTT: If you had one dream matchup in wrestling, what would it be and why?
Dave Bautista: When I was a kid, I loved The Warlord. At that time, I was a scrawny kid, and he was this mountain of a man. I always liked the big guys. He was what I wanted to be, not a gangly kid sick with asthma. I wanted to be that big imposing person. I loved him, so I'd put myself in a match against him.
But if I had to watch the match, I would love to see Ric Flair against Triple H in their primes.
This may be biased, but they are the two greatest professional wrestlers ever.
RTT: What was it like to be on Bear Grylls? You seemed to have a real connection.
Dave Bautista: I learned a lot, and I lost a toenail. My biggest takeaway is Bear. He is such a down to earth, lovable person. I think all you're seeing on TV with him connecting with his guests is true. It's all genuine.
He is one of those guys you could sit down with and pick his brain. He's had such an amazing life.
RTT: Shifting gears, do you see yourself as a tech person?
Dave Bautista: I am in the process now of turning my garage into a movie theater. It's not because I am a big tech guy though, it's because I love the movie experience.
Not being able to go to the movies since everything shut down is one of the biggest things I miss. I like to lose myself in the theater, and it is such a social thing where everyone comes together, too. They have a smell and a feel. Movie-going is the best of both worlds, being around people and not necessarily having to interact with them.
But tech, I am not opposed to learning more, it's just a little after my time. I bought my mom a computer and spent the entire day with her getting it set up by telling her to "Google it."
RTT: How do you stay connected with fans? Although you are not a tech person, you are prominent on social media.
Dave Bautista: I like being connected with the fans. My followers are true fans, and they are interested in my life and journey. Those are the people I want to stay connected with as an entertainer. They are what it's all about.
RTT: You are a big animal lover. Are there any charities or nonprofits you want to talk about?
DB: I have close ties with Frankie's Friends. A lot of times people can't afford to care for their animals when they need a serious operation, and they are forced to consider putting them down. Frankie's Friends raises money for those families that can't afford the surgery or procedure to keep their beloved pets alive.
I also support Golden Ears Sanctuary in Tampa, FL. They take in animals with terminal illnesses and allow them to find comfort and peace in their last days, where they are wanted and cared for until they are gone.
Animals are my weak spot.