Azione Unlimited put its stamp on the summer season with its Sales Leadership Symposium, a two-day event dedicated to fostering creative energy, collaboration, and idea sharing within the smart home technology industry.
This is Azione's second symposium of the year. It's part of an initiative to provide their luxury smart home dealer-team members with a top-notch education in the custom integration field. Their goal for the event was to equip participants with essential tips and tricks to enhance their sales strategies, expand their businesses, and cultivate seamless partnerships for future projects.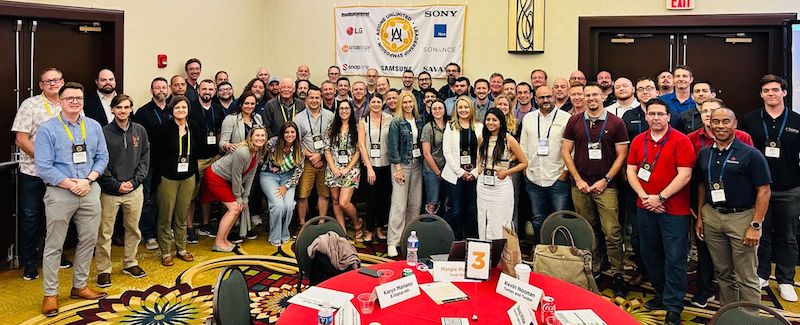 The symposium's format encouraged active participation, enabling attendees to collaborate on best practices, explore effective ideas, and forge lasting partnerships. Six of Azione's vendors, including Nice North America, Sonance, Sony, Savant, Samsung, and Snap One, took the stage to inspire new strategies, breakthroughs, and innovations that will shape the future of the smart home technology landscape.
Stacey McKibbin, CEO of Consilio and Connected Clusters Cubed Business Coach, led the group with two positive group discussions on "Prospecting, Activity Tracking, and Qualifying: The "Above the Funnel" Cycle" and "The First Five Minutes that Matter: Mastering the Art of Instant Rapport."
"As a professional speaker, I participate in a lot of conferences," McKibbin said. "The experience that Azione Unlimited creates for their members is far above any other conference I've seen, and this year's Sales Leadership Symposium is no different. The commitment to relationships and learning is always top priority and the members are incredibly engaged every step of the way. Great attendance, interaction and camaraderie is what you can expect when you go to an Azione event. It's an honor to be considered a part of the family."
Azione's Leadership Symposiums are not just about gaining knowledge but also building meaningful connections and fostering a sense of togetherness within the smart home community.
Richard Glikes, president of Azione Unlimited said, "It is amazing when ideas, energy, and great people engage in a captive environment. We all shared, laughed, and learned in a casual location."
Previously, Azione had hosted lead techs for the first time.
Related: Nationwide, Azione Merger Creates Whole-Home Platform for Custom Integrators