Editor's Note: This profile of Deontay Wilder originally appeared in Volume 4/Issue 3 of Residential Tech Today.
Deontay Wilder has experienced many highs and a few lows in professional boxing. Although his career has made him a materially wealthy and famous person, he is determined to avoid the pitfalls that can come from a sport that involves repeated blows to the head and business associates who may only have their own best interests in mind.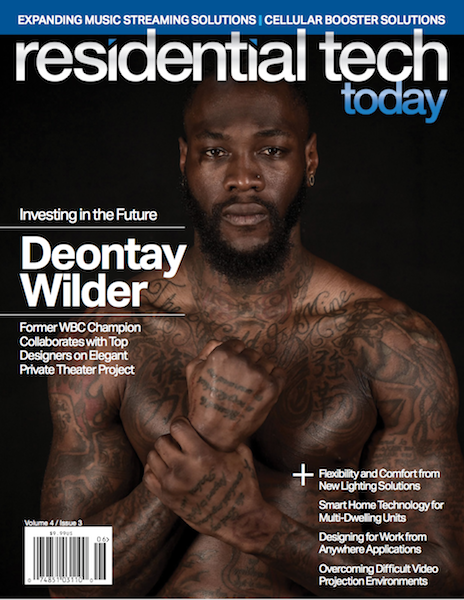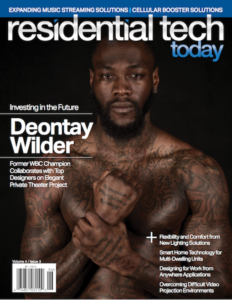 The former WBC heavyweight champion is shrewd about these things. The 36-year-old embraces the knowledge and wisdom that comes with age, stating "unless you apply knowledge" you pick up throughout your life, you run the risk of becoming "an old fool."
As he shares this bit of wisdom about aging foolishness, he laughs and adds, "And, I've known a few of those."
Wilder says that he has learned over time that while professional boxing is a "team effort" from trainers, managers, promoters, and the boxer himself, it's really an "individual business" once that fighter enters the ring.
"When I'm in the ring, you can't go in there and help me," he related. "Yes, you can help me train, and you may give me water, but you can't help me throw punches or dodge a punch. I'm taking everything. And, while over time I may deteriorate physically and my mind may go, the guys that have been training me and guiding me? Nothing is wrong with them. And, they've made hundreds of thousands of dollars off of me. As a fighter, you've got to be smart about all of this."
That type of perceptiveness seems to have inspired the Tuscaloosa, AL, native to save his money wisely, investing in property in his home state, as well as in the Los Angeles area and Atlanta, GA. He has built multiple homes to shelter his large family, looking to provide for them today, but also for his future generations, as well.
A relatively small piece of this growing investment is an elegantly appointed entertainment space in Wilder's Glendora, CA, home that he and his fiancée, the actress and entrepreneur Telli Swift, recently collaborated on with LA-based interior designer Lisa Slayman and custom integrator Eric Thies of DSI. Together, they turned an ordinary-looking bonus space centered between second-story bedrooms into an extraordinary, modern private theater featuring professional-grade video projection, LED star ceiling, pounding audio performance, and oversized seating to accommodate Wilder's eight children and his own 6-foot 7-inch frame.
"We had a space in our house that was centered at the top of our home, and it was just a big open area that Deontay and I wanted to turn into a theater space," said Swift, who is founder of the Boxing WAGS Association, which is a not-for-profit (501c3) company that aims to raise funds and deliver them into the hands of service providers and non-profits who support children and families in a variety of ways. "One of my mother's friends was friends with Eric from DSI. We got in contact with him, and he got us in contact with Lisa. Then the whole process started."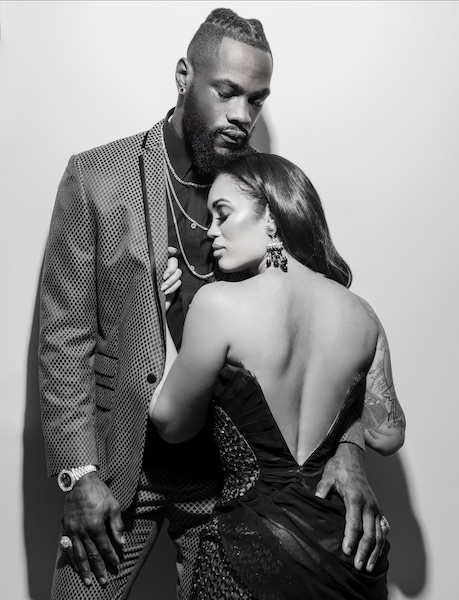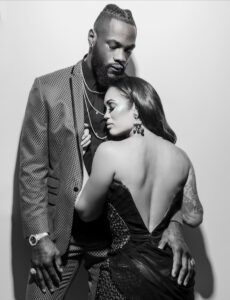 The first priorities for Wilder were accommodating all of his children within the theater's seating layout, using a color palette throughout the room that featured "royal" hues, and lighting that made the space look more exotic. As an added, personal touch, Swift asked that her fiancé's personal logo be included somewhere in the theater's design.
"Deontay wanted dark blue and gold colors, and he wanted his logo on the back of each of the chairs," said Slayman, who is an ASID and IIDA accredited designer respected for her home theater expertise. "What I ended up doing was taking his logo and some of the geometry and trying to do something with the walls. You can see it's now a dark blue silk wall covering, which is acoustically transparent. All the equipment's behind it, but the surface has gold metal on each panel; each of those angles were laid in separately."
One of the technical considerations facing the design team was building a room within a room, covering up existing windows, and keeping the theater acoustically isolated from surrounding bedrooms. "Obviously, we had to close the walls and control the light," Thies said. "We also had to get the gear out of the room and find a place for our rack."
Decorative wall panels were created to break up the wall space and allow for speaker locations hidden behind separate framed fabric panels. The panels consisted of Aniline dyed wood veneer frames from Italy with flush inset acoustical fabric divided by quarter-inch gold reveals in an informal "art deco" pattern.
"A lot of people assume hard surfaces in a theater are bad, but you do need some hard surfaces," Thies said. "I think one of the biggest problems with theaters is that they're often not 'live' enough. They seem claustrophobic. You're already walking into room with no windows, so you don't want to acoustically shrink that room. You want it to feel as open as possible, and you need hard services for that. I'm glad that Lisa did not shy away from hard surfaces with this project."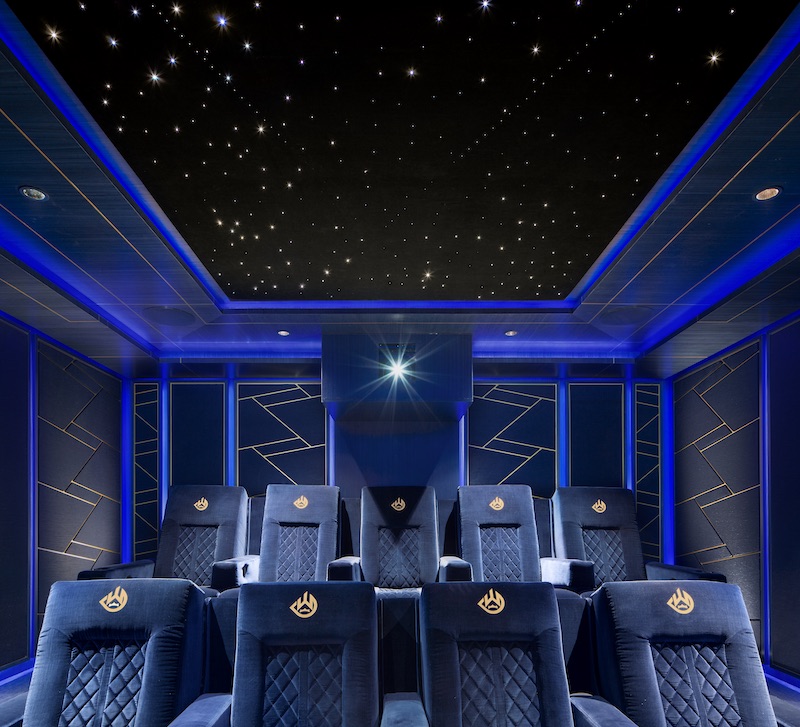 The decorative fabric allowed for acoustical backing so there was some value to reduce echo-reflection from walls as they were parallel with one another. Panels were designed to float off the walls with two-inch space behind each one, further reducing echo reflection. Slayman's team added RGBW LED strip lights all around each panel, which resulted a "halo" glow throughout the room.
On the back wall, Slayman's team created a bump out/air chase centered on the wall to pull cool air from a vent near the floor, behind the back row, up through the projector housing and into the attic space. It gave some interest to an otherwise flat wall. There are micro fans in the projector housing to pull heat, as well. A framed, optical glass port was installed to limit noise from the projector and create a consistent channel for air circulation.
A perimeter room soffit was designed to conceal cabling, sprinkler pipes, and ducting. It framed a recessed area to apply a "starry night" ceiling. The ceiling includes three different sizes of fiber optic lights to mimic the look of a real night sky, including a shooting star field. The panels are made from acoustical fiberglass to provide a reduction of noise reverberation. The custom star ceiling and fabric track system was supplied and installed by LBI Boyd.
Another challenge for the design team was accommodating two rows of large theater seats in a room that was not particularly long. "It made sense for the room to do a Seymour-Screen Excellence CinemaScope projection screen that maximized the width of the room but didn't impede on sight lines," Thies said.
In addition to not wanting to "shrink the room" acoustically, DSI also did not want reduce square footage by installing the wrong type of gear. "We knew we would have to include isolation layers for the soundproofing, but we didn't want to create a screen wall that's 30 inches deep, because we just didn't have space," Thies said.
That meant that in-wall speakers would be required for the front sound stage of theater. "We went with the highest performance products that we could get within the budget that would deliver what the clients expected for a big, punchy dynamic movie sound, yet not take up a lot of space," Thies added.
DSI specified JBL and Revel in-wall loudspeakers and JL Audio subwoofers in a Dolby Atmos configuration, with 13 speakers and dual subs, that "really move a lot of air in that space and give you a nice, nice impact and great low end."
All of the speakers are hidden behind acoustically transparent fabric.
"There was minimal space to conceal ceiling speakers, so we blended them into the soffit by locating them in an aesthetic way to work with the gold reveals while conforming to Dolby Atmos criteria," Slayman explained.
A Barco Balder projector lights up a 13-foot projection screen, and AudioControl handles most of the amplification and tuning, "because we were trying to get a lot of bang for the buck, and AudioControl is a great value product," Thies noted. From a control standpoint, DSI wanted to keep things "super easy to use," so they went with a Savant system and Savant Lighting.
The final technical consideration was the aforementioned extra-large theater seating. "We're working with a client who is a very big man and a world-class athlete," Thies noted. "We have to get some seats that are comfortable and could handle that big frame of his. Fortunately, their house is probably within 15 minutes of Fortress Seating, and we took them down there and [we said], 'Here's our situation: We need to extend leg rests. We need to make the backs of the seat high enough to support somebody at his height, and it's got to be super comfortable for him.' That was not our usual type of request or technical hurdle that we have to jump."
When Thies took Swift to the seating manufacturer, Fortress Owner Gabi Wolper mentioned his company's custom capabilities. That's when Telli asked, "Can you put Deontay's logo on these seats?"
"They sent us the logo, and we got it embroidered on all of the seats," Thies said. "We wound up doing seats for their Alabama theater, too."
Considering the room is on a second floor, surrounded by bedrooms. Acoustical isolation was very important. LBI Boyd applied Sound Isolation Company resilient isolation clips with metal hat channels to the existing framed walls and the ceiling. They then applied half-inch plywood and two layers of 5/8-inch QuietRock 530 sound-damping gypsum board to the hat channel. The decorative finished wall fabric panels and soffit floated off the finished QuietRock surface two inches to create pockets that help diffuse sound because the walls are parallel to each other and echo reflection was a potential issue. The designers also specified a standard 1 3⁄4-inch thick solid core wood door with Pemko neoprene seals all around the opening, as well as an interlocking threshold for the bottom of the door.
In the end, everyone was happy with the final results. For the family, much binge-watching and horror film viewing already have taken place.
"Movie nights are amazing," Wilder recalled. "There were some good Marvel action-packed movies where the bass was great. When we watch a family movie with the kids, we've got a horror film family! Even the smallest kid loves horror movies. She says, 'Daddy, I'm not gonna get scared.' We've got a brave four-year-old!'"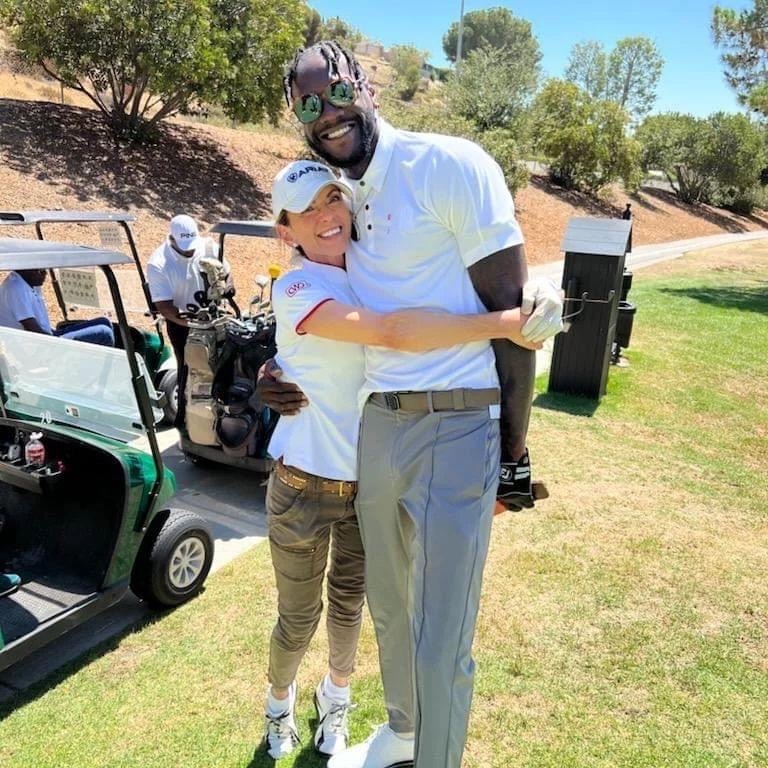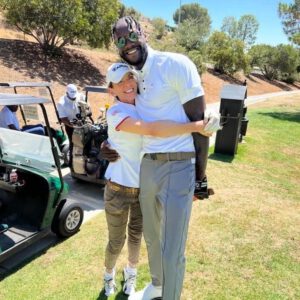 For Slayman, working with an energetic and engaging couple like Deontay Wilder and Telli Swift was an enjoyable experience, as well. "It was really fun working on this project," she said, "and I enjoyed getting to know Deontay and Telli better. The whole process was great."
For Thies, who has worked in the homes of some of the most powerful people in the entertainment business, most of all he did not want anything to go wrong.
"In the back of your mind, you think, 'Man, I've really got to do a great job for this guy. He's a heavyweight champion and a pretty intimidating fellow. I must perform!" he said, maybe only half joking.
Speaking of performing, Wilder says that he is not done with boxing, just yet. Although he might have considered hanging up his gloves after last year's fight, it was a hometown ceremony unveiling a bronze statue saluting his many career accomplishments and contributions to his community where he realized that too many people were looking up to him to retire right now.
"So many people came from all walks of life, from all over the world… That was amazing to see," Wilder said. "But, also, to have grown men bring their sons up to me and break down crying while holding my hand, telling their son that I'm a real leader because of the things I've done… That helped me to understand that I am not finished. I can't stop right here because so many depend on me for strength, for motivation, and for guidance. I had to apologize to my children, and say, 'Daddy's coming back.' But, I'm so proud that I've gotten to the point where I can dictate and do what I want. The reason I'm coming back is that it's just bigger than me."
Deontay Wilder returned to the boxing ring for the first time in more than a year on Oct. 15, 2022, defeating Finland's Robert Helenius at the Barclays Center in Brooklyn, NY, with a first-round knockout.