Gabe Davis' quest to outfit his custom home with a specially designed game room all started with a few simple sideline conversations with some of his teammates. The star wide receiver had listened intently to several of his fellow Buffalo Bills boasting about the amazing features of their high-tech homes. Now, he was ready to put some of these innovative ideas to work in his own abode.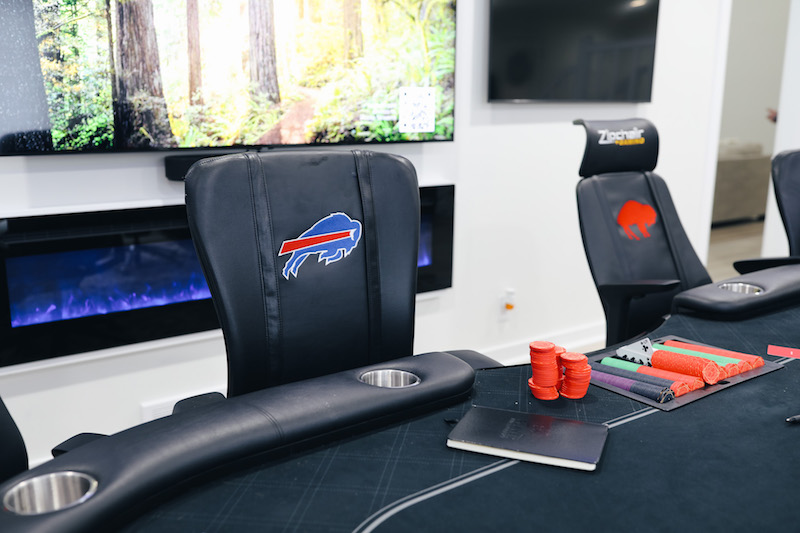 His choice spot for the inspired renovation? A largely unused 600-square-foot space on the main level of his luxury estate. His game plan was clear and concise. Create a relaxing, fun space where he and his friends could huddle to play a few hands of cards while catching a game, or two, or even four, on a stunning assortment of state-of-the-art displays. Davis also knew the perfect integration team to bring his vision to fruition: Park Place Installations.
The custom integrators at Park Place Installations had designed and installed high-end displays and a whole-house audio system in Davis's home previously, so he was familiar with the quality of their workmanship and home tech expertise. They were also the choice integrator of many of Davis's teammates, so he had no reservations about reaching out.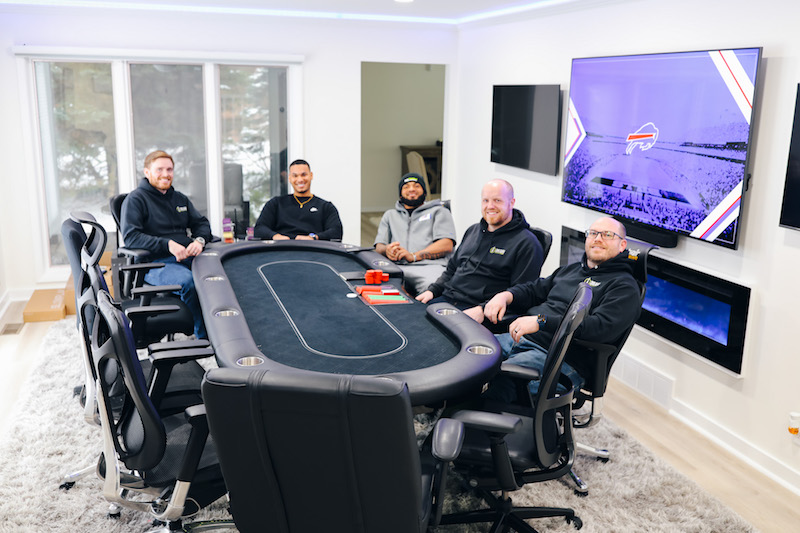 "Gabe basically gave us an overview of his vision, gave us open access to the soon-to-be game room, and left us to do our magic," said Park Place Installations Senior Account Manager Joseph Tucker. "Thanks to our experienced installers, Gabe's clear vision, and the installation and integration friendliness of Snap One products, we were able to complete this project that same day. It was fully operational by the time Gabe returned home from work. He simply pressed the 'On' button on a custom-programmed Control4 Neeo remote and the entire system came to life. Amazed, thrilled, and impressed is an understatement of Gabe's reaction to our ability to turn around this slick project so quickly." 
The ability to provide clients like Davis with the instant satisfaction of technology that "just works," has made all the difference in Park Place Installations' 21 successful years in the residential systems integration business. They contribute much of their installation efficiency to the level of products and support provided by their "go-to" vendor, Snap One.
"The quality, reliability, and selection of Snap One's wireless product portfolio, in particular, has been a blessing to our largely retrofit business and to projects like this," Tucker related. "We were able to preprogram and configure the system at our shop. Even before arriving at Gabe's house, we knew that everything was working as it should. From there, it was a simple matter of hanging the TVs and doing some final tweaks."
After a few moments of effortlessly operating the multi-display system himself, Davis blasted out a text to his crew: Come over immediately to experience the ultimate man cave. It didn't take much arm twisting. Even before this room was complete, Davis' home had always been a favorite spot to meet for weekly game night. The addition of the four, strategically placed big-screen Samsung displays, a Roku streaming media player, a Sonos Beam soundbar and a Control4 Neeo remote and mobile app run the show, gave it extra credibility. 
To simplify the process of selecting a piece of content for each of the three 55-inch displays and main 75-inch model, Park Place Installations customized a graphical user interface for the remote and app. The chosen video might be a show on Netflix or Amazon Prime, a game on ESPN, game-day footage cast from Gabe's smartphone, or myriad other options.
Audio from whatever is on the main 75-inch TV plays through the Sonos Beam speaker mounted neatly at the bottom lip of the display. It's all very simple and intuitive, adding convenience and enjoyment, not complications and frustration to guy's night.
As an extra touch, Park Place Installations programmed the Control4 system to default to a colorful artistic rendering of Gabe on the field. "He might love this more than the multi-display streaming capability," Tucker enthused. "The digital artwork is modern and cool, energizes the crowd, and kicks off game night perfectly!"