Sonos introduced the new Sub Mini to complement products like its Ray, One, and One SL self-amplified speakers. These younger siblings of mainstays like Arc, Five and Amp have languished for years without a properly sized bass complement.
I've reviewed my fair share subwoofers over the last few years. Maybe even an un-fair share? Maybe so many subwoofers that I could easily be accused of having a bass addiction? All true statements. While "Bo Knows Football," "Clifford Knows Subs." Of course, when I heard about the new Sonos Sub Mini, I knew I must add it to my list of conquests.
The hefty Sonos Sub was always designed to pair with larger systems and performs admirably, tracing its roots back to an engineer who defected from Velodyne, a legendary manufacturer in the world of bass.
Unboxing the Sonos Sub Mini
Sonos seems to be embracing sustainability with the Sub Mini shipping in a recycled cardboard box encasing the boom box inside a wonderfully designed cocoon designed to biodegrade or recycle easily. Indeed, Sonos' own Listen Better Report confirms this approach. They even have their own cardboard called Sonos Custom Kraft paper.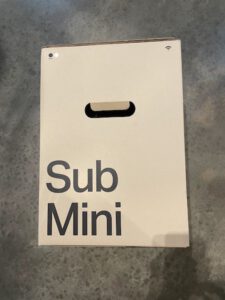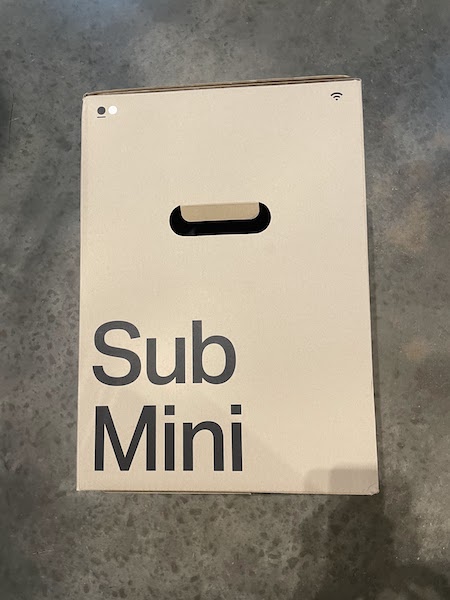 Anyone who has seen the floating debris fields in the Pacific Ocean can appreciate any attempt at sustainability here. Most of these green initiatives get lost in the shuffle for me. We've all gone nose blind to corporations committing to save the planet. It's nice to work it from the other direction, witnessing something good and tracing the cord back to the wall.
Installation
After liberating the Sub Mini from its sustainable sarcophagus and EULA sticker wrapped bag (see the photos — that's a first for me and felt like taking something out of the honor bar at a hotel), I inspected it for the first time. First off, this thing has some serious heft. It's heavy, sturdy, solid, well-built and all the other adjectives that go along with holding something that's been well designed and put together (cue the Jony Ive voiceover). The basic design mirrors that of its older sibling with two opposing woofers firing at each other inside a cavernous ellipse resembling a wound left by some Pez dispensing Howitzer.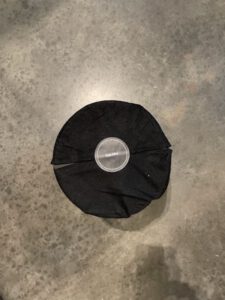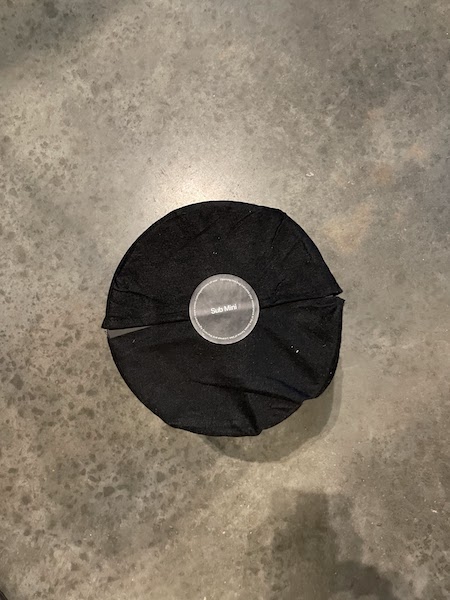 I plugged the Sub Mini into AC power and fired up the Sonos app. I scrolled over to Settings and then chose "Add Device." The wizard fired up and I followed along, dutifully logging in to my account to ask Little Brother whether it was OK to use my new toy. This process feels a little Orwellian, but, in the words of Chris Rock; "I understand."
Next, came something novel. Instead of the usual workflow involving the customer reaching for a magnifying glass to read 3-point type on the underside of a new piece of Sonos gear, the wizard instructed me to hold my phone near the Sub Mini for a little NFC action. This slick process smoothed out my privacy ruffled feathers and set in motion a series of updates and interstitial screens letting me know that all would be well in just a moment. At last (this entire process took less than five minutes), the install completed, and I started thinking about the best songs with which to shake the room.
Related: Victrola Stream Sonos Certified Turntables Now Available via ProSource
Configuration
I selected the Master Bathroom zone and paired the Sub Mini with an existing Sonos One in the room. I then decided to run Trueplay, the Sonos calibration routine that prompts the user to wave their phone around like a shaman ridding the room of evil spirits. I completed the prescribed antics and cued up Madness by Muse for a little bass check. Wow. My initial reaction resembled that of a certain towheaded girl getting to the porridge that was "just right."
That's my overall read on the Sub Mini. It's the Goldilocks zone for the Sonos smaller speaker line. It's more cowbell. It's a "these go to 11" kind of subwoofer. Very seldom has a new product done exactly what's advertised with no drama and then magically added just the right amount of midrange and bass to the existing audio profile. Amazing.
The Sub Mini is also small enough where my wife hasn't even noticed it yet. Maybe we'll finally find out if she reads my articles? I played a few more songs including Sure Shot by the Beastie Boys and Mad About You by Sting. Everything sounded amazing!
Sonos Sub Mini Final Thoughts
I love the new Sonos Sub Mini, and I think they're going to fly off the shelves. At $429 retail, it's a bargain compared with living a meaningless life devoid of decent midrange and LFE. Running Trueplay after adding the Sub Mini makes a big difference, and I highly recommend it.
That might be the only feedback I have for Sonos here; a prompt to run Trueplay at the end of the Sub Mini installation workflow would be helpful. We've already added the Sub Mini to our lineup at my custom installation company, Livewire, and I recommend you order one right now.