Vaccines are driving down COVID-19 infection rates, rules designed to limit the spread of the disease are starting to be rolled back, and people are looking forward to life beginning to return to normal. However, the mental impact of the pandemic will stick with people for a long time.
In the early summer of 2019, when the pandemic was just starting to take hold, I wrote an article titled, "Killing Germs on Your Smart Home Devices Using UV-C Light." In that article I discussed how the surfaces of smart devices in a home can be a focal point for the growth of bacteria, viruses, and germs. Smart devices can then easily transmit illness between different people in a home that share a device.
A widely referenced story by Bobby Caina Calvan in the Seattle Times discussed research done by Timothy Julian, a Stanford University doctoral student, that showed, "Mobile phones harbor 18 times more bacteria than a flush handle in a typical men's restroom." And, "If you put virus on a surface, like an iPhone, about 30 percent of it will get on your fingertips. In turn, a fair amount of it may go from your fingers to your eyes, mouth, or nose, the most likely routes of infection."
Is UV-C Light Really Effective at Killing Germs?
UV-C light has gained widespread use over the last year for sterilization. UV-C robots are now used to disinfect commercial buildings, schools, and even hospitals. These robots can autonomously move through a building at night, when it isn't occupied, and use UV-C light to kill viruses, bacteria, and other germs. This has allowed many businesses to keep operating during the pandemic and still keep employees safe.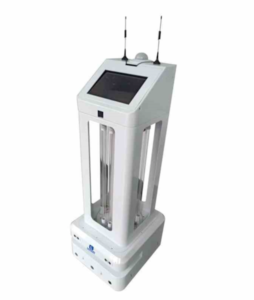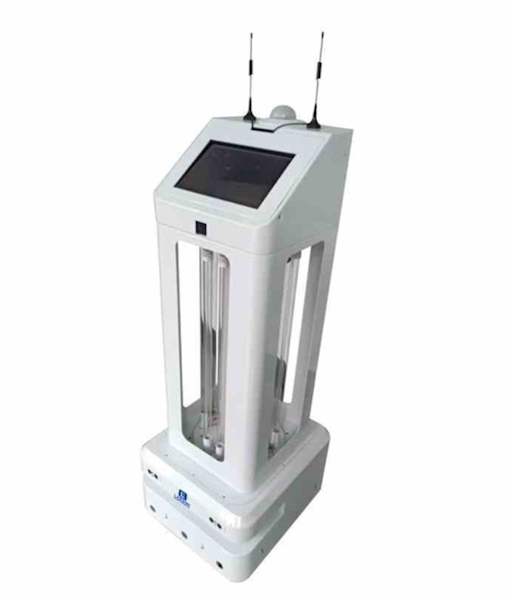 It is important to understand that UV-C light doesn't actually kill viruses, bacteria, and germs. Instead, it damages the microorganisms' RNA and other proteins making it impossible for them to perform the normal processes needed for survival or reproduction. In fact, The National Academies of Science, Engineering, and Medicine states that, "UVC light has been shown to quickly inactivate the novel coronavirus, SARS-CoV-2."
Coral UV 2 – An Improved Design
Coral has just released the Coral UV 2, a new version of the UV-C sterilizer that I wrote about in my original article. This new sterilizer improves on the design of the original product and has won a prestigious Red Dot Design Award, an internationally recognized award that honors the very best in product design.
While UV-C light itself has been proven to be effective as a sterilizer, Coral has had independent labs test the Coral UV 2, and those tests have shown that the Coral UV 2 is proven to eradicate 99.9 percent of viruses and bacteria in just 10 minutes. Coral publishes the results of these independent lab tests on their website. In addition, for the original article I performed my own testing using Petri dishes that showed that the Coral UV-C sterilizer could be effective at killing germs on a cell phone
The original Coral Sterilizer used tubes for generating UV-C light. These tubes would weaken over time and require replacement. In addition, the tubes contain small amounts of mercury, so they need to be handled very carefully. In contrast, the UV 2 generates UV-C light using 12mw LEDs. These LEDs are six times more powerful than competing products and can run more than 30,000 cycles using 70 percent less energy than a sanitizer that uses UV-C tubes.
The internal sterilization chamber of the UV 2 also is larger than in its predecessor. The original model could barely accommodate a single iPad when the tablet was placed diagonally inside it. An iPad now fits easily inside the UV 2. In fact, several iPads could be fit inside and sterilized together if they were separated from each other.
Features that Remain in the Coral UV 2
In addition, the UV 2 still includes some of the best features of the original Coral UV sterilizer.
First, the sterilization chamber is made of highly polished SUS 304 stainless steel. The highly polished, reflective surface assures that the UV-C light is bounced around the interior of the sterilization chamber. This guarantees that objects placed inside are bombarded by UV-C light from all sides and angles, helping the sterilizing beams of light get into crevices molded into the surface of a device placed into it.
However, if a device rests directly on the bottom of the sterilizer it is recommended that a second sterilization cycle be performed with the device placed upside down inside the sterilizer. This allows UV-C light to reach the surface of the device that light didn't reach during the first sterilization cycle.
The Coral UV 2 still includes three operating modes:
Sanitize Only – 10-, 20-, or 30-minute Sanitize cycles
Sanitize + Dry – 10-minute Sanitize cycle followed by a 30-, 40-, 50-, or 60-minute dry cycle
24 Hour Storage – Performs a 50-minute Sanitize + Dry cycle followed by a two-minute Sanitize cycle every 2 hours for up to 24 hours. This is useful for keeping baby bottles and breast pump parts free of germs.
Only the Sanitize cycle would be used for electronic devices. However, the additional operating modes make this device more useful for families with young children.
On the top of the unit's cover there is an On/Off button along with three buttons to select which of the above operating modes you want. Each time you press one of the buttons, it selects the associated mode and cycles to a different run time.
The current running time is displayed on the top of the units covered making it easy to see which one you've selected. A few seconds after you stop pressing the button the unit automatically starts running.
To assure that germs floating in the air inside the home aren't spread onto objects in the unit that have just gone through a sanitizing cycle while they are being dried, the Coral UV-C Sterilizer and Dryer has a replaceable HEPA filter.
Coral UV-C Areas for Improvement
The Coral UV 2 is an excellent, well-designed, product. The use of UV-C LEDs is a significant improvement over the original design. My one wish for the new product, however, was that a simple stand for holding multiple smart phones or tablets inside the sterilization chamber was included. This would make sterilization of a family's personal electronic devices much easier.
Availability
Like the original Coral UV, the new Coral UV 2 is initially being released through Kickstarter.  The early bird Kickstarter price is only $119.  After the Kickstarter launch the Coral UV 2 will be available through the Coral website and Amazon.
Conclusions
Smart speakers that are integrated with smart lighting and thermostats in a home have reduced the number of "touch points" that can spread illnesses between people living in, or even visiting, a home. Unfortunately, illness can still be spread through many other common objects including smart phones, tablets, game controllers, toys and the list goes on. The Coral UV 2 sterilizer is an effective tool for eliminating virus, bacteria, and other germs on everyday objects. So the next time you hand your son, or daughter, your smart phone to keep them occupied while you drive them home from school, think about what viruses, bacteria, and germs they could have picked up from classmates and shared with you on your smart phone.