Barco recently sent me their latest ClickShare CX-50 wireless presentation system to check out. The new device boasts myriad connectivity features, including Barco's new "Bring Your Own Meeting" capabilities supporting a wide variety of speaker phones and video cameras.
While COVID-19 has been horrible in a lot of ways, it's launched all of us full force into adopting better work-from-home technology.
Related: Zoomification – Improving the Zoom Experience to Live, Learn, and Worship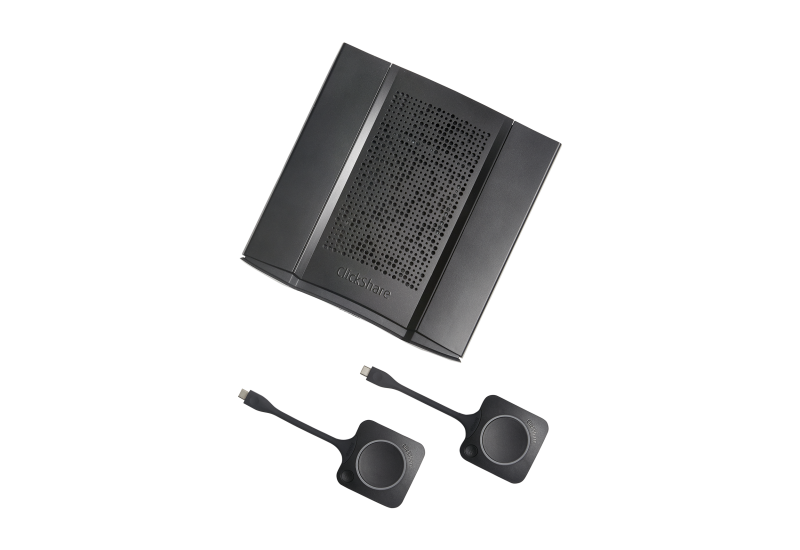 Barco promises ClickShare CX-50 connectivity in less than seven seconds, allowing users to participate in completely wireless and productive conferences while also being able to deliver presentations in full HD without hassle caused by cables, connectivity, or location.
Would the CX-50 be all sizzle and no steak? I put their shiny box down in front of me and set to work getting it up and running.
Unboxing
The CX-50 arrived in a sleek Apple-esque box that lifts off easily to reveal two ClickShare buttons and the main unit with its manual nestled underneath. The whole package feels very well organized and conveys a feeling of quality from the very start.
CX-50 Installation
The CX-50 needed a hard-wired data connection to get going, so I made some room behind our display and plugged everything in. I turned on the TV and watched everything boot up. It was all surprisingly straightforward.
The instruction manual guided me through the process of pairing the ClickShare buttons, which consisted of plugging them into the USB-C port on the front of the unit.
Once pairing was complete, it was time to try connecting my laptop. I really like that someone can come into a room, connect a button and be ready to present very quickly versus trying to wrestle around with installing software or connecting to Wi-Fi.
Firing Up the CX-50 System
I fired up my Windows notebook and connected a ClickShare button to its USB-C port. The button's light ring pulsed for a bit while it installed some drivers on my machine, and then turned solid white. I pressed the button once and, voila, there sat my full desktop on the 65-inch Sony OLED.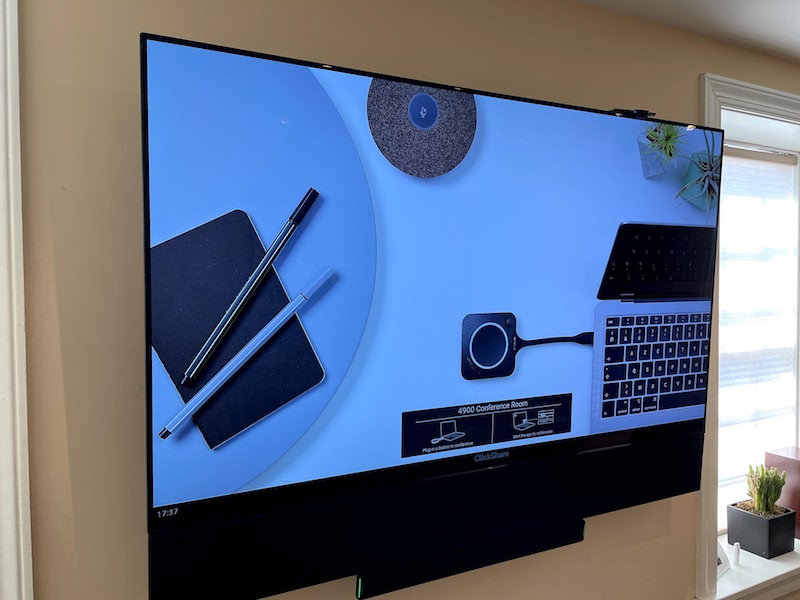 It was by far the easiest set up and initial configuration that I've ever seen for a wireless presentation device. Kudos to Barco for keeping things simple.
I found myself wanting to connect one of the ClickShare buttons to my iPad, but no dice. The CX-50 supports AirPlay from iOS devices, or you can download the ClickShare app. I tried the app and didn't really like its usability. I hope Barco considers working with Apple to deliver full ClickShare button functionality to iPads soon.
Creating a Video Conference with the CX-50
I really wanted to see how the video conferencing set up would work with the CX-50, so I connected a Jabra speakerphone and camera to its rear USB ports. As soon as I connected the laptop to the ClickShare button, my Zoom app showed the new camera and speakerphone as available resources. I tried a few calls and was blown away that I could wirelessly leverage these remotely connected resources.
I've seen this done with dedicated computers, but this usually means a wireless keyboard and mouse on the table. Other solutions tend to be focused around a single meeting platform (like a Zoom Room). Barco's setup lets you run with meetings however you'd like, whether they're Zoom, Microsoft Teams, or Google Meet. They all worked equally well during my testing.
Final Report
The CX-50 isn't cheap. At around $3,000, it's not an impulse buy but a must for collaborating in a home office, family room Zoom church setting, huddle space, or other venue where people gather and need to collaborate or hop on a video conference. Barco appears to be king of the hill in online collaboration and for good reason.