Two years into the launch of the Crestron Home operating system for smart homes would, in normal times, be an odd moment for an introductory in-person dealer training and product exhibition tour. Considering world events over those specific two years, however, you quickly realize, "Oh yeah, this is the first chance that most dealers (and press) have had to see these new products in person."
Such was the case for me during the Chicago stop on the Crestron NEXT Road Trip.
When my Crestron exhibit tour guide, Marketing Director Michael Short, asked me what my first-hand experience had been, to date, with Crestron Home, I stumbled a bit in my answer. Had I been to ISE? No. Had I installed it in my home? No. My final realization was that I had had my only experience had been multiple virtual press briefings about Crestron new products during the COVID-19 pandemic. I had expected to see the company in person at CEDIA Expo this past September, but when Crestron and most other exhibitors chose to forego that show, that just didn't happen. So, when I got invited to drive up to the Chicago suburbs from my home near Indianapolis for stop number two of the Crestron NEXT Road Trip, I was getting my first in-person look at Crestron Home and related products.
After arriving for Day 1 of the Second City stop, I went straight to a full (and fully masked) Crestron Home introductory session led by Crestron Home East Coast Solutions Engineer Chase Bouchard. That was followed by a more technical overview on Crestron Home from Bouchard in Session 2.
In his presentations, Bouchard reminded attendees that Crestron Home was created so that integrators could provide a "simplified, modern, and repeatable" user interface that is easy to configure and deploy, enabling integrators to "do more jobs." This seems like an obvious goal unless you are aware of the history of custom integration control systems, which for many years were completely designed from scratch with computer code, by highly specialized (and well-compensated) programmers. Crestron was so deeply entrenched in this world that it took them a bit longer to make the monumental switch to a simpler operating system, in Crestron Home.
Officially launched in Sept. 2019, Crestron Home has now pushed out 11 firmware updates, adding 125 new features since its debut. Bouchard said that it's one of the fastest software development projects ever completed by Crestron. The result is an OS that provides a consistent user experience across all devices in a home and even across multiple properties.
For the uninitiated potential client, Crestron Home's free smartphone app offers a Demo Mode to show what to expect from the experience of using Crestron Home, once their system is installed. With its simple-to-use design tools, more technicians and installers than ever before will have the ability to configure, troubleshoot, and service with Crestron Home. Less training is needed for installers, which means less time out of the field and a flatter learning curve. The combination of zero custom programming or UI design, combined with faster installations and fewer truck rolls, means lower labor costs for integrators, as well.
Combine that with optional (and free) system design and quotes directly from experts at Crestron, free training, global True Blue support, rebates, free advanced replacements, and working with Crestron Home seems like a no-brainer.
My Crestron Home Booth Tour
During my tour of Crestron Home exhibit vignettes in the event's ballroom-sized mini tradeshow, I was able to experience, in-person, what I'd seen described on Zoom calls and in press releases. The step-by-step design, when viewed in person, seemed simple enough for even a non-programmer like myself to learn, if I was so inclined.
Michael Short did an excellent job walking me through the various products in the line, showing me how simple system design and integration can be for an integrator via an iPad or laptop computer. For example, he showed me the process for adding a smart door lock to a system design. In an earlier time, when Crestron was only custom programmed, if you wanted to add a lock, remote control, or even video source, you would have to do a ton of programming behind the scenes and then go onto every single touchscreen or remote and update them.
With Crestron Home, Short showed how he could add lock to the master suite. The lock was connected to the internet, so it was a "recognized device" in the internal wireless gateway. It pinged on "finding devices," like you find a keypad. Short indicated with a click of a button that he wanted the lock assigned to the master suite. With just few steps that lock would be accessible from every touchpanel across the home.
When it comes to lighting scenes, the integrator is left in charge of setting up initial preferences from the homeowner for how bright certain rooms should me for various times of day. In the next version of the OS, end users will be empowered to edit those pre-programmed scenes.
During my tour I also got an up-close look at new hardware for Crestron Home, including two Network Power Controllers that enable homeowners and dealers to resolve simple power issues on connected devices in the home. The Crestron Home OS provides a new remote power management platform, called the Device Health Dashboard, that homeowners and dealers can use for alerts and to assess and fix devices from the Crestron Home app.
The Crestron Network Power Controllers have built-in monitoring and adjustable power cycle scheduling and sequencing to ensure connected devices are always operational and power up reliably every time. Crestron network power controllers also provide peace-of-mind with surge protection, power conditioning, adjustable over/under voltage cutoff, EMI and RFI noise filtering, automatic wiring fault detection, as well as energy metering and advanced activity data logging.
Crestron Battery-Powered Shades
Another, even-newer, new product on display was Crestron's Battery-Powered Shades line, offering homeowners an elegant shading solution that natively integrates with the Crestron Home. Crestron's shading portfolio now includes wired, wireless, and battery-powered options giving homeowners the ability to have intelligent shading solutions.
Short showed me how, at the touch of a button, homeowners can configure, schedule, or execute a shading scene that synchronizes shading throughout the house with other Crestron Home solutions, the Horizon Thermostat, and third-party extensions to optimize comfort and security.
As part of the native integration with Crestron Home, battery life will be intelligently calculated to proactively notify the homeowner when they need to replace the battery. Though discretely tucked in the fascia, the Crestron-designed battery cartridge swings downward to make replacement easy. Whisper-quiet and energy-efficient QMT motors bring great indoor range and performance.
Ensuring customers, dealers, and designers never have to compromise on style, an updated and exhaustive collection of over 400 fabrics including 240 new designer-lead fabric choices affords a luxurious level of design and customization that can't be met by other solutions on the market. Contained within Crestron's new design book collection, these fabrics and Crestron's custom-color match policy further improve customer choice. Battery-Powered Shades are available with both Architectural and Décor brackets.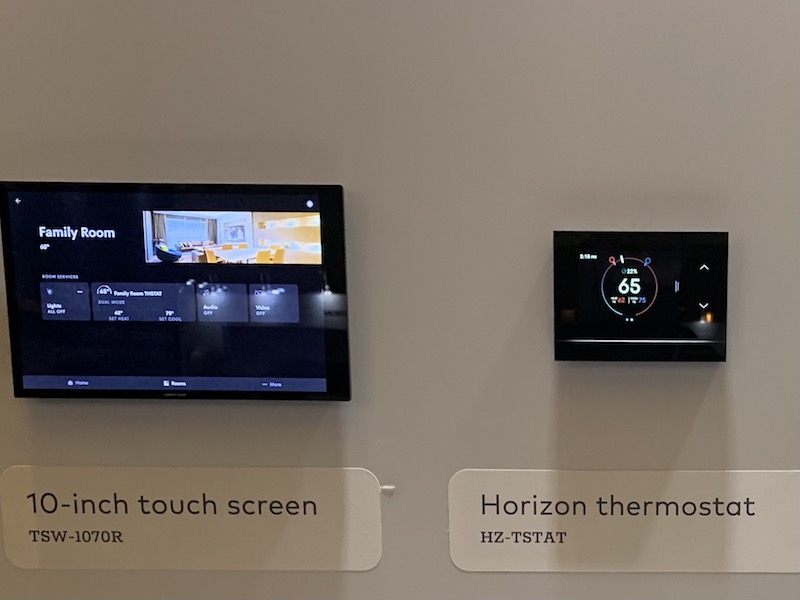 Crestron's Horizon Thermostat
And speaking of the Horizon Thermostat… it was the low-key most impressive piece of hardware that I saw in my tour. Sadly, most "stats" tend to be the least attractive interfaces in the home automation mix. In contrast, Crestron's Horizon Thermostat, which debuted back in April, features a very sleek high-resolution 3.5-inch LCD touchscreen display and an auto-adjustable backlight that toggles between day and night mode depending on time of day or user preferences.
The product measures a trim 124mm wide by 89mm high and is available in Horizon white, black, or almond finishes to match décor. The RGB-backlit accent and status lightbar complements the display while the ambient light and proximity sensors ensure the thermostat is always discreet, but visible when you need it.
Crestron DM NAX
Intended for behind-the-scenes heroics is the DM NAX amplifier, which was launched back in June but seen by me for the first time during my Crestron NEXT tour. This distributed Audio-over-IP (AoIP) amplifier enables integrators to deliver complete control of a client's audio environment, allowing them to toggle between TV audio, streaming music, podcasts, alarms, doorbells, and even paging and intercom usage to any speaker in the house.
DM NAX takes removes the scale and functionality constraints that used to bog down whole-home audio usability
Dealers who have worked with products will find familiarity in DM NAX. It will integrate simply with legacy Crestron systems and offers flexibility within its compact form factor, allowing for audio from any input to be sent to any output.
It provides the ability to scale to 256 stereo zones and is interoperable with AES67 and Dante audio networking, uses hardwired connections, and requires no custom network architecture or hardware. Beyond native integration of music streaming services like Pandora, Internet Radio, and more to come, DM NAX will allow for selectable speaker profiles throughout the house once paired. This feature will automatically optimize output on a speaker-by-speaker basis as integrators test settings in each environment throughout the space.
Other features include the choice of up to 40 built-in chimes for alerts like doorbells and door openings, with the ability to customize new alert chimes coming soon.
Those were the major highlights, although Short also walked me through third-party integrations with Crestron Home, as well as a top-secret project that the company plans to introduce in 2022. My lips are sealed, but let's just say that it's a major validation for a tech category that has been on the rise for a few years.
I could go on, but that's the Crestron NEXT Road Trip in a nutshell. It was a two-day event that I attended for just one day. The first stop was in Boston and more locations are loosely planned following Chicago. If you're in a major metro area, then it's likely that you will have an opportunity to meet with Crestron face-to-face sometime in 2022. If you're already a Crestron dealer or have been considering adding the line, then Crestron NEXT is a must-see event.
(Visited 305 times, 1 visits today)