Crestron Home OS 4, which will debut at CEDIA Expo 2023, unifies multiple lighting protocols and devices within a single platform extending the same experience as Crestron DMX-C fixtures to any smart lighting fixture.
Crestron Home OS 4 features a completely new, more intuitive interface for the client while further speeding and simplifying installation for integrators. The new design offers interoperability and control of both Crestron and thousands of third-party smart devices and delivers a new level of user-friendliness, functionality, customization, and whole home control from a remote, touch screen, keypad, or mobile device.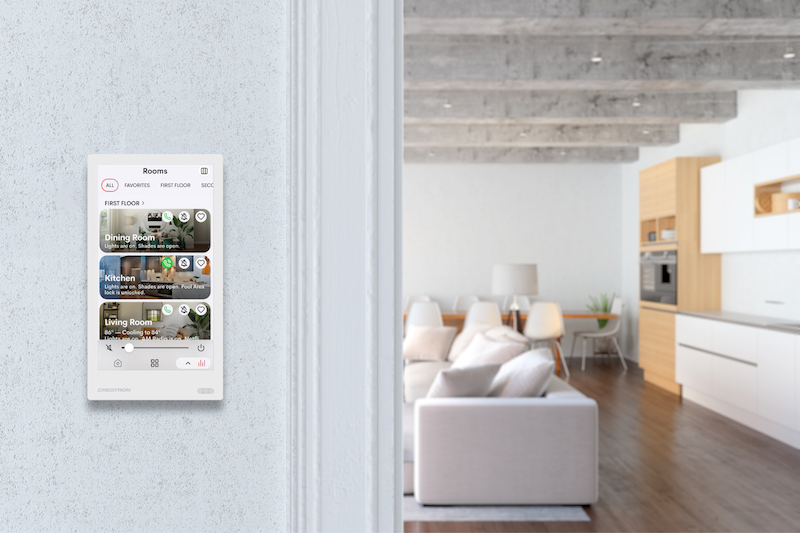 "Since launching four years ago, our team has been relentless in our mission to refine and evolve Crestron Home to provide the best possible home control experience on the market," said Michael Short, senior director, residential & hospitality marketing at Crestron. "Homeowners are much more knowledgeable and discerning when it comes to the technology in their home. Their expectations for home control, connectivity, and device security and privacy have soared since 2020. These demands drive requests for custom solutions in increasingly popular Crestron categories, such as home entertainment, lighting control, and smart shading. Crestron Home OS 4 ushers in gorgeous new aesthetics and delivers all new functionality to existing and new projects."
Related Podcast: Michael Short on Crestron Home OS 4 and More
Crestron Home OS 4 unlocks one of the most anticipated advancements in lighting control that Crestron has ever released, unifying multiple lighting protocols and devices within a single home automation platform. The incredible user experience delivered via Crestron DMX-C fixtures is now extended to an entire world of additional lighting devices.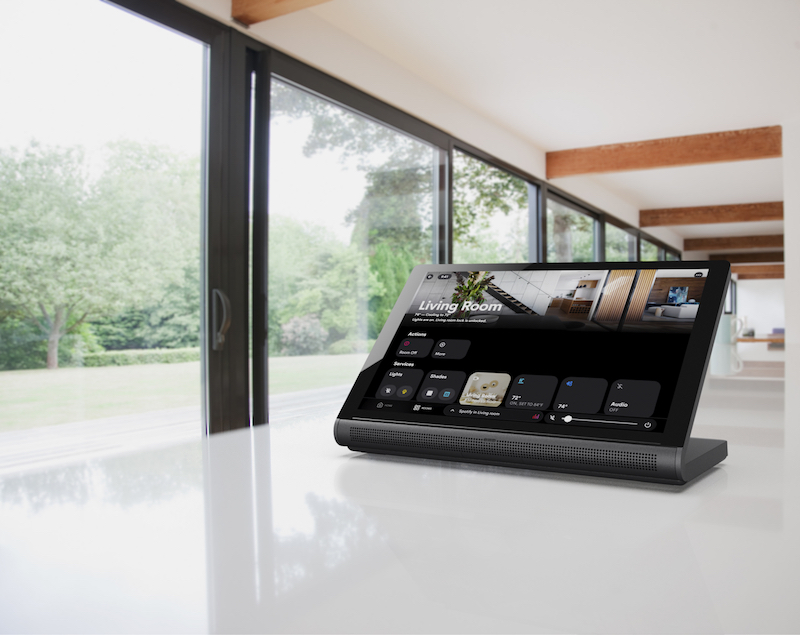 Dealers can add essentially any lighting device into a Crestron Home system running the new OS 4 by writing a new driver or downloading the recently added drivers from the Crestron library. Crestron has launched Philips Hue smart lighting as its first example driver and has released new easy-to-use APIs to the driver development community, allowing for an expansive range of third-party integration possibilities alongside Crestron's significant lighting update.
This new feature replicates the experience of native Crestron tunable light fixtures. Through the Crestron Home platform, homeowners have full control of the color of their lights, including hue, saturation, color temperature, and light intensity. Alternatively, they can opt to synchronize lights with their natural circadian rhythm or match the natural light outside.
The same simple dealer experience of curating tunable lighting directly from the Crestron Home app is easily created for the entire home. Architectural or circadian lighting is as simple and beautiful as ever, with the same lighting experience as Crestron DMX-C fixtures.
"Lighting affects everything: mood, concentration, creativity," Short added. "As increased awareness of circadian rhythm, biophilia, and wellness is putting a focus on how lighting impacts personal health, homeowners are looking to designers and technology providers for tunable lighting control solutions. Crestron Home OS 4 uniquely expands the functionality of nearly any lighting fixture added to a Crestron system."
In a Crestron Home system, the lighting fixtures work in harmony with all Crestron shading options, including the newly announced lithium-Ion battery-powered shades, to allow homeowners to manage all aspects of lighting and shading throughout their residence.
The Crestron Home OS 4 user interface was designed as a more fluid and intuitive experience. Updated graphics and icons coupled with filters and room lists make the Crestron Home platform simple to navigate. The addition of more filters on a single screen allows the homeowner to find functionality in any room or zone with fewer taps. "Compact" views within room lists enable the user to see multiple rooms at once, and a quick toggle function can switch the view from a "grid" to a "list" layout.
Crestron Home OS 4 takes homeowner preferences to a new level, offering the most granular system customization that has ever been made available to the end-user. The updated end-user schedule feature allows them to schedule events and automate tasks without a call to the dealer.
Additional Crestron Home OS 4 upgrades include new voice control functionality for Xfinity systems. Crestron touch screens running OS 4 can now also provide whole-home paging to make announcements to the entire household or a select group of rooms.
"Crestron Home OS 4 is a monumental update designed to provide an unparalleled experience," Short concluded. "We're excited to bring this next-level solution to market and can't wait to see how OS 4 will be received when it debuts at CEDIA Expo 2023."
Crestron will showcase all the updates to Crestron Home in their booth (#1901) at CEDIA Expo 2023. Read more about Crestron Home OS 4 here.