I love the latest generation of integrated camera/speaker bars. They've made remote meetings much more bearable and lifelike since the onset of COVID-19. If we can thank the pandemic for anything, it has to be what NYU professor Scott Galloway calls, "10 years' worth of innovation in three months" during the Spring of 2020. It's been fun watching the integrated video conferencing speaker bar category evolve.
More from Henry Clifford: Grading the IOGEAR 4K Video Extender/Splitter
When category veteran Jabra rolled out its new PanaCast 50, I couldn't wait to get my hands on one. Would this be "the one to rule them all?"
PanaCast 50 Unboxing
The Jabra PanaCast 50 showed up in an Apple-esque box looking like Jony Ive personally designed the whole thing. The lid flips up to reveal an equally attractive interior that houses the videobar itself, which is machined out of aluminum sporting three HD cameras covering a 180-degree field of view.
I took everything out of the box and laid it all out, including a separately included tabletop stand (other mounting options include wall-mount and a VESA adapter).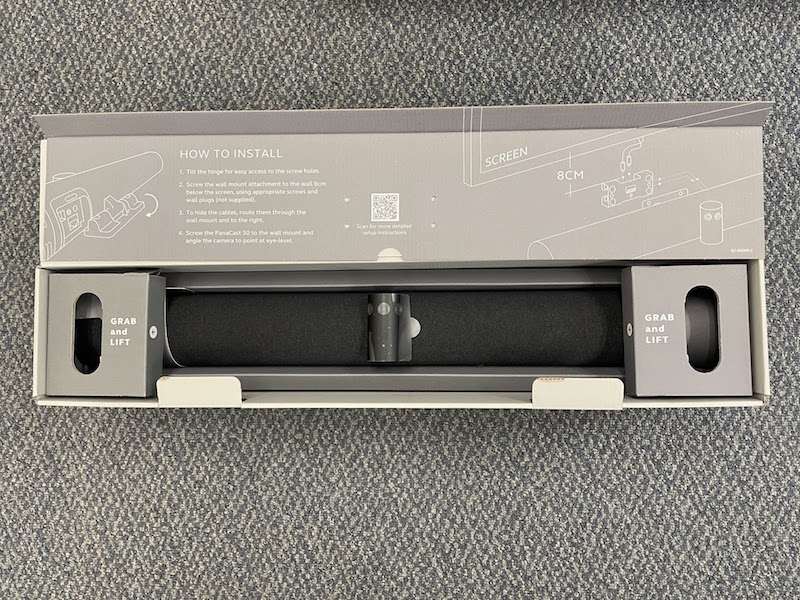 Installation
I installed the tabletop mount using its included Allen wrench while utilizing the silicon rear of the mount to wire manage the power adapter and USB cord. The end result was elegant, and the whole assembly felt sturdy and was truly the most elegant industrial design that I've seen from one of these all-in-one conferencing products. I plugged in the power adapter to the wall, USB cord into the back of an Intel NUC computer, and fired everything up.
The Jabra PanaCast 50 pledges compatibility with all the major conferencing platforms, computers, or for use in a bring your own device (BYOD) configuration like those offered by ScreenBeam and Barco's ClickShare.
I opened up a Google Meet session on the NUC, and a white light on the Jabra Panacast 50 illuminated to indicate that it was getting ready for action. I configured the settings menu of Google Meet and quickly saw the Panacast camera zooming in on me from across the room.
I was sitting at my desk at an oblique angle to the camera and video display so was doubly impressed that it picked me up so quickly and accurately. I got up and walked around my office a bit. The three cameras on the PanaCast 50 didn't miss a beat, seamlessly following me as I strolled, zooming in and out appropriately. I invited a few colleagues into my office, and the camera promptly widened its angle to capture all of us.
I held a few test videoconferences with some co-workers and asked them how the audio sounded from different parts of the room. The reports came back A+ with my colleagues relating back that they could hear me equally well near and far.
Far-field microphones have come such a long way, and Jabra appears to have redesigned the audio pickup in the PanaCast 50 from the ground up, readying it for what they're calling "the new normal." The audio quality from the built-in speakers fills the room and does a great job with delivering vocal clarity with no feedback. Jabra also includes a people counting feature, enabling businesses to monitor attendance at hybrid meetings in the post-pandemic era.
Final Report
The Jabra PanaCast 50 is a beautiful piece of gear that performs as well as it looks. This one's the pick of the lot across the other video bars that I've tested in its class. At $1,300, it's not cheap, but then again, how much is it worth to you for meetings where everyone can be seen and heard? While it's not a silver bullet solution, it should cover most conference rooms under 18×20 feet. I can't wait to see what Jabra serves up next!