Just as various parts of the consumer electronics and technology industries gather at events such as CES and CEDIA, for almost 25 years the various parts of the "video game industry" have assembled in May or June to show their wares at E3. Some years the focus is hardware with the introduction of new consoles for the coming holiday sales season, while in other years E3 is the launch stage for new game franchises or the latest version of an evergreen favorite. At this year's edition, the mix was a bit new and certainly different.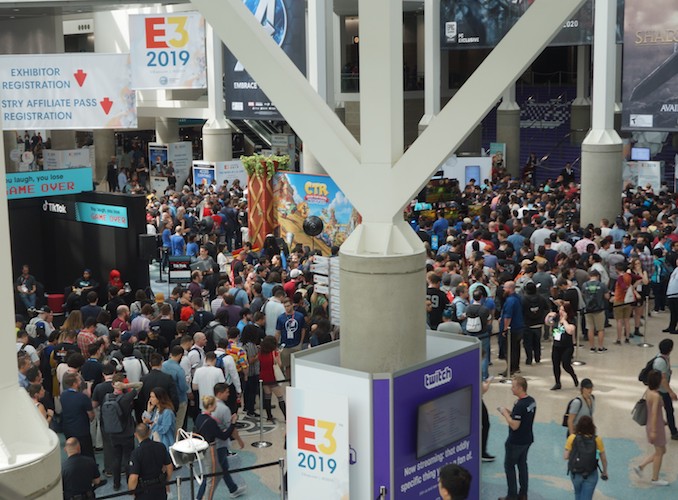 Last week at the Los Angeles Convention Center more than 66,000 industry and "gamer" attendees saw a mix of both. What they didn't see, however, was much of the story.
Perhaps the biggest news was actually "non-news." For the first time in its history, there was no formal participation by Sony's PlayStation – no press conference, no booth on the show floor, no nothing. Instead, the news about the future of PlayStation has gradually been teased out via analyst presentations, executive interviews and other official and un-official leaks. Don't mistake that for no games for the PS world, just that Sony, itself, was on the sidelines.
Arch-rival Microsoft's Xbox was also absent from the actual E3 show floor in the Los Angeles Convention Center. However, they were very visible with a pre-show event across the street at the Microsoft Theater. Concurrent with the three show days, the theater's stage was home to the "Xbox Experience," where fans and attendees were able to sample forthcoming games. My favorite part of that was full-size McLaren made from more than half a million Legos!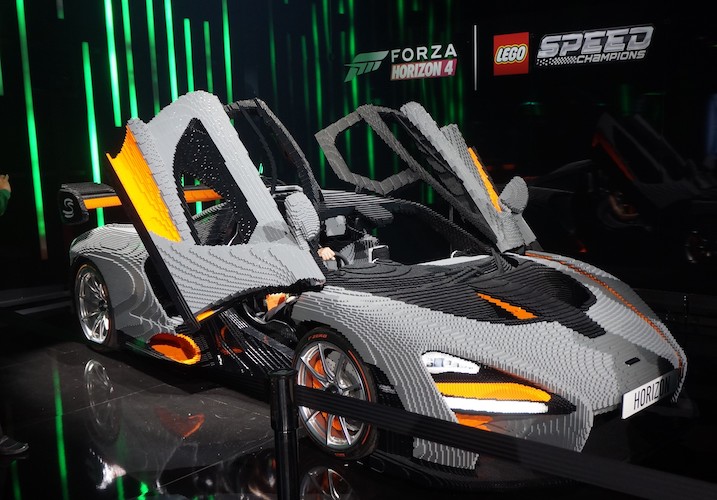 Nintendo, the third member of the "big three" in console gaming, was very much present with perhaps the largest booth space at E3, promoting new games for Switch. As has been the case for the past few years, there was no new hardware and no press event.
Previewing New Consoles from Xbox and PlayStation
Before switching to what was at E3, there were two specific elephants not "in the room:" the new consoles to come from Xbox and PlayStation. Details for both were mostly at "30,000 foot" view, and pictures of the units, let alone pictures of what they will look like, were nowhere to be seen. Both are slated for market availability for "the 2020 holiday season," so start saving now.
Top-level features, based on what we know now, will be similar: Both will be built for speed of game load and play, with AMD processors and high-end graphics. A further speed advantage will come from replacing the current HDD storage with Solid State Drives (SSD) that will be used not only for traditional content storage, but also for use as "virtual RAM." How will all of this power be used? Both will support 120Hz refresh and 8K. Note, however, that what the "8K support" will actually be was not stated. Will it be true 8K rendering and play out? Will it just be upscaling? How will 8K games be delivered? One presumes via streaming or cloud-play, but you'll have to wait until next year to find out.
Finally, both of the competitors will not only be backwards compatible with many, if not most current games, and existing controllers and accessories will also work with the new, forthcoming consoles.
You now know as much about the console outlook as anyone who was at E3. How to sum it up? "Hurry up and wait."
Four Parallel Routes to Game Play
So, if there were no new consoles at E3, what is there to report other than the long list of new games that others have no doubt covered already? The answer comes from being able to listen to the "hallway talk," look at any new exhibitors, and see how the jigsaw puzzle of gaming fits together. From an analytic viewpoint, where, depending on your interest, the best way to decide what system, format or game to recommend to systems clients or to purchase yourself is to see where the various game concepts stand.
I share the view of many that there will be four parallel routes for game play, with many, but not all games crossing over for play though more than one path. This, in turn, will give us all many options for how, where, and through what to game.
The traditional method of home game play has been the dedicated console. However, according to statistics released by E3 sponsor Entertainment Software Association (ESA), of the 65 percent of American adults who play video games, only 49 percent use a console. But, based on the show floor at E3, console gaming remains very much alive, is easy to use, and the costs are reasonable. Game choices are plentiful, and content may be accessed through physical discs or software download. There is also a wide variety of accessories available, including a VR headset for PlayStation. Particularly in light of the next generation consoles coming next year, console gaming appears to be here to stay, and for a long time.
According to those same statistics, 52 percent of gamers use a personal computer. When raw power and speed are needed, a PC is the way to go. When decked out to the max, game-centric PCs can be quite pricey, but perhaps due to the fast-growing popularity of e-Sports, there are many options available.
Indeed, Lenovo and Intel made their first E3 appearance this year to promote the new Legion line of PCs and monitors specifically designed for that market. Also on display at E3 were many accessories for PC gaming that broaden the field. Remember that due to the requirement for very low latency in e-Sports and other PC gaming, wired keyboards, mice/controllers and headphones are the rule here. Expanding the options were many new brands, such as LucidSound and Voltage, joining the traditional Astro, Poly (formerly Plantronics) and Turtle Beach offerings. There will even be a headphone coming later this year from Haymarket with Dirac.
PC gaming is also at the core of VR gaming, although phone-based VR and PlayStation VR are also contenders there. Oculus was at E3 both in their own booth space, as well as in the Facebook Gaming booth.
That's right, while there was not that much to see on phone-based games at E3, it is definitely to be noted that Facebook also made their first E3 appearance this year. Why? The ESA statistics show that 60 percent of adult games play through a smartphone, more than any of the three other game play options. As dictated by the relatively small screens, as compared to a TV set or monitor, and the hand-held nature of phone games, they are to some extent in a class by themselves. There weren't many "phone games" shown at E3, but that isn't because of a lack of popularity. Rather, the fact that they are 100-percent delivered electronically puts them in the "app store" sales model that doesn't fit with E3.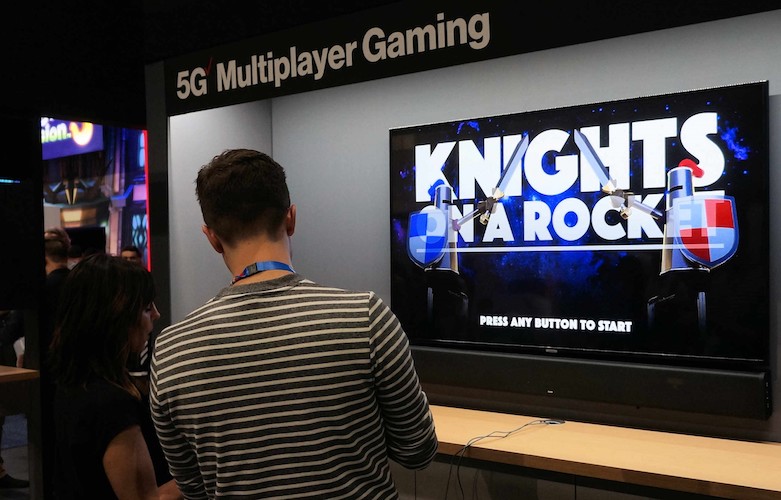 That brings us to a fourth type of gaming that doesn't as much depend on what the game is played on, or through, but instead on from where it is played. To date, the cloud has been a repository from which games are downloaded. But, going forward it will be the place from which games are played, as well. Particularly with the pending arrival of 5G wireless and its ability to deliver high speeds and almost no latency, why have a PC or console at all to play the game on?
Microsoft Project xCloud
When it begins a trail test later this year, Microsoft's Project xCloud will enable simultaneous game play using an Xbox One as a local server and connection, but eventually connections will be directly to, and through Microsoft's cloud-based servers. End play will be via the Xbox and connected devices using Xbox controllers. Once processing is in the cloud, the goal is for any mix of PCs, consoles, phones, or tablets to play the same game at the same time. With the processing going on in the cloud, differences in processing power among the platforms is leveled so that all players enjoy the same experience. Think of it as access to an incredible library of games, played on the hardware you have, regardless of what the game was originally written for.
Pricing and speed requirements for xCloud are yet to be announced, but the industry will be looking out for its impact on the future of gaming. That future, by the way, will also include another Cloud-based system that was not on display at E3, but it was on many attendees' minds: Google's Stadia.
In some respects, the best way to think about Stadia is to view it as a "ChromeCast for Games." That is because the end user device, be it a Pixel phone, a PC, or Mac running the Chrome browser or a ChromeCast Ultra (for HDR and 5.1 capability) is basically a gateway to the cloud service and does not do the processing. Most USB controllers will work with Stadia, but Google's own Stadia controller will have a Wi-Fi connector to the device accessing the cloud, and it will also have a 3.5mm headphone jack and USB-C for charging. At least to start, it will not work with Android TVs.
At launch, Stadia Pro will be $10/month for free streaming access to all games in 4K/60 fps. In 2020 Google will also offer a "Stadia Base" for free, but games will need to be purchased ala carte and will be limited to 1080p video and stereo sound. Available now for preorder is the Stadia "Founders Edition," which includes the controller (separately $69) and a ChromeCast Ultra for $130 – a $10 saving of the regular pricing.
Again, Cloud Gaming is still a bit in the future, but it had big buzz at E3. Cautions? For anyone with data caps on their broadband heavy Cloud gaming could end up being costly. Latency could be a problem on some connections, but that is perhaps the reason why Verizon also made their first E3 appearance to promote gaming over 5G connections. Of course, as with any content system, the availability of hit titles will be key. We'll all see how that plays out, literally, as we move through the year and into 2020.
Haptic Vests, Upscalers, and Phone Games
No E3 is complete without some unusual fun stuff, and this year was no exception. There were haptic vests that give the user a palpable "hit" when they are "shot at" in a game. For those favoring racing games, there was an amazing "driving chair" that not only had the obligatory wheel and pedals, but it also had full left/right, swivel and seat motion to do the best job of driving simulation I've ever seen.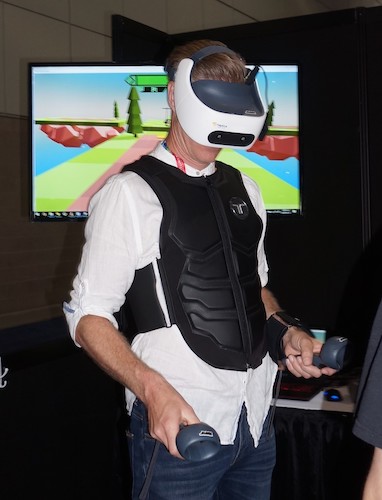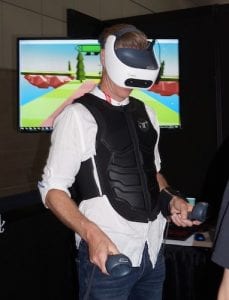 For those who still favor earlier games and their consoles, Marseille's "mClassic" is an external upscaler optimized to improve the video output of classic and retro games to complement the internal scaling in the display. It is an interesting product that looked great in pre-production form at E3, and it will be interesting to see how the final production versions work when they are available this summer.
Now, I haven't ignored phone gaming, but with a few exceptions there was not much action on that front, as previously mentioned. One notable exception was the first E3 appearance of the Red Hydrogen phone. It's 5.7-inch screen displays 3D images using a sophisticated display using technology similar to a light field display. The results were quite impressive, though there aren't that many games that are ported to the system. It's something for high-end phone gamers to be on the lookout for.
At the end of the day, E3 2019 was an interesting mix of old and new, known and unknown, the present and the future. Underneath it all there really wasn't any important "hot news" to report, but instead a mix of contributing ingredients. Some, such as Hydrogen, the headphones, mClassic and, of course, the many new games, will be available this year. Others, such as xCloud, Stadia, and Cloud gaming, in general, will roll out through the end of the year. And then, particularly the next-gen consoles, are a bit further off in the distance but are important to keep a watching.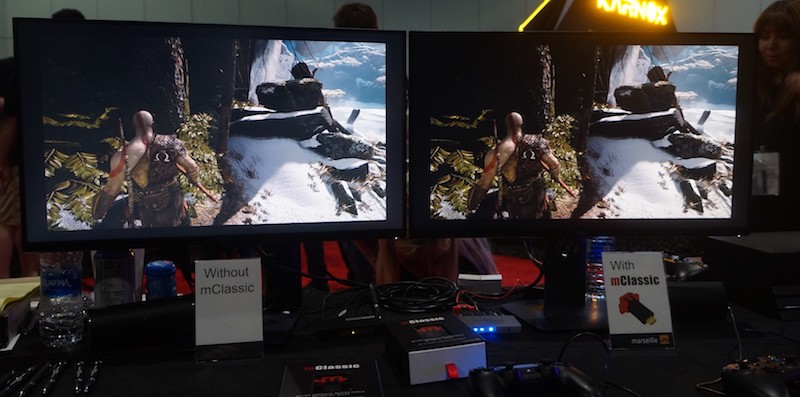 The bottom line: despite some opinions to the contrary, gaming is a vital force where technology and entertainment meet. Thanks to the various playback options described above, as well as the high focus on e-Sports, it is growing as it continues to evolve. Get in the game!