Focal's new On Wall 301 and On Wall 302 loudspeakers were designed to install around a television for home cinema enjoyment and a stereo listening experience. The company also is adding a bookshelf model and a center speaker to its Aria K2 family.
Focal's On Wall 300 Design Details
While the accessories required for mounting the loudspeakers in the wall are included, stands specially designed for the loudspeakers are also supplied as an optional extra. The installation is also very easy and simple to adjust, enabling a configuration comprising two or three loudspeakers around a screen.
The new loudspeakers incorporate the brand's exclusive technologies, such as its Flax speaker drivers, with their cone made from French flax. The loudspeakers also feature the Aluminum/Magnesium tweeter, offering well-defined treble.
Related: Focal 1000 Series is the Latest Flagship Custom Install Speaker Range
The On Wall 300 features an "angled" silhouette and is available in Black Satin or White High Gloss finishes.
Finally, Focal is constantly incorporating specific benefits and unique uses into its collections, while also thinking of the whole assembly for an overall effect. This range can therefore be combined with other Focal products, such as the 300 Series line of in-wall and in-ceiling loudspeakers, or the Chora, Aria, Kanta, or even Dôme Flax loudspeakers.
The On Wall 300 will be available in the U.S. in September 2021, with pricing for the On Wall 301 at $1,980/pair, On Wall 302 at $2,980/pair, and On Wall Stand at $490/pair.
The Evolution of Aria K2
Alongside the Aria K2 936 floorstanding speaker launched last year, the Aria K2 906 and Aria K2 Center are now making their debut for Focal.
Aria K2 is a special edition of the original high-performance Aria 900 range, first launched by Focal in 2013. The Aria K2 906 and Aria K2 Center join the Aria K2 936 in a listening experience enabled by a range of Focal innovations, including a next-generation K2 cone.
Manufactured in France at the Focal workshops, this aramid fiber cone is an evolution of the Polykevlar cone featured on 1980s JMLab speakers. The original was engineered to improve the balance between weight, rigidity, and damping, with the goal of guaranteeing high-quality audio performance with any musical genre.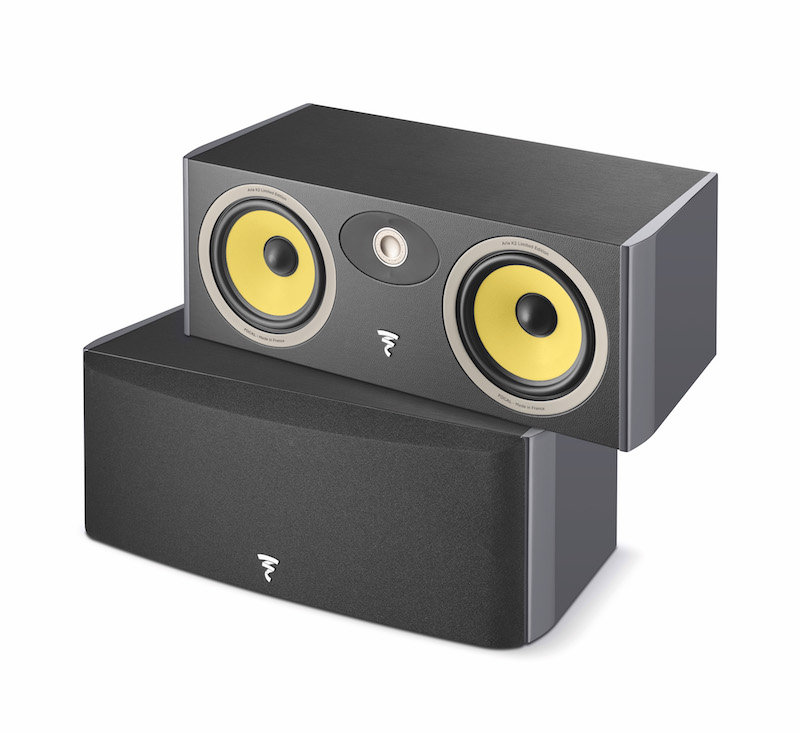 The all-new Focal K2 cone applies fresh technologies and techniques to enhance the music and movie listening further. It is now composed of a very light foam layer, sandwiched between a layer of Aramid fibers and a layer of fiberglass, ensuring clear and precise sound void of any coloration. Perfectly complementing the K2 cones are aluminum/magnesium TNF tweeters, with Poron suspension for a smoother sound.
The new Aria K2 906 and Aria K2 Center join the Aria K2 936 in having an ultra-rigid cabinet construction, featuring non-parallel elements – all in the service of reduced vibrations and outstanding neutrality.
All speakers come in an Ash Grey finish exclusive to Focal. This premium finish – also seen on the company's flagship Utopia products – combines with a leather-effect front panel for added elegance.
The Aria K2 936 or 906 can be installed on their own or they can be combined with Aria K2 Center in a home cinema system. Focal also recommends linking this range with the Sub 1000 F subwoofer to give your Home Cinema installation a deep and powerful boost of bass.
The new Focal Aria K2 models will be available later this month, with a suggested retail price of $1,990 per pair for the Aria K2 906 and $1190 for the Aria K2 Center. The Aria K2 936 is available now for $5,990 per pair.