In 2018, nearly 38.4 million households were using some sort of smart home device. By 2022, that number is projected to hit 93 million, according to data compiled by Statista. While the number and variety of devices that homeowners are employing can vary, one thing is clear: people want this technology. While the term "smart home" might naturally conjure images of suburban domiciles, this tech, of course, isn't limited to just houses, and many high-end condominium and apartment developers are trying to find ways to better incorporate this technology into their units.
However, due to the sheer size of many of these luxury condo developments, it can be difficult to do custom integration in every single unit. But that hasn't changed the expectation of prospective buyers. As George Harrison, founder and president of Harrison Home Systems, explained, much of the demographic for these high-end condos are those who are technologically savvy: "They've lived with technology forever, and now they're moving into this expensive condo. They came from a pre-wired setup in a custom home, and they expect that same scenario – distributed audio, video, and a robust control system, all of those things. But, they're moving into these condos where they've typically made no provisions for it."
Facing this challenge, Harrison developed a strategy in which smart home tech could be easily customized for and integrated into a unit, without having to change any wiring or infrastructure. In fact, Harrison goes straight to the developers and offers these smart technology packages directly to residents.
"Without having to do anything, we can add some bling to their project, from a marketing and technology perspective, and allow the developer to have an entire technology package to offer," he said.
It's a simple solution that has caught the attention of many developers. Since their first successful implementation of this strategy two years ago with 250 Columbine, a luxury 71-unit condo development in Cherry Creek, CO, they have since worked on a variety of projects, including a 350-unit development (called The Coloradan) and its numerous penthouses and just confirmed another 71-unit luxury condo project in Cherry Creek. Harrison even developed an easily repeatable website that developers can use to lay out technology packages for owners and potential buyers, providing a complete package to their tech-savvy developer partners.
"The heavy lifting we went through to get the foundation built for the custom website we made for The Coloradan is now easily modified to customize for future luxury condo projects, since the packages will be essentially the same due to their innovative design and lack of reliance on a customized infrastructure," Harrison explained.
The website allows customers to view the variety of packages, pre-order, and even customize which devices they want in which rooms.
The whole process is much more than installation; it's customization made simple. "What is significant is that we needed to create a solution that required no new wires … But, we're bringing the fundamental elements from the custom world. It's the perfect blend," Harrison noted.
Even with very basic pre-wiring, Harrison is able to develop a number of custom options for their customers. For example, in their work with The Coloradan, they offer four different packages for residents to choose from:
Audio/Video
Their Audio/Video package includes a wall-mounted 4K HDR Sony TV coming in a variety of sizes, a premium universal remote, and an incorporated soundbar with built-in music streaming services.
Lutron Shade Package
In a collaboration with Lutron, Harrison offers battery-powered roller shades, which operate completely wirelessly via a mobile app.
Lutron Lighting Control
In addition, they also offer Lutron's smart lighting technology, which acts as a major convenience and energy saver for users.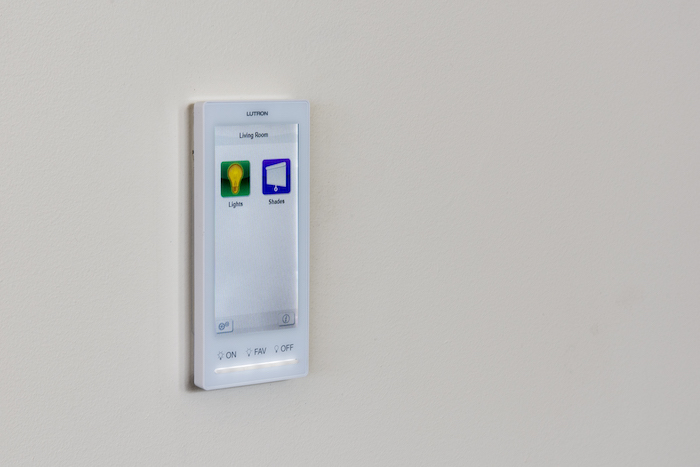 Josh.ai
Finally, all of this can be voice-controlled via Josh.ai, a luxury voice-control system for the home. Since Josh works over Wi-Fi, completely wirelessly, it can be set up anywhere in the house and is also accompanied by a mobile app for control away from the home. Josh is also now working in tandem with the industry's predominant legacy control systems, simultaneously providing the best possible voice and handheld control experience.
These packages allow consumers to completely, and conveniently, customize their units. Everything from the TV size and its custom, paintable wood surrounds, down to the fabric of the motorized shades can be customized to the resident's liking. Plus, all packages come with a year of seven-day-a-week remote or onsite technical support. But, according to Harrison, Josh.ai was a major key
to this project. Josh is a local Denver company, which was important to local developers, and its ability to work with the other current legacy control systems became the winning combination. "Knowing that we had to work backward from no new wires, Josh.ai became the obvious voice control choice," he said.
Because of its wireless capabilities, Josh can be set up in any room and is portable throughout the unit. With Josh, clients can control their entertainment system, lights, shades, and more.
According to Harrison, the biggest challenge throughout the process was "designing comprehensive luxury AV, lighting, shading, and control packages that are highly reliable, repeatable, and incorporate best-in-class equipment to provide a seamless experience for the client. All this while not affecting the critical path of construction for the developer."
As the home has become smarter, so have condominiums and apartment complexes. With the solutions that Harrison Home Systems has recently crafted, condos can now be built for the future, with convenience for both the resident and developer alike.