TSP Smart Spaces recently completed a one-of-a-kind home project in Boston that merges 19th-century architectural design with state-of-the-art lighting control.
Built in 1883 and designed by the prestigious architects Rotch & Tilden, their client's historic home in Boston's Back Bay is an authentic timepiece of the era in which it was built While TSP had the chance to bring smart technology to all 15,000 feet of the home, the part of the project that now shines brightest is the home's Music Room.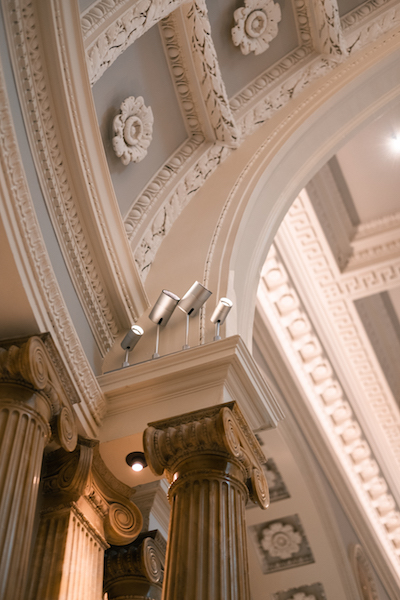 The Music Room is a truly unique space that was added to the back of the home in 1897 to host private performances for international musicians. A half dome ornamented with plaster rosettes, a coffered ceiling with a raised corona, and imported marble floors and columns highlighted the performance stage. Famous musicians such as Ferruccio Busoni, Arthur Rubinstein, and Ignacy Paderewski graced the space in its early years and it continued playing host to famous artists into the 1940s.
Today, the stage has been replaced with a fireplace, and the room is used more often for children's piano lessons and social gatherings than concerts hosting musicians from across the globe. While most of the original interior architecture has been preserved, it was an inhospitable part of an otherwise modernized property due to dim and insufficient lighting and poor climate control. For this, TSP was brought in to technologize the music room with discreet but robust smart home solutions.
"During my first in-home meeting with our clients, the double doors to this breathtaking turn-of-the-century addition were opened, and I was asked on the spot if we'd be willing to tackle lighting upgrades to it," said Aaron Stallings, director of smart spaces, at TSP. "I immediately and excitedly accepted the challenge but informed the homeowners that this would take some time to solve. Being such a unique and architecturally ornate space, we had one opportunity to get it just right."
TSP's Global Collaboration
One of the biggest challenges for this project was bringing contemporary lighting to a music room steeped in delicate architectural details. TSP decided early to take an approach that didn't include decorative or ornate luminaires to avoid competing with the historic design. Instead, they would look for a way to highlighting the room's details.
Prior to TPS's involvement, the music room relied on four large pendant lights in the main coffered ceiling and a single shallow pendant in a dining nook. The exterior walls of the room primarily consist of plaster on masonry. This construction made new wiring runs challenging, and the fragility of some of the existing interior ornamentation prevented the integrator from installing lights as easily as they usually would.
Fourth Dimension and Illuminate
Stallings wanted to find a partner with specific experience in creating lighting solutions for historic theaters for the lighting design. This led to Nicholas Engert and Fourth Dimension Lighting in England. While Fourth Dimension was integral to the room's design, the biggest strength they brought to the table was specification, helping Smart Spaces achieve its vision for the space.
In addition to Fourth Dimension, Terry Rogers of Illuminate was instrumental throughout this project, as well. Rogers and Illuminate helped to bring Fourth Dimension's lighting designs to life by consulting on the fixtures that could provide the performance and aesthetic characteristics that the designers envisioned. Rogers also made the initial introduction between TSP and the lighting studio.
"Working with TSP was very easy as they were happy to be guided through our approach, and, in turn, we revised our proposals in the light of comments from the TSP team on the ground," Engert said. "The TSP team made the process less challenging than it might have been."
KVC and Driscoll Electric
KVC Builders played an important part in the success of TSP's earlier "Galactic Getaway" smart home in New Hampshire, and they returned to work with the integrator again on this project. When TSP began this project, they knew we would need to partner with a builder not only brave enough to jump in headfirst on the challenges posed by this space, but also skilled enough to preserve and protect the ornate details.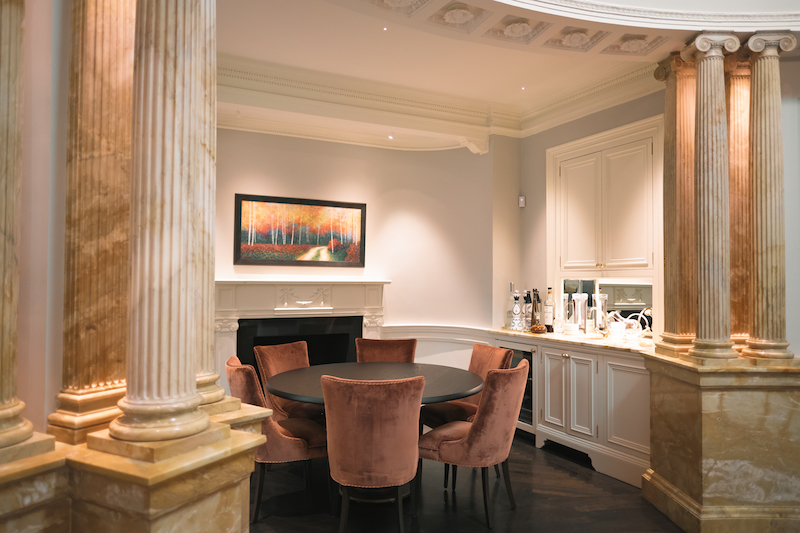 The work that KVC brought to this projects included the opening of the coffered ceiling during the discovery phase, running heat scans of the floor to verify radiant heating locations for in-grade (in-floor) fixtures, routing wiring channels in plaster for the low-voltage lighting, and then the monumental task of putting everything back together correctly.
To top off the team, all of the electrical work was done by Driscoll Electric. A long-time TSP partner, Driscoll's team is highly experienced with deploying advanced lighting control systems. Even so, adding wiring to a historic space is always a challenge, but through non-invasive discovery techniques and their expertise with luxury residences, they could add the wiring for almost 100 fixtures and speakers without any visible aesthetic impact.
Virtual Design Tools Lead to Success
One of the biggest tests TSP faced during this project was how best to collaborate with their partners during the beginning stages of the COVID-19 pandemic. Not only was it difficult to meet on-site with their local team, but Fourth Dimension could not travel to the United States to assess the space in person (a first for the studio).
This is where their expertise with next-generation design tools came into play. For years, TSP has been leveraging technologies like Matterport and TwinMotion to improve their design process and client experience. For this project, Matterport was crucial to their success.
Matterport has become the de-facto method of capturing real-world spaces virtually for real estate. During the pandemic, it also became a way of visiting museums and other inaccessible places. On this project, TSP captured the music room before, during, and after the project so that their collaborators and the homeowners could virtually enter the space and provide feedback. Zoom meetings also allowed for immediate and comprehensive reviews of valuable mockups. The pandemic put lots of projects on hold, but not this one. Not only was this a successful use of virtual design tools, but it was the first project that TSP could complete 100% virtually with their overseas collaborators.
Lighting Design
The resulting light installation was a combination of many different products, each with its own benefit to this project. MP Lighting, known for their superior fixtures, was used for most architectural lighting and KLUS for the linear LED. For the workhorse downlighting, TSP needed a solution that was going to be appropriately discreet. This is where the Apure Minus1 — the creation of Porsche Design Studio — comes in. This recessed fixture is about the size of a dime — as diminutive as a downlight can be — but with the light output of a much larger traditional fixture. Finally, Beulux, a leader in tunable light, was employed to create natural skylight scenes to simulate dawn and dusk and offer the homeowners a full-color wheel to create their own scenes within the corona and half-dome skylight. All fixtures are specification-grade LED, achieving substantial lumen output with optimal energy efficiency.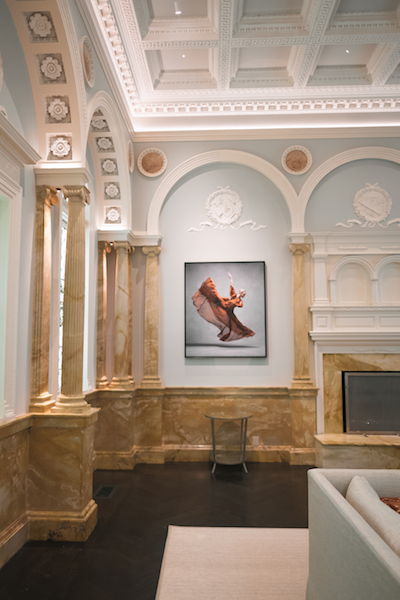 TSP turned to their design engineer Chase Rowe and the Lutron Homeworks QS software to craft lighting scenes. While projects like Galactic Getaway allowed him to play with some wild colors, the scenes created for this project took a more refined approach. In addition to scenes that mimic sunsets and sunrises, he also created museum scenes that played on shadows and warm lights to highlight interior architectural details and artwork. Today, the homeowners can initiate any of these scenes at the touch of a button or using the Savant app on their phone. Every light in the music room — and even the fireplace — are tied into one seamless control system.
Audio for the Music Room
A music room wouldn't be complete without stellar audio throughout the whole space. Given the same challenges of making lighting technology discreet, TSP knew Amina and their patented Invisible Speakers were the perfect solution. Amina speakers utilize a unique VPT (vibration panel technology) to deliver audio through vibrations along an acoustic panel rather than through a traditional cone shape.
TSP installed six Amina Mobius speakers and two Amina ALF40 subwoofers for this music room, achieving a robust audio design with some of the most inconspicuous speakers available today. The resulting musical experience is both beautiful and immersive, providing rich, balanced sound for any social occasion.
A Lutron System with a Savant Enhancement
A Lutron RA2 system was in place when TSP began the project. While this is an excellent system for smaller homes and multi-unit residential buildings (see how TSP used it to great effect in their award-winning Austurhöfn project), a home of this size needed a system capable of handling 200-plus lighting zones and advanced controls. For that, TSP integrated a HomeWorks QS system, Lutron's premiere lighting system. HomeWorks is capable of controlling up to 10,000 zones of lighting and integrates seamlessly with just about every third-party smart home system on the market.
TSP also installed a Savant system to elegantly tie the room's audio and lighting together. This allows the homeowners to create and deploy scenes for any occasion. It provides them an enhanced interface to operate additional and more complex solutions within their smart home ecosystem, such as window treatments, temperature control, security, and more.
What began as a beautiful but largely unusable space was transformed into the perfect entertainment space. Through smart lighting and invisible audio, TSP was able to preserve and honor this music room's heritage and details while modernizing it for the 2020s and beyond. Most importantly, TSP built all of this upon a smart home foundation that can scale easily for the future.