Luminii, a Chicago-based manufacturer of specification-grade architectural LED lighting systems, has launched its Luminii HŌM brand of curated products for the residential AV integrator channel. Designed, engineered, and built in the U.S., Luminii HŌM offers a wide range of solutions and services focused on the highest color quality, design aesthetic, made-to-order craftsmanship, project follow-through, and global operations and manufacturing.
According to Luminii, residential integrators can expect easy-to-use configuration tools, step by step lighting design guides, available design services, product knowledge in the form of presentations, specification sheets, scheduled trainings, showroom discounts, and demo kits featuring the Luminii HŌM curated line of products. Additionally, integrators can expect a supportive dealer program.
The Luminii HŌM curated line consists of Micro Optics, Linear Fixtures, Tape and Extrusions, Bendable Strip Lights, and Downlights.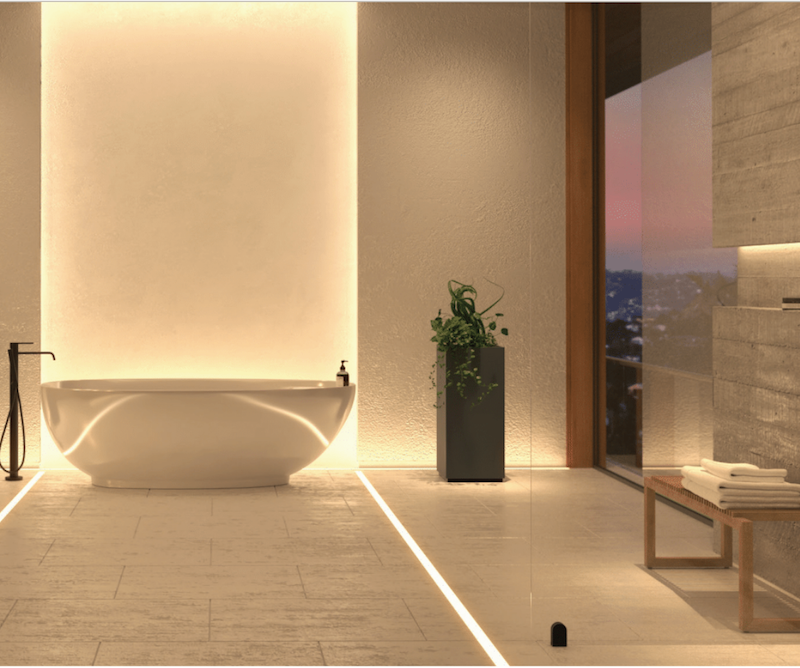 STENOS by Luminii is a micro-linear track and downlight system. The product's streamlined micro linear profile and proprietary micro-lens make it optimal for detail-critical applications. Its optic design leads to unvarying light output, color uniformity, high CRI, high R9, and efficacy featuring 96 Lm/W in the directional sources.
The Linii Series is an extruded aluminum mud-in linear illumination system available in sections up to 144" long. Its specifically designed LED engine provides the power of up to 67 lm/W alongside constant illumination levels from the beginning to the end of the runs.
LineLED, Luminii's signature architectural-grade strip light and extrusions series delivers color consistency ensured by single-binned LEDs. Options include Dynamic White, Pixel, Warm Dim, and Black Lens, and the product gives the end user complete control over interior spaces.
The Minii Connector by Luminii is the perfect connector for the LineLED series. The accessory is easily field-installable, making illumination over long runs simple. The product's minimal width allows it to fit into extrusions while its transparent frame eliminates dark spots
The Luminii bendable Kurba series gives you the freedom to design even the most complex lighting designs without compromise. All Kurba products are dot-free, available in infinite lengths, IP67 or UL676 rated, and offered in vertical (top) and horizontal (side) bends down to a 2.5" radius supporting infinite shapes. Kurba mounting options include recessed and surface accentuating a wide range of indoor and outdoor applications including commercial and residential facades, detailed millwork, and pool and sauna installations.
Plexineon is a rigid factory formed bendable product offered in surface, recessed, and suspended mounting options. The product offers the creative freedom to make any factory-formed, curved or straight, or rigid shape imaginable. With stable and consistent color temperatures at 2700K, 3500K, and 4000K CCTs and IP68 and IK10 rated, Plexineon is perfect for AV applications.
Other Fixtures
The Leto 11 Mini from Senso by Luminii can enhance the most important details. Available in a small, medium, or large cylindrical profile, the product delivers up to 2000lm and features 93+ CRI with CCTs ranging from 2500K to 6500K
The Leto 44 Mini from Senso by Luminii transforms spaces without stealing the scene. The all-purpose fixture is perfect for creating even, uniform light throughout spaces without distraction.
Many of Luminii's signature fixture families come with distinctive premium finishes perfect for making spaces pop. These include aged brass, matte black, warm nickel, polished gold, and polished silver premium finish options with products like Leto 11 Mini, Leto 44 Mini, Zoom, Kilo, Bosca, Clareo S or Q Wall, and a variety of other recessed, surface, and suspended fixtures.
For more information contact av@luminii.com and visit https://luminiihom.com/.
Check Out: