It's not often that a manufacturer provides a look behind the curtain of a new product line. But, thanks to veteran loudspeaker engineer Paul Hales, we received an advanced preview of his new "Theory" brand of residential and commercial loudspeakers and electronics. Hales, the owner of Pro Audio Technology (PRO), provided this unique look at his engineering drawings, wood prototype models, 3D-printed waveguide tests, exploded-view diagrams, and high-resolution renderings, for a line that will make its debut at CEDIA Expo, September 6-8, in San Diego.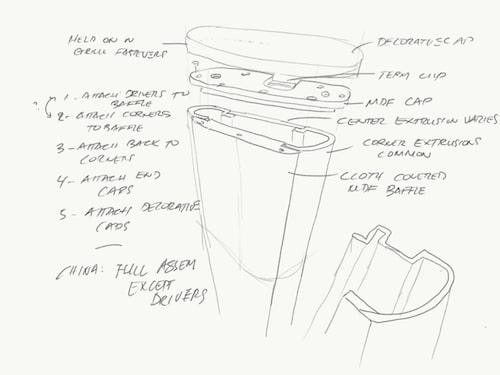 Theory marries PRO's acoustic performance standards with a contemporary design to bring large-scale professional sound to residential and commercial installations where aesthetics and compact size are essential. Speaker models under the Theory brand consist of three soundbars designed to match 65-, 75-, and 85-inch flat-panel TVs, three in-wall and on-wall loudspeaker models with dual 5.5-, 6.5-, and 8-inch woofers, as well as 12- and 15-inch subwoofers for dedicated theaters, media rooms, game rooms, or distributed audio systems.
The soundbars are built using custom aluminum extrusions with clean lines, rounded edges, machined aluminum accents, and configurable decorative trim to suit any décor, including the option for carbon fiber, white, gray, or black gloss, natural and black aluminum, brushed stainless steel, and matte pewter.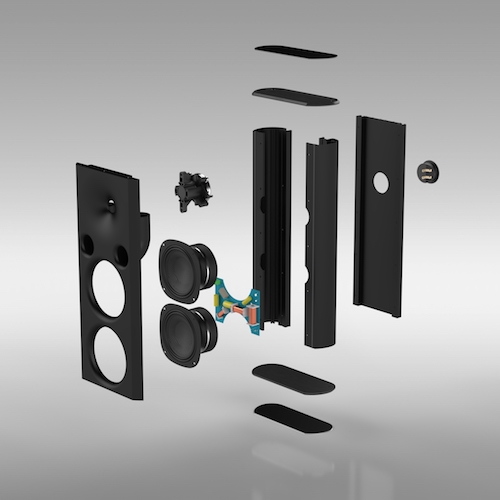 Under the hood of the 85-inch soundbar model (sb85) are ultra-high sensitivity components, including three one-inch aluminum compression drivers on proprietary Theory Impedance Optimizer (TIO) waveguides, achieving 110dB of SPL with just 1W input. The sb85 offers an actual bass reflex design for more robust low-frequency performance, including two high-power five-inch carbon fiber woofers per channel, which generate 95dB SPL per watt.
The Theory brand also offers two amplified loudspeaker controllers (ALC-1809BB) that combine the functionality of a multi-channel DSP processor, high power multichannel home theater and distributed audio amplifier, multichannel mixing amplifier, high-resolution loudspeaker processor, and a system that brings localized bass management, all fitted into a 1U package.
At the heart of the Theory ALC-1809BB lies a dedicated, 96kHz/24bit DSP engine for all Theory and Pro Audio Technology loudspeaker and subwoofer processing, with more than 180 IIR filters, 8 FIR filters, intelligent power-limiting, and delay.
Additionally, the ALC-1809B can serve as a multichannel DSP processor, offering 80 user-programmable parametric EQ filters (10 per channel), plus gain and delay of up to 75 msec channel for on-site system-wide optimization and calibration.
The ALC-1809B's 8×8 matrix mixer with full 8×8 programmable audio ducking feature enables priority paging in distributed audio installations. In residential systems, this allows the new voice-activated control devices, such as Amazon Alexa, to "page" any or all audio zones within a distributed system, automatically without input switching or signal interruption.
The ALC-1809B's BassDirector bass management system provides "localized" bass management of surround and distributed audio loudspeakers. Low frequencies can be "steered" to regional subwoofers within complex residential and distributed loudspeaker setups, right in the 1809B.
With nine channels and 1,800W of amplifier power (3 x 300W plus 6 x 100W bridgeable), the ALC-1809B supports six surround sound system formats – 5.1, 5.2, 5.3, 7.1, 7.2, and 5.2.2 ATMOS – from a single 12-pound 1U device. Theory products are engineered, designed, and assembled in the U.S. The first seven models will begin shipping in the first half of 2019.
Images courtesy of Paul Hales