PowerShades sent me one of their new PoE (Power over Ethernet) Roller Shades to install and evaluate. Most of the reviews I do center around mass-produced products delivering the same experience every time, no matter who opens the box. This time was different. PowerShades is in the business of mass customization, where each customer picks their fabric, measures their windows and receives a bespoke shipment made just for them. I was curious to see how well this process would work.
PowerShades Consultation
I began my journey with a few emails exchanged back and forth with PowerShades' Caleb Murdock who walked me through measuring my master bathroom window for a single long shade replacing two manual blinds. I grabbed my tape measure and sent back the following dimensions: inside width, inside height, outside width, bottom outside width and outside height.
Next came fabric selection. Caleb mailed me a few fabric swatches to check out. I took the swatches up to the bathroom and easily matched one of them to what we already had. I sent my selection of  "000017 Canvas 0%" back to Caleb and finalized motor drive selection. I debated between battery operated and PoE.
I knew PoE would require me to perform a difficult wire fish, but Caleb's acknowledgement that the wired version is much quieter than its battery operated counterpart sealed the deal.
The last step involved picking out the housing color. PowerShades offers six options, but I stuck with white since it matched the trim.
Caleb let me know I should expect the shade in two to three weeks because of a fabric backorder and impacts from COVID-19. Two to three weeks is still a pretty impressive turnaround time. I began the process of "hurry up and wait," letting the anticipation build. True to his word, my new shade arrived 21 days later.
Unboxing PowerShades PoE Roller Shades
PowerShades ship in long rectangular cardboard boxes, which can hold up to four shades in a honeycomb configuration. Since I had only one shade going in, the remaining three compartments were empty, save some foam packing material.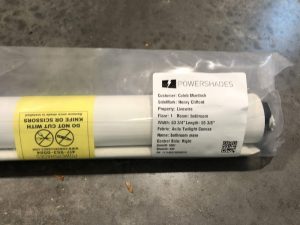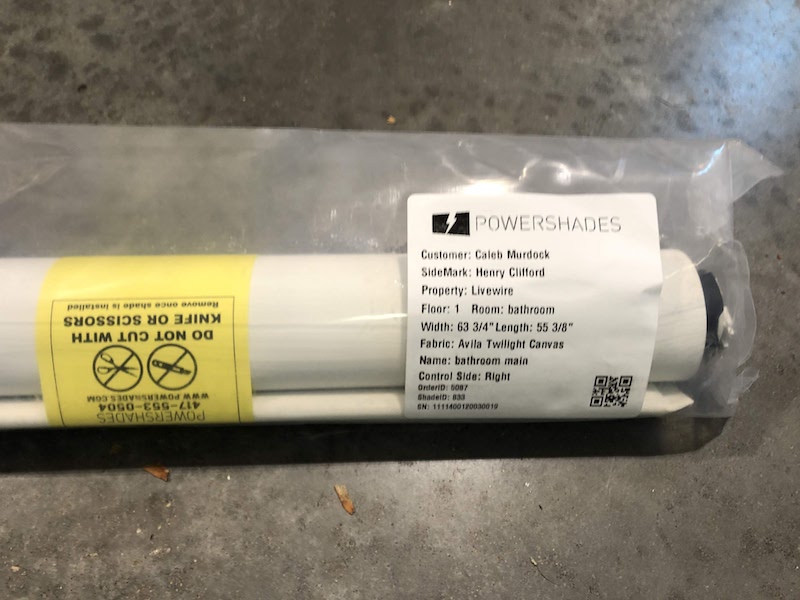 I gently cut open the box, as the last thing I wanted to do was cut the fabric by accident. I also made sure to keep the plastic shroud in place lest I accidentally got any dirt or greasy hands near the shade itself.
There weren't any instructions in the box so I emailed Caleb, and he promptly sent me a link showing me all I ever wanted to know about PowerShades installation. Up until this point, I hadn't fished the wire for the shade, wanting to make sure the motor wire lined up with any holes I planned to drill. I naively assumed that their PoE meant a potential for local PoE power with a wireless connectivity option. That was not the case.
PoE PowerShades mean exactly that. They need a proper home run back to a network head end. I respect the purity of this installation requirement and resigned myself to a few hours toiling away in the attic. I only managed to drill one hole through the side of my house (let's keep that our little secret). It all worked out in the end, and I soon had a nice piece of CAT-6 dangling from my bathroom soffit, ready to receive the shade.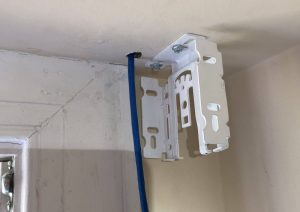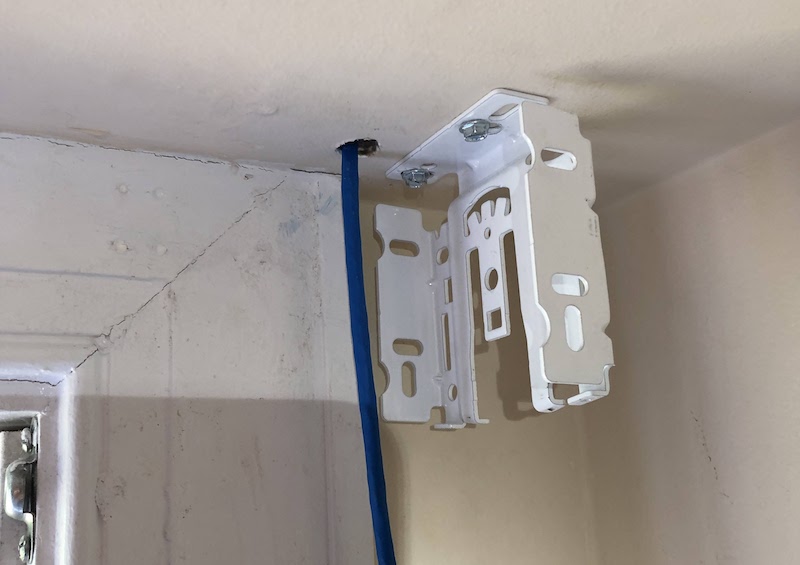 PoE PowerShades come with a RJ45 plug on a 6-inch pigtail. PowerShades recommends installing what they call a "feed through bushing" in the ceiling above their shade. I checked with my installation department, and they'd never heard of such a part, but I figured that terminating an CAT-6 female jack would do the trick.
I installed the supplied brackets directly to my ceiling and test fit the shade. The brackets are very forgiving and permit horizontal and vertical adjustments after the fact, if needed (I needed). After centering the shade on the window, I connected the RJ45 male into my newly terminated CAT-6 jack. I said a brief prayer, opened my eyes, and saw a glowing red light appear at the bottom of the motor. Success!
I gave the button a long press and watched the shade roll down for the first time. The motor is louder than Lutron's shade line, but still not bad compared with motors I've heard from other shade manufacturers.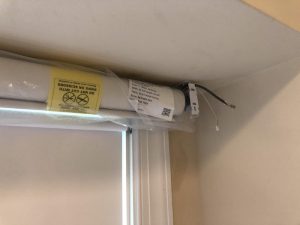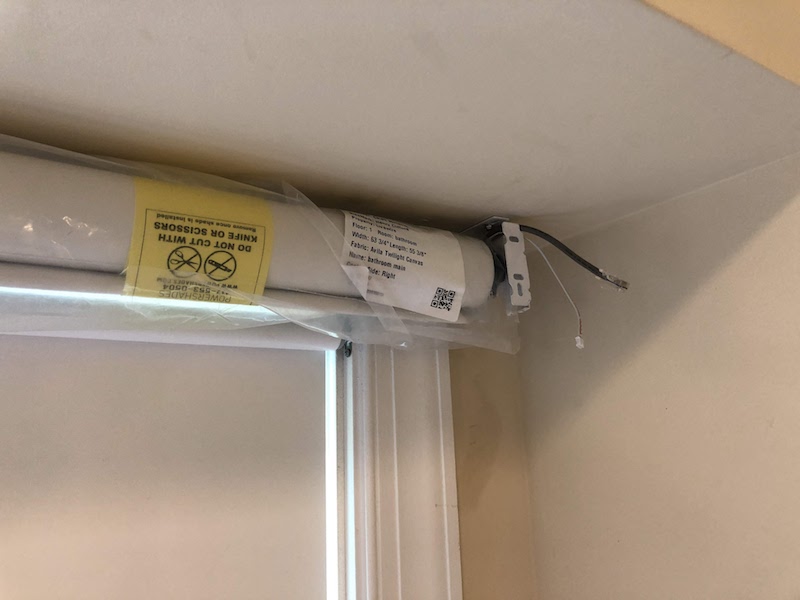 I went back to the PowerShades site and figured out how to download their app and log into their dealer portal to do final configuration. This part proved really easy. As soon as I logged into their site, my shade was already listed and operational.
I loved that they pre-enrolled the shade for me, and I tested it from the app. Sure enough, the roller went up and down with no issues. I pulled up the dealer site in a web browser and walked through setting the bottom limit for the shade. I'm certainly no expert in shade installation and this part proved extremely easy.
My last few steps involved installing the housing around the shade and configuring an Alexa skill to enable easy voice control of the shade. Both of these steps went very smoothly. PowerShades offers drivers for most major control system platforms, which means the user experience options are endless. I plan on eventually installing a lighting control keypad with shade control. The toughest part of the whole project revolved around me fishing wire, which had nothing to do with PowerShades at all.
Final Report on the PowerShades POE Shade
PowerShades does an amazing job at delivering a reliable product at a good value comparable with other motorized shades (prices vary with dimensions and fabric selection). Their connection method from the shade motor to the network may or may not be the best option. (It would be nice to see a field-termination capability.) But, all in all, PowerShades understands their audience and makes it easy to measure and install a whole home for motorized shades. I highly recommend their products and commend them for making their process easy and painless.