The world of universal remote controls has been in a funk for the last few years. Only Savant has managed to produce a decent voice remote and Control4's Neeo launch in 2019 felt rushed and incomplete.
When Snap One announced its Halo remote control at last Fall's CEDIA Expo, I couldn't help getting my hopes up again. Since Logitech abandoned its Harmony line last year, it seemed like most of the world had moved on. If you have a custom installed entertainment system where controlling multiple components is a necessity, that's now the exclusive domain of custom installation focused companies like Universal Remote Control, RTI, Savant and, of course, Snap One.
Control4's product team sent me a shiny new Halo remote control to try out ahead of the official launch. Would this turn into Neeo Part Deux or had they listened to dealers and gone back to the drawing board?
Control4 Halo Unboxing & Installation
After unboxing the Halo remote, I plugged in the base station, sat the remote in the cradle, and let the battery charge. The first screen prompted me to scan a QR code or choose an advanced installer set up. Since I received this demo remote before the initial ship date, I was instructed to use the advanced setup, but kudos to Control4 for leading with a customer self-installation workflow in mind.
I tapped through the various screens that asked me to choose a Wi-Fi network, pick my Control4 controller, default room and then the Halo remote entered an automatic firmware update process that took about 10 minutes.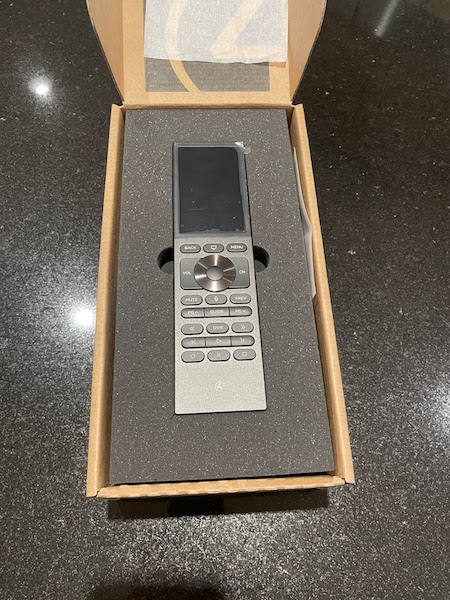 After the firmware update completed, I started to play around with the Halo. I was immediately struck by the improvements over the Neeo. Backlit keys? Check. More buttons to support functionality of set top boxes and media streamers? Check.
The Halo was snappy and responsive, I couldn't help noticing the microphone button squarely located between the MUTE and PREV buttons. Could this be the Siri integration we'd all been waiting for? Companies like Savant have had a few years head start with their HomeKit integration, so I was curious to see how Control4 handled this Apple implementation.
I pressed the voice button and was greeted with a message prompting me to add voice-enabled capabilities to the project through Control4's software, Composer Pro. I fired up Composer Express on my iPad and navigated through the instructions on how to add something called the "Apple Bridge" to the project, enabling Apple TV's Siri voice integration. Halo's new voice integration also requires the latest version of the Apple TV IP driver, which may result in minor programming tweaks from the integrator before the magical customer self-directed activation can occur.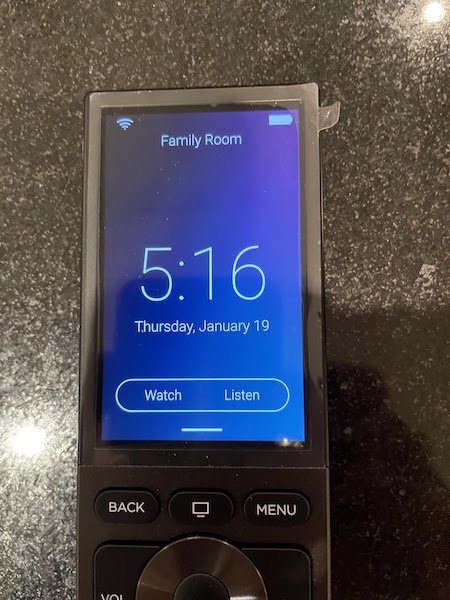 The rest of the Halo set-up process is driven from the Control4 app, where the customer is instructed to enable "Apple TV Integration" inside the settings page. Switching on this option brings up an Apple HomeKit screen, which completes the integration from Apple's side of the street. This process took less than 30 seconds and wouldn't faze most consumers.
I've seen this HomeKit integration fail intermittently with Savant's X2 remote, which necessitated the creation of a HomeKit soft button on the remote to restart the process after it fell offline. Control4 appears to have addressed this issue with its new Halo IP driver that senses a broken connection and automatically restarts. I find it darkly amusing that our industry has to create workarounds for a known issue with one of the world's largest technology company's products.
Once I'd added the Apple TV Bridge, changed out the older Apple TV IR driver for the newer IP driver, I decided to go back to the Halo remote. I pressed the microphone button and was elated to see the plasma ball of Siri's "ready to listen" icon pop up on the lower right corner of my TV.
After years of hunt-and-peck surfing or having to use my phone for Siri, I was excited to finally be back to one remote. Voice control's introduction in 2014 sent our industry into a tailspin and away from simplicity. Here we are, getting back to single remote functionality just as the universal remote becomes more of an edge case necessity. Thankfully for most custom installation businesses who live in the world of edge-case installations, this unification of control is a godsend and gets us back to offering simple solutions for our clients versus having to offer up mush-mouthed "not exactly" explanations when our clients ask if the $100k system they've just installed has a voice remote like their neighbors down the street with a table top TV and Xfinity set top box.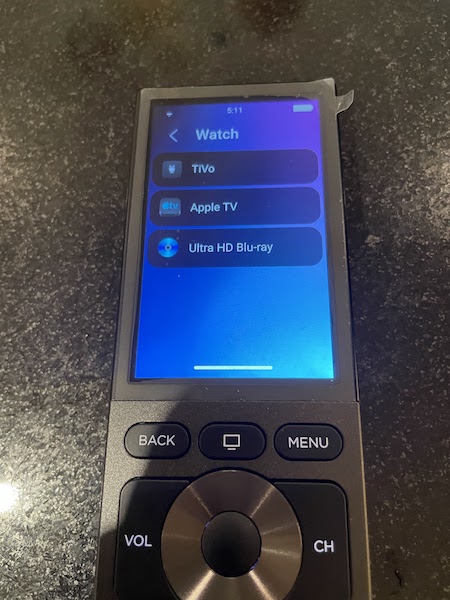 Final Report Card
At $500 MSRP, the Halo remote is a solid value and much needed facelift for the aging SR-260 handheld. We anticipate a ton of upgrades. While we're a long way from customers being able to truly self-install without an integrator, the necessary tweaks can be mostly completed remotely with the client using their own devices to complete the HomeKit integration. We can't wait to offer the Halo remote to our customer base, and I hope you'll stay tuned for a future review on the Halo remote's big brother, Halo Touch.