Jabra has added new AI-powered features to its PanaCast 50 and PanaCast 50 Room System. In collaboration with Microsoft, the company is introducing new updates to its PanaCast 50 video bar, including Microsoft IntelliFrame with multiple video streams, as well as face and voice recognition functionality.
These new features aid Microsoft's next-generation AI tools, including intelligent meeting recap in Teams Premium to revolutionize meeting experiences.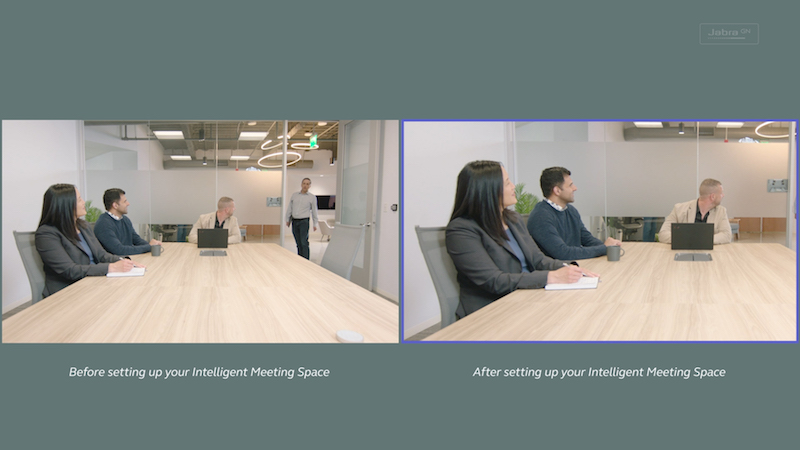 The PanaCast 50 will be one of the first intelligent front-of-the-room Teams Rooms on Windows video bar to enable Microsoft IntelliFrame with multiple video streams. Additionally, with Teams' voice recognition capabilities, the PanaCast 50 allows in-room participants to maintain their identity in the meeting transcript, aiding AI based productivity tools.
With intelligent recap in Teams Premium, users will get automatically generated meeting notes, recommended tasks, and personalized highlights. Meanwhile, Microsoft IntelliFrame gives each in-room participant a dedicated camera view, providing a more inclusive remote experience and providing an optimized front row experience in room-to-room meetings.
Both features play a key role in helping employees to have more productive meetings, get up to speed on focus topics, organize key discussion points, and summarize actions so that the entire group understands the next steps.
The new multiple video stream functionality enables remote users in the Teams meeting to have a better view of who is in the meeting room with three video streams: the first stream is the current speaker, the second stream is for the previous speaker, and the third stream is the full panoramic room view of the meeting room or space, so no individual is excluded. The upcoming face recognition functionality allows in room participants — upon authorization with individual enrollment — to display their names to remote users and populate the meeting room roster.
Voice recognition functionality — upon individual enrollment — enables in-room participants to maintain their identify in the meeting transcript, providing more precise intelligent recaps for users with a Teams Premium license.
Jabra Intelligent Meeting Space features allow customers to set a meeting room or space virtual boundary with PanaCast 50, so that people within the defined space are fully included, whereas people outside of the boundary are not inadvertently included. The new feature allows PanaCast50 to exclude people who are visible through glass walls and are not part of the meeting.