Next Level Acoustics is now shipping a new soundbar line called "Fusion Frame" designed to match Samsung's popular Frame TV. Featuring Samsung's 4K UHD QLED technology, Frame TV is now in its third year, with four new models in sizes from 43, 49, 55, and 65 inches diagonal and customizable bezel colors.
"Insights into unmet needs for sound quality and aesthetics in the soundbar market led us to a new creative solution – the Fusion Frame soundbar designed expressly as a perfect match for the highly-successful Frame TV from market share leader Samsung," said Rob Goldman, founder and COO of Next Level Acoustics.
Frame TV was created in 2017 when Samsung and Fuseproject, a design agency led by award-winning Swiss designer Yves Béhar, partnered to create a better way to integrate TV in the home. They noted the consumer's biggest objection is that when a TV is turned off it's an obtrusive "black hole." Thus, custom installers are frequently asked to hide TVs with expensive cabinets or otherwise make the TV disappear.
Frame TV, however, appears as indistinguishable from a painting hanging on a wall. This illusion is created with a TV cabinet that's only 1.75-inches deep resembling a picture frame mounted flush to the wall with no gap. When turned off there's no "black hole" since the TV automatically displays expertly curated high-resolution art as static or changing images. It's a TV when on and art when turned off.
Like all modern TV's a minimal cabinet design limits TV sound quality, so many consumers opt for a sound bar.  However, ordinary soundbars ruin the carefully created illusion and aesthetics of Frame TV.
So Next Level Acoustics created Fusion Frame, an innovative line of soundbars with the same high-fidelity as their other soundbars in a design that with its picture frame bezel, 1.75-inch depth and no-gap mounting, perfectly matches Frame TV. Fusion Frame delivers audio with a wide frequency range, full dynamics, voice intelligibility, and detail of a high-quality speaker system suitable for movies and music. When Frame TV is off and displaying art, owners can sync their favorite music to the Fusion Frame soundbar so the art is accompanied by beautiful music for a true lifestyle enhancement to any room.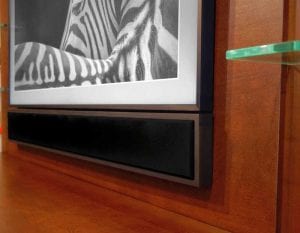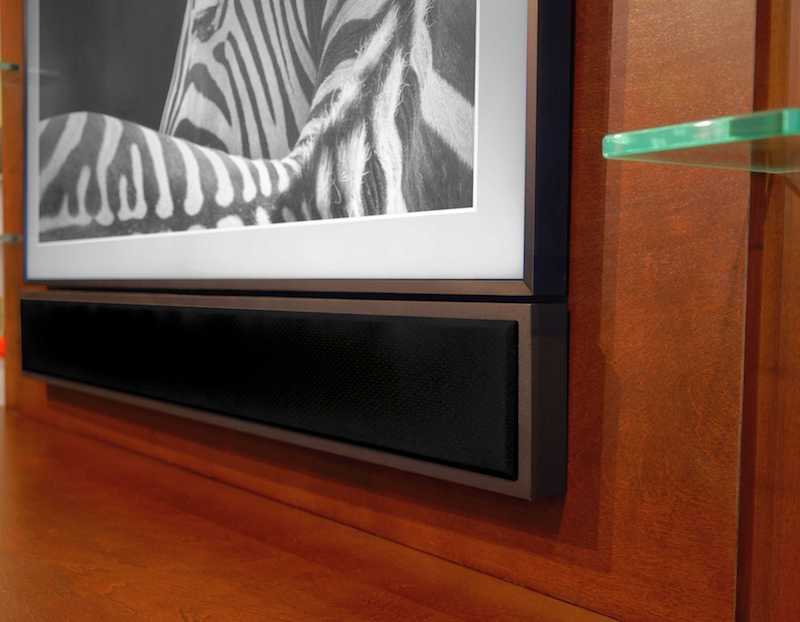 To create Fusion Frames' shallow depth, Next Level Acoustics engineered a proprietary enclosure with a radical internal air-load management system and a proprietary woofer capable of deep natural bass from a shallow cabinet.
"A typical cone woofer can't perform as needed with the shallow cabinet, so we engineered and built our own 4.5-inch aluminum dome drivers," said John Sollecito who in addition serving as Next Level Acoustics head of engineering and manufacturing is also president of JS Speaker Technologies, known for the JSE Infinite Slope loudspeaker. "The drivers have stiff, non-resonant cast baskets mated to powerful rare-earth Neodymium magnets. A high flux two-layer voice coil drives the ultra-stiff aluminum dome suspended by a butyl rubber surround for very high acceleration and excursion. The result is clear, dynamic bass and smooth detailed mid-range, much more than one would imagine possible from such a thin soundbar."
Fusion Frame's high-frequencies are handled by a 1-inch soft dome tweeter from audiophile Danish driver manufacturer Vifa along with a proprietary crossover that uses high-grade precision components. A custom ultra-rigid high-density sealed enclosure comprised of CNC-machined MDF and lined with an anti-resonant coating makes a vibration-free cabinet.
The back of the enclosure has installer-friendly features such as recessed terminal cups with gold-plated heavy-duty binding-post/banana-jacks and recessed cable management channels for a no-gap mount. Wall mounting is incredibly simple by removing the magnetically attached grille accessing the cabinet installation holes to directly attach the bar with the included screws into wall studs or mounting to a wall with the included anchors.
Fusion Frame soundbars can be easily driven by amplifiers from 30 watts or up to 150 watts. To match the four sizes of Samsung Frame TVs, there are six Fusion Frame models available. Four are stereo soundbars and two LCR models are available for the larger 55- and 65-inch sizes. All use the same drivers with the same great sound regardless of size.
The Fusion Frame soundbars feature a black Plex finish to match the standard Samsung Frame TV bezel with a black acoustically transparent fabric grille that's magnetically attached. An optional white lacquer maple veneer finish is available to match white Frame TV's.  If installers and clients decide to go with one of the two remaining Samsung frame color options, the Fusion Frame can be custom painted to match. All Next Level Acoustics Fusion Frame soundbars are backed with a full 5-year warranty.
A generic version of the soundbar for non-Frame TV applications of any size, called Fusion Flat series is also available.
For extended bass performance, Next Level Acoustics makes an in-wall subwoofer to match the Fusion Frame soundbars, model CI-IW10S. It is a compact sub with a long-throw 10-inch cast frame driver that's designed to fit in 2×4 construction and extend bass response down to 34 Hz driven with as little as 40 watts of power.