The Aqara FP2 presence sensor was designed to overcome the limitations of passive infrared motion sensors for detecting occupancy
I believe that occupancy sensing is one of the most useful features that can be built into a smart home. The Aqara FP2 has a number of unique features that make it ideal for either individual rooms in a home or the whole house.
Why Consider Occupancy Sensors?
Once your smart home understands when rooms are occupied, rules can be created to perform various smart home functions, such as:
Turn lights on at night when someone enters a room
Turn lights off when a room is unoccupied
Adjust the temperature in a room when a room is occupied
Set back the thermostat in a room when it is unoccupied
Turn on music, or video, when a room is occupied
Turn off all audio/video equipment in a room when it is unoccupied
In hallways turn on pathway lights at night to make it easier for people to navigate around a home. The light levels can be adjusted based on time. If someone gets up late at night, pathway lights are dimly lit so they won't disturb people other people in the home who may be sleeping
Open window treatments when a room is occupied during the day for daylight harvesting to save energy
Close window treatments when a room is unoccupied to provide additional insulation for windows and save energy.
Turn on ceiling fans during the summer when a room is occupied to make the room more comfortable.
Turn off ceiling fans when a room is unoccupied to save energy
Turn off decorative gas fireplaces when a room is unoccupied for safety and to save energy
Similar actions can be taken when a smart home processor/hub knows when a home is occupied, or unoccupied:
Turn on pathway lights when you enter the home at night so you can safely navigate into the home and don't have to struggle to reach a light switch if you are, for example, carrying bags of groceries
Turn off lights throughout the home to save energy when it is unoccupied
For added security trigger a light scene that makes the home look unoccupied when it isn't
Set back all thermostats to save energy when the home is unoccupied
Set back the thermostat on the hot water heater to save energy when the home is unoccupied
Turn off all audio/video equipment to save energy when the home is unoccupied
Stop all streaming devices to save data usage against your ISP's data cap when the home is unoccupied
Close all window treatments in a home when it is unoccupied to save energy and to prevent potential burglars from checking out the interior of the home
Turn off all ceiling fans to save energy when the home is unoccupied
Turn off all decorative gas fireplaces for safety when the home is unoccupied
Shut off a motorized valve on the main water line that feeds water to fixtures in the home when the home is not occupied. This minimizes the chance of a leak that could cause thousands, or even tens of thousands, of dollars in damages to the home. Logic should be included to allow the valve to remain open when either the clothes washer or dishwasher is running. It is also important that the valve not interrupt the flow of water to the irrigation system.
For added security, lock all exterior doors when the home is not occupied
For added security, close the overhead garage door if it is accidentally left open when the homeowners leave the house
Trigger robotic vacuums and mops to clean the home when it isn't occupied
Integrating Geofencing
There are several ways to determine whether a home is occupied, or not. Geofencing is one of the most common methods for determining whether a home is occupied, or not. WhatIs.com defines a geofence as "a feature in a software program that uses the global positioning system (GPS) or radio frequency identification (RFID) to define geographical boundaries."
Related: Hands on with the Matter Smart Home Protocol
In a smart home system, a geofence leverages the GPS in a homeowner's smart phone to determine if they have left the area surrounding their home. This can work very well though, like everything else, the system isn't perfect. First, it only works if every family member always takes their smart phone with them when they leave the house. If one family member's smart phone is left home charging, because the battery is low, then the smart home processor/hub will think that individual is still home and won't know that the home is unoccupied.
It can also be a significant challenge to adjust the size of the geofence so the smart home knows when you are working in the yard (occupied) or having dinner at your next-door neighbor's home (unoccupied). If you live in a condominium, then using a geofence to determine when you are home vs. when you may be visiting any one of your numerous neighbors becomes even more challenging.
Finally, cleaning services, and other workers that access your home, will not be included in the geofence logic. So, when these people enter/leave your home, your smart home system will not trigger the appropriate home/away scenes to optimize energy usage.
Aggregating Room Sensors
If all the rooms in a home have occupancy sensors installed, then they can be aggregated together to determine whether a home is occupied, or not. For this to be successful, EVERY room in the house needs to include an occupancy sensor. For example, you don't want your smart home to trigger an away scene when you are in the shower.
There are also challenges to using motion detectors to determine occupancy. More on that below.
Alarm System Integration
An integrated alarm system can be a very good method of determining occupancy of a smart home. If the alarm system is armed in away mode, then the home is absolutely not occupied. And, if the system is disarmed, or armed in stay mode, then the home can be considered occupied.
The most common way of sensing occupancy of a room is through motion detectors. Motion will trigger that a room/area is occupied and after motion is no longer detected there is a timeout period before a room/area is determined to be unoccupied. In most cases this works well but it is not without pitfalls. For example, when you lay in bed at night there is not enough motion to trigger a motion sensor. So, a motion sensor-based occupancy system will determine that the bedroom isn't occupied. Or, if you sit in a chair to read a book, a motion sensor-based occupancy system will decide that a room isn't occupied and turn off the light that you are using for reading.
These problems are based on the limitations in the type of sensor used in most motion sensors. Motion sensors typically use passive infrared sensors (PIR) to detect motion. A pair of PIR sensors is included in each motion sensors and they detect heat, in the form of infrared light, that is radiated by people. When a difference is detected between the measured values of the two sensors in a motion detector, it signals that motion has been detected.
As stated above, PIR sensors work reasonably well for security systems where you are trying to detect an intruder but is less successful when trying to determine occupancy.  Aqara's new FP2 Presence Sensor overcomes these problems and enables smart home automation to be done in ways that, up until now, was impossible.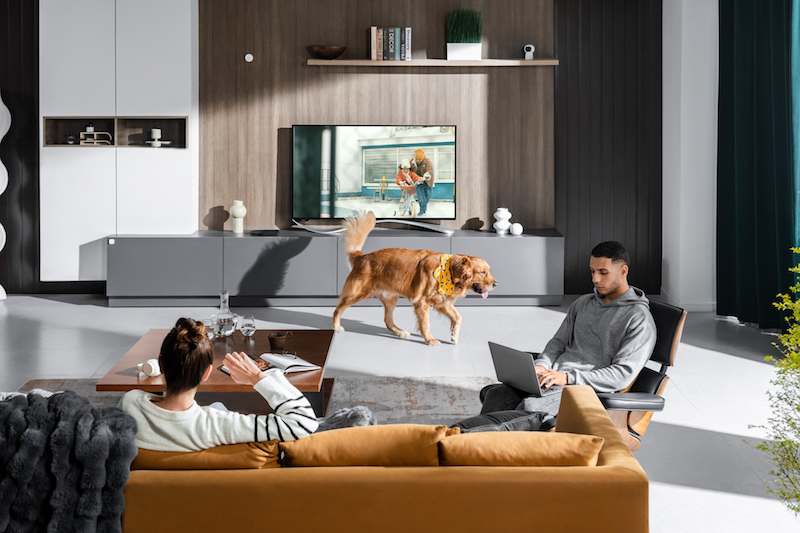 Introducing the Aqara FP2 Presence Sensor
Aqara was founded in 2016 and entered the U.S. market in 2019. Their products are available online and through more than 150 retailers on six continents. They have more than seven million world-wide customers and have won multiple international design awards for their products.
The Aqara FP2 presence sensor overcomes the limitations of PIR motion sensors for detecting occupancy through the use of a millimeter wave (mmWave) radar sensor. This sensor overcomes the limitations of PIR sensors including:
The inability to detect small movements
Difficulty to detect the occupancy status of a specific zone with a room. For example, the ability to detect if a bed is occupied vs someone sitting in a chair in a sitting area of a bedroom
Inability to distinguish multiple people within a room including the number of people and their locations
Less sensitivity when the ambient environment is hotter
The Aqara FP2 has a number of unique features that make it ideal for use in a smart home:
Zone Positioning – Up to 30 zones within a room can be defined with unique automations that are triggered by the actual presence within a particular zone. Zones can be between just over 2 sq. ft. and 430 sq. ft.
Multi-Person Detection – Detection of up to five people simultaneously. However, Aqara states that the best results are obtained when tracking not more than three people.
Ultra-High Precision – The mmWave sensor used in the Aqara FP2 can capture even the smallest movements
Fall Detection – Privacy protected fall detection. Requires the Aqara FP2 to be ceiling mounted
Built-in Light Sensor
Local Automations – The Aqara FP2 connects to a homeowner's Wi-Fi network allowing automation rules in Aqara Home and Apple Home to be executed without an Internet connection
IPX5 Rated – Allows the Aqara FP2 to be mounted in humid environments including bathrooms and shaded outdoor locations
False Positive Filtering – The ability to filter most positive alerts caused by robotic vacuums, small pets, fans, etc.
Integration
The Aqara FP2 is compatible with a wide range of third-party smart home platforms. Its zone positioning capability is exposed as multiple motion sensors in third party platforms. These platforms include Apple HomeKit, Amazon Alexa, Google Home, Home Assistant, and IFTTT. However, the built-in light sensor is only available in Aqara Home, HomeKit, and IFTTT.
Another important point is that since the Aqara FP2 uses Wi-Fi for communications, it can be connected directly to Apple HomeKit without the need for an Aqara Hub or the Aqara App. However, to configure the advanced zone detection capabilities of the Aqara FP2 requires the Aqara app.
Hands on with the Aqara FP2
Aqara provided me with a product sample for this article. Included in the box were the sensor itself, a manual, a two-meter USB-A to USB-C cable, two metal plates — each with a double-sided adhesive disc, and a plastic bag containing a screw and a plastic wall anchor. The Aqara FP2 includes an articulating magnetic base and that, along with the metal plates, adhesive discs, screw/wall anchor, provide a wide variety of mounting options.
It is important to note that the Aqara FP2 cannot be battery powered. It must be plugged into a 1-Amp USB power supply (not included). So, if you are going to mount the sensor on a wall, you will have a power cord hanging down below it and mounting it on a ceiling will require a ceiling-mounted outlet that was probably designed for a ceiling light fixture.
The magic of the Aqara FP2 is the ability to setup multiple detection zones in a room and create unique automations for them. For example, you could:
Create a detection zone for your favorite reading chair and automatically turn on the light next to the chair when it is occupied. You could also use the Aqara FP2's illumination sensor so the light is only turned on when there isn't enough ambient light in the room to read.
Create detection zones on either side of your bed and, at night, dimly turn on unique pathway lights for a quick trip to the bathroom depending on whether you, or your partner, got out of bed.
Trigger a specific good morning routine when the person on the left side of the bed gets out of bed in the morning and a different good morning routine when the person on the right side of the bed gets out of bed
The list goes on…
When I previously tried Aqara's smart home products and hub, they were very easy to work with and setup using the Aqara app. The Aqara FP2 is a brand-new product, and I discovered that at this stage in its development, it is much more challenging to work with than its predecessor.
The basic installation is very simple. Just press the + button in the Aqara app, select Presence Sensor FP2 from the list of devices, and follow the on-screen prompts.
The first thing I expect people will do, after setting up the sensor, is to test it by viewing the room map on a smart phone and seeing the detected person show up as a dot on the map. On an iPhone this is problematic. Sometimes the dot shows up, and sometimes it doesn't. Looking online at the experience that other people were having with the product, I found that I wasn't alone in experiencing this issue. I also read that this problem is unique to the iPhone/iPad and doesn't exist on Android devices. I expect that an app update from Aqara at some time in the future will address this problem.
To take advantage of the advanced capabilities of the Aqara FP2 requires that you go beyond the basic configuration. Since, unlike a basic PIR motion sensor, the FP2's mmWave radar sensor will detect the movement of both people and inanimate objects, you need to define the space where the sensor will be located. You do this in the Aqara App by mapping the room to define its boundaries (edges), objects that would cause interference (i.e. ceiling fans), and finally detection zones.
The automated process for defining the edges of the room refused to work for me. It just kept telling me that the process had failed. Fortunately, I found that you could also manually draw the edges of the room in the app. I also tried the automated process of detecting an interference source, in this case my ceiling fan, but this also wouldn't work. Again, I found that I could manually add the interference source in the app.
Finally, the process of setting up detection zones and automations was also a bit challenging. Setting up separate detection zones in a room was reasonably easy in the app. However, I did run into a problem when creating automations for these zones. My first attempt at creating an automation for my zones was to choose that I wanted an action to occur when someone entered a detection zone. This wouldn't work. However, when I simply changed to trigging the automation to run when there was presence in the zone, it worked perfectly.
Once I worked through the challenges of configuring the Aqara FP2, I was amazed at how fast the automations worked. There was almost no discernable delay from the time I entered one of my detection zones to the execution of the automation to, in my test case, turn on a light.
It is important to mention that Aqara is aware of the issues in the setup and configuration of the FP2. I'm told they are actively working to resolve the problem and make the setup process easier.
Unfortunately, I didn't have a way to test the FP2's fall detection capability. Fall detection requires the FP2 to be ceiling mounted. This wouldn't have been too hard to overcome except that the FP2 is not battery powered, so I would have needed a ceiling-mounted power source to make it work.
Future Enhancements
The Aqara FP2 is a brand-new product, and Aqara already has plans for future enhancements to the product, including support for the Matter protocol, posture detection (sleeping, lying down, fall, sitting, and standing), sleep monitoring, counting the number of people in a room, and multiple FP2s on one floorplan.
Conclusions
The Aqara FP2 Presence Sensor is an amazing product. It enables smart home automations that could previously only be dreamed about. That being said, Aqara still has a good deal of work to eliminate the bugs in the setup process that make the device more challenging to configure then it should be. The good news is they are aware of this and are actively working to fix the problems.
In addition, the requirement for the Aqara FP2 to be plugged into a power source may be an issue for people. It limits where the device can be located in a room and some people may be put off by a power cable hanging down a wall from the device.
If you can work though the above issues, the advanced capabilities of the Aqara FP2, when compared to standard motion and occupancy sensors, are remarkable.