Polk Audio has introduced two new flagship sound bar systems, MagniFi Max AX and MagniFi Max AX SR, featuring Dolby Atmos and DTS:X sound. The systems include 11-speaker arrays with dedicated center channels, up-firing height speakers, and Polk's patented Stereo Dimensional Array (SDA) technology.
Both models include wireless subwoofers for extended bass response; MagniFi Max AX SR adds two wireless surround speakers for total sonic immersion. Music streaming, custom sound modes, and eARC connectivity round out the features of these all-in-one systems.
Related: Polk Audio Introduces the Signa S4 Dolby Atmos Sound Bar System
"The MagniFi Max AX and MagniFi Max AX SR leverage 50 years of Polk speaker design expertise to deliver Polk's best sound bar to date," said Frank Sterns, Polk Audio president. "And with Polk's patented Stereo Dimensional Array (SDA) and Voice Adjust technologies, the Magnify Max AX and MagniFi Max AX SR will fill any room with exceptional sound without filling the room with speakers. Add built-in wireless music streaming and you have the ultimate all-in-one entertainment hub."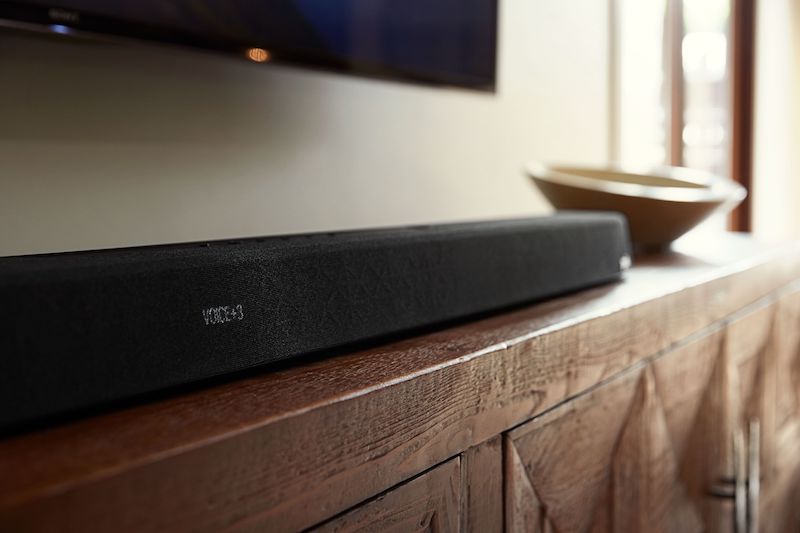 MagniFi Max AX sound bars literally elevate surround sound with dedicated up-firing speakers that provide the overhead element of Dolby Atmos and DTS:X object-oriented sound formats. Polk's fourth-generation patented SDA technology eliminates interaural crosstalk to deliver an ultra-wide soundstage that expands beyond the sound bar to fill the room. MagniFi Max AX presents sound sources with pinpoint accuracy, providing more lifelike imaging.
MagniFi Max AX and MagniFi Max AX SR each include a 10-inch down-firing subwoofer that delivers the deep, effortless bass for which Polk is famous. Wireless connection allows for convenient placement without cable clutter.
To expand the surround capabilities of MagniFi Max AX, Polk SR2 Wireless Rear Surround Speakers ($199), available separately, can be added, or simply use the wireless surround speakers included with the MagniFi Max AX SR system.
One-touch Movie, TV and Music Modes optimize MagniFi Max AX's bass response, clarity, and soundstage for each listening scenario. Night Mode raises speech and lowers bass for late-night listening. VoiceAdjust technology raises the volume of voices over other soundtrack elements, for enhanced intelligibility. BassAdjust balances the low-end response of the sound bar and subwoofer for seamless bass.
MagniFi Max AX and MagniFi Max AX SR support Wi-Fi and Bluetooth streaming via Apple AirPlay 2, Google Chromecast, Spotify Connect, or any Works with Alexa–enabled music service. Combine MagniFi AX series sound bars (including the MagniFi Mini AX) to build a multi-room music listening system.
Setup is simple with 3-in/1-out high-speed, high-bandwidth 4K HDMI connectivity and input switching. The sound bars can be connected to gaming consoles, Blu-ray players, or streaming boxes. Connection to your TV is via HDMI eARC or ARC with the included HDMI cable; an optical input allows connection to older devices.
MagniFi Max AX includes a remote and works with most TV remotes out of the box. Its intuitive front-panel OLED display indicates adjustments and automatically dims when not in use. And MagniFi MAX AX is Roku TV-ready for even easier configuration and control.
The sound bars can be placed on a TV console or wall-mounted to accommodate any home theater design.
MagniFi Max AX ($799) and MagniFi Max AX SR ($899) sound bar systems will be available in October direct from PolkAudio.com and at authorized Polk retailers in the U.S. and in other territories.