Roku Express HD model has a more powerful processor, Roku Wireless Bass complements company's growing audio line.
Much of the buzz in the financial, media, and entertainment worlds continues to be about declining subscriber statistics for an ever-growing number of cloud-based video streaming services. While some services have lost subscribers, others have gained new or rejoined subscribers. At the same time, new services or mergers continue unabated.
Of course, streaming services without a means to receive, select, and play them back are like trees falling in the forest that no one hears.
Thus, in line with all the talk about services, we have seen a parallel use of existing and purchase of new smart TVs and external streaming devices along with the addition of smart phones and tablets as viewing devices. Side note: Covid-era statistics continue to show that despite the attention to portable viewing, according to the latest "State of Streaming" survey report from Conviva, a little more than 75% of U.S. video viewing was through a smart TV or a use of a connected TV device.
Despite that obvious device usage, other than for new smart TVs, connected streaming device introductions this year have been few and far between. The best example is the last two Apple events. There were no new streaming products, not even rumors. Same for most of the rest of that category, including FireTV and Android/Google TV.
Perhaps with the "holiday shopping season" in sight, Roku has ended that drought.
Roku Express


Now available for pre-sale, with availability online, and at major retailers on October 16, the new Roku Express is not totally new, but it is an update to the leading streamer device brand at the key entry price point level. While it is the same size as the current Express model, the HD device has a more powerful processor, more memory, and an upgrade to dual-band Wi-Fi. These may seem minor, but with the increasing sophistication of streaming apps, these enhancements will not only mean that apps will load faster, the device may well have a longer in-service life as it would be able to handle whatever new user interfaces that the services throw at it with future updates and upgrades.
The new Express includes Roku's classic, easy-to-use IR remote, but no voice control. Then again, it will list for $29.99, making it the perfect companion for a dorm room, second bedroom, kitchen, or office.
Roku Wireless Bass
The other new hardware product from Roku will be the Roku Wireless Bass. This is the latest part of Roku's move into the audio category, complementing the brand's existing wireless speakers, the Streambar and Streambar Pro. With an MSRP of $129.99, it is obviously a bit less powerful than their current Wireless Bass Pro priced at $179.99, with a 10-inch driver and more powerful amplifier, but it should do the trick of delivering depth to movies and music by adding bass that should fill most rooms where a product of this class would be used.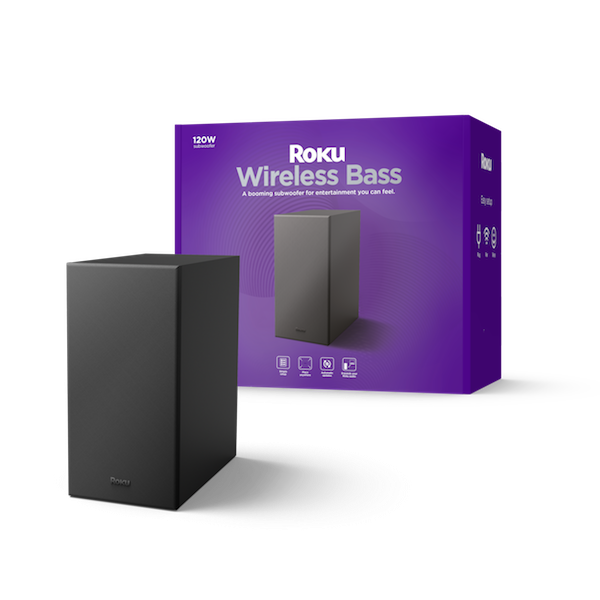 As the name implies, this is a wireless product other than for the AC power cord, but it must be noted that it will only work in connection with any Roku Streambar or Soundbar product, or with a Roku TV in conjunction with Roku Wireless speakers. It will not work with external Roku streaming products or Roku TVs when the wireless speakers are not also present.
From a specification perspective, the new product is in line with comparably priced products. This is a front-firing, ported design with a single 5.25-inch driver. Frequency response goes down to 50Hz, delivering 90dB SPL.
I have been using the Wireless Speakers with a TCL Roku TV since their introduction and can attest to the fact that Roku has a very good start on earning its audio chops. Definitely the same for the current Wireless Bass Pro, which I am currently using as a part of a system test with the Streambar Pro and Wireless Speakers. Look for that review in this space soon.
The Wireless Bass is available for pre-order now and will be available starting November 7 from Roku.com, BestBuy.com, and Amazon.com. A bundle with the Wireless Bass and Roku Streambar will also be available with an MSRP of $249.99
The other part of Roku's new product reveal was the product line's underlying software. Roku's version of that is their "Roku OS," and their forthcoming OS 11.5 and other associated features that may be rolled out automatically on their own schedule, evolutionary. Importantly, they certainly show the advantage that the smart TV and streaming products have in being able to bring new features to existing owners, enhancing and extending product usable life without buying something new.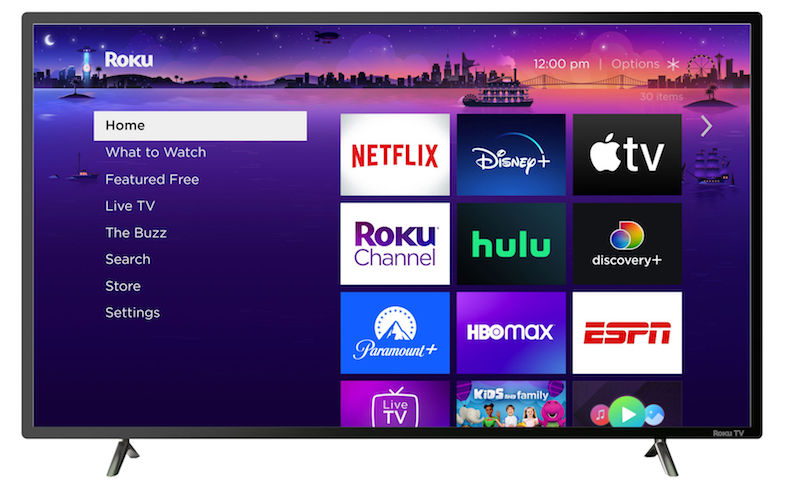 Current Roku users will find updates to the home screen and its links into the content discovery interface where the most visible changes will appear. A key part of that will be the addition of a new item in the home screen menu stack, called "The Buzz." Indeed, the whole home screen menu is reordered, no doubt as a means of assisting viewers who might get lost when trying to find the program they want from among the countless services and even countless more program choices. Also changed within the menu structure is "What to Watch," which moves up right under "Home," above where the current "Featured Free" and "Live TV" are.
A feature in the new "What to Watch" menu will be "Continue Watching." If you have to stop watching a program from the likes of Netflix, HBO Max, Paramount+, or The Roku Channel, this will quickly take you to where you left off without navigating down through the menu trees. Also, there will be an updated version of the Save List function now available only on the Roku Mobile app and Roku Channel. That becomes a single destination to save the future program viewing ideas, again without deep navigation. Or, in my case, remembering which streaming service a program is on.
In the middle of the menu stack will be the previously mentioned, "The Buzz". The Buzz will appear as a frequently updated collection of posts with entertainment-centric, short-form content from a variety of free, subscription (SVOD) and free, ad-supported (AVOD/FAST) services ranging from Apple TV+ and Showtime to Tubi, Vevo, and Plex. If something in The Buzz appeals to the viewer, then it may be streamed immediately or saved for future viewing.
Content discovery will be improved with new onscreen tools that will show channel options related to a voice search, making it easier to select the desired content. On the Mobile App, a "Live TV Channel Guide" will be added to more easily find and then instantly launch live channels. Finally, the categories within Live TV will be updated and personalized to make yet another often confusing part of program selection easier.
Adding to audio flexibility, Bluetooth Private Listening will become available on Roku Ultra and the Roku Streambar and Streambar Pro. This allows direct pairing of Bluetooth headphones or ear buds, which is something that had been only available with the Roku Mobile App or via wired connection to Roku's premium remotes.
The various software and discovery features described will be released over the next few months, both as individual updates and as part of OS 11.5. As with all Roku products, the updates are downloaded and installed automatically as the devices perform a check in once each day.
For those who still think that Roku is just a company that makes streaming dongles, this combination reveal, encompassing both new hardware and software, should finally set you in the right direction. Devices are still an important but lower volume part of Roku's business. The Roku Channel, licensing to TV brands, ad sales, and content delivery now form the largest part of Roku. However, as a company that has seen the streaming device and content world grow almost from its beginning 20 years ago, they know that you need to cover all the bases to grow.