Russound V-KP-1 Amplified Keypad Product Review
There seems to be a wave crashing over the custom installation industry over the past six months. Thousands of homes out there have old school volume knobs with in-ceiling speakers and no upgrade path leveraging all this ancient clutter. Homeowners now have options thanks to companies like Snap One and Russound. This new upgrade category promises to take these clunky volume controls and replace them with shiny new keypads featuring Amazon Alexa, AirPlay, and other streaming services built right in, while leveraging existing wiring in the walls. Is this all too good to be true? I set off to find out by installing Russound's V-KP-1 Amplified Keypad with Amazon Alexa Built In.
Unboxing Russound's V-KP-1
Russound sent me two boxes. First out of the gate was the V-KP-1 keypad followed by the V-PS-2 power supply. Both are packaged with the custom installer in mind: no frills, no Jony Ive industrial design or chamfers. Just a box, a Quick Start Guide and, in the case of the power supply, a power cord.
I unpacked each box and laid everything out. I like that the keypad ships with a color change kit (black or white). The front of the unit itself is fairly intuitive with buttons down the front, including microphone mute, volume up, volume down, and the "Amazon Alexa Action Button," which I'm guessing is required by Amazon for their "Alexa Built-In" badge.
Related: Russound Launches a New App, IPK-1 Single Gang Keypad, and VoicePlay In-Wall Amp
The physical connections are fairly straightforward. Ideally you should be able to disconnect a Phoenix connector from an existing volume knob and plug it right into the V-KP-1. I was able to do just that with no issues. The power connection back to the head end, where the V-PS-2 power supply sits, is flexible as well, accepting either 2-conductor stranded speaker wire or unshielded twisted pair (UTP) like Cat-5e with four conductors, each twisted together to form the positive and negative connections.
Russound V-KP-1 Installation
I used the UTP connection method since it looked like the biggest pain in the rear end and still found the experience very straightforward. One common field pitfall is that Cat-5e doesn't really do well when stripping individual conductors, and it's easy to snip off versus. strip. That said, if that's your only option, it's still easier than fishing a new wire.
I got everything connected very quickly and powered up the V-PS-2 power supply. Since I already had speakers connected, I immediately started hearing satisfactory audible tones indicating the keypad was booting up properly.
I followed along in the instruction guide, which prompted me to download the Russound VoicePlay app. I launched the app and immediately saw a message informing me that it couldn't find the keypad. The troubleshooting instructions suggested I power cycle the keypad, relaunch the app, and try again. I did that to no avail.
I intuited that in order for this to work, I needed some kind of connectivity to the keypad, be it Wi-Fi or Bluetooth. I went into my Wi-Fi settings and saw an Apple menu prompting me to finish configuring the AirPlay speaker it just found. I clicked the button, even though that wasn't in the instructions, and it did the trick.
I heard an audible announcement over the speakers informing me that we were connected and that the keypad needed a firmware update. I nervously clicked the "Update" button, and it finished up successfully 30 seconds later. So far so good! Five points to Gryffyndor for a great setup result and a 50-point deduction for lousy printed instructions, lame app wizard, and murky guidance all around.
Russound showcases the Amazon Alexa integration with the V-KP-1 and the printed instructions told me I would be led through the process of naming the keypad and adding my voice assistant during the initial configuration. None of those things happened but it all worked out eventually because I figured out how to get into the setup menu on the app and add the keypad manually.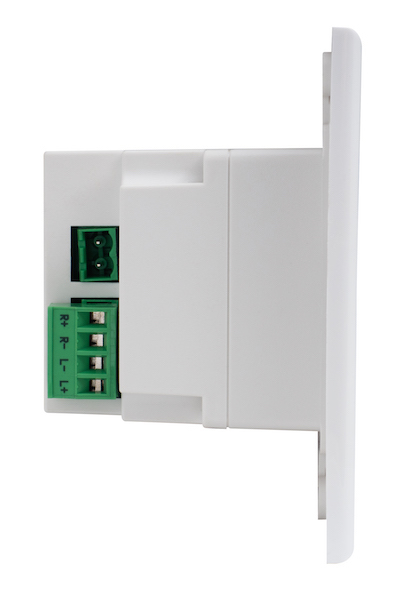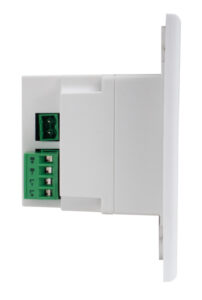 Once I had all the connections made, app launched, keypad updated, and Amazon account paired, I was ready to hurl my first verbal missile at it. "Alexa," I said. "Play Radio Paradise on TuneIn." Tori Amos immediately began blaring through the speakers. I tried a few other commands and was really impressed with no flakiness, no hiccups, and a solid overall performance.
In addition to supporting Amazon Alexa commands, the V-KP-1 also supports Spotify Connect and a variety of native streaming services, including Pandora, SiriusXM, TuneIn, Deezer, and Amazon Music. I played around a little bit with this functionality but since the only benefit to using these came with using the Russound VoicePlay app, I found myself gravitating toward the other key feature: Bluetooth and AirPlay.
I opened up TIDAL on my iPhone and started playing "Act of Love" by Simple Minds. I pulled up the AirPlay menu and selected the "V-KP-1" option and once again, the keypad did really well, playing the music flawlessly from my phone. I even interrupted the AirPlay session by asking Alexa to play some more music, with no issues whatsoever. The overall sound quality was impressive as well. The V-PS-2 power supply is 60 watts all in, which could be diluted down across two rooms of speakers and an impedance down to 4 ohms.
Final Report
The V-KP-1 is an amazing Swiss Army Knife product which does an amazing job of giving homeowners an upgrade path for their ugly old volume controls. The keypads are stable and do exactly what they're supposed to once they're set up. The "getting there" part of the set-up, however, leaves a lot to be desired. The V-KP-1 may very well feature one of the worst sets of instructions that I've ever come across. Lord help a junior technician or hapless DIY homeowner trying to get one of these going. That said, if someone who understands the basics of audio and networking tries their hand at the set up, it won't take them long. Maybe Russound will read this and decide to reboot their instructions on a product that deserves documentation worthy of its ultimate performance.
Editor's Note: Russound's VP of Products, Colin Clark, offered this comment addressing their documentation: "We are always updating manuals and other support materials, and will introduce a short series of brief instructional videos very soon."