Russound hasn't let a boom in the audio installation business get in the way of its product development efforts. The New Hampshire-based manufacturer followed up on the mid-May 2021 release of its value-priced MIXAMP-60 70V/100V mixer amp featuring Bluetooth, tuner, and USB Audio, with a complete overhaul of its Russound app, with a complete ground-up update to natively support iOS and Android devices; its elegantly designed IPK-1 single gang keypad; and its VoicePlay System, which is an in-wall multi-room solution with streaming audio and voice control with Amazon Alexa built-in.
The New Russound App
The all-new Russound app, which is currently available through Google Play and Apple's App Store, is the manifestation of the company's commitment to continually improving its software as a response to customer feedback.
"The Russound app builds on the previous version's focus on simple and intuitive operation of our products," said Charlie Porritt, CEO, Russound. "From top to bottom, the collection of new features is designed to make control of any size zone or system an entirely seamless operation."
In creating the new app, the company's engineering team relied on customer input to guide the process. The result is a collection of new features that simplify operation while improving overall reliability and system responsiveness.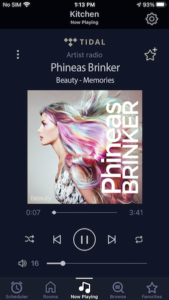 An always-available navigation bar allows users to manage playback with familiar commands and easy-to-understand prompts. Also, Russound's updated approach to room grouping only requires the user to tap a speaker icon to share that room's music with other zones. Then, tap the desired room to instantly add music.
In addition, there is easy access support for both room- and app-based favorites. Saving selections as room favorites will make them accessible throughout the house, while saving them as app favorites keep them personal, yet playable in any room outfitted with a Russound system.
Finally, Russound leaves the choice between full portrait and landscape mode up to the customer. No matter the preference, the Russound app presents selected features and options in either mode, and tailored to the respective device, whether it is a phone or tablet.
The new Russound app is currently compatible with eight models: MCA-66, MCA-88, MBX-PRE, MBX-AMP, MCA-88X, XSource, XZone4, and XZone70V. Four legacy models – MCA-C3, MCA-C5, DMS-3.1, and XStream X5 – remain compatible with the company's MyRussound app, which will continue to be active until legacy products are later added to the new Russound app.
Russound's IPK-1 Single-Gang Keypad
The already-shipping IPK-1 single-gang keypad (MAP: $199) was designed to provide maximum convenience and usability. The always-available keypad provides easy access and convenient control to any room or zone of a Russound IP-based audio system.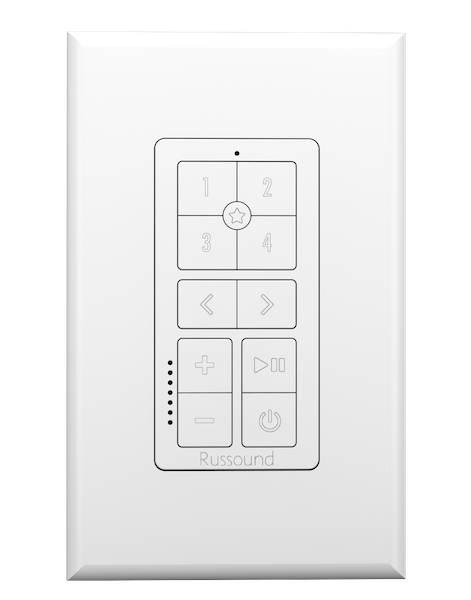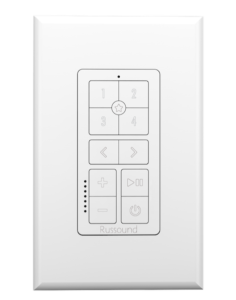 "Our dealers often tell us that their customers prefer having easy access to control their home systems," Porritt explained. "It's a simpler solution than always having to reach for a smartphone to navigate to the Russound app. Think of it as the shortest distance between two points in controlling a Russound system."
The POE (Powered over Ethernet) IPK-1 single gang keypad, which is a seamless match for Russound products, including the MBX-Series Wi-Fi Streamers and any zone of an MCA-Series Controller Amplifier, requires no programming on the part of the installer. Simply connect a single Ethernet cable and associate the IPK-1 with the room or zone it will control via Russound's WebConfig configuration tool on Russound audio devices. Two-way feedback provides status and volume levels that are displayed on the keypad's LEDs.
The IPK-1 single gang keypad is packaged with black and white Decora Inserts. A Decora wall-plate is not included and must be purchased separately.
The VoicePlay System
Russound's new VoicePlay System is an in-wall multi-room solution with streaming audio and voice control with Amazon Alexa built-in. Eliminating the need for a traditional bulky tabletop product, VoicePlay is designed to improve homeowners' in-home audio systems as a primary audio source in new and existing audio systems.
Powered across any existing wiring, including Cat-5 or speaker wire, the system can send audio to up to 32 rooms in a home. It can provide simple access to the most popular streaming services and to content on any phone or tablet for whole-house audio.
Using Wi-Fi, VoicePlay gives its users access to the built-in Alexa platform, Spotify Connect, Apple AirPlay 2, Amazon Music, Spotify, TIDAL, TuneIn, iHeartRadio, Napster, and Qobuz. Featuring a Bluetooth 5.0 connection with 15W per channel and available synchronization of up to 10 rooms, an entire household can sync together.
Once connected, the keypad, which is available in black and white Decora color options, can be powered across any existing wiring and mounted with just two screws. When the homeowner mutes the voice control, the microphones are completely powered down providing complete privacy. The user can then control the system directly from the keypad, which allows easy-touch volume up, volume down, mic on/off, and action buttons, just as any Alexa system would. This simplicity and versality are unique in the marketplace.
The VoicePlay system is made up of two components, the V-KP-1 keypad and the V-PS-2 audio power supply (sold separately). The VoicePlay V-KP-1 is available now through Russound's network of distributors and dealers at an introductory suggested retail price of $399 per unit. The V-PS-2 Power Supply is an additional $99 and supports up to two VoicePlay Keypads.