Samsung's Frame TV is a clear winner. Until it came along in 2017, the custom installation industry trafficked in myriad solutions for hiding TVs. There were roll down screens, movable pieces of art, lifts and screensaver slideshows all trying to pass as display camouflage.
Then came the day when we all saw the Frame TV for the first time. It really looks like a piece of art while not in use. It does such a good job aesthetically that attaching a soundbar beneath it or putting in wall speakers on either side kills the elegance of the artwork. While the Frame TV nailed the aesthetic and visual elements, no one ever addressed the sound question. Reliance on tinny internal speakers wasn't even adequate; it was mediocre at best. While this certainly says a lot about the priorities of design-minded consumers, it didn't help out those members of the household who might want a little extra cheese on their proverbial Whopper.
Thankfully Leon decided to tackle this challenge head on. The company has a long history of beautifying "space junk" by creating decorative enclosures with unlimited customization preferences. They took this same approach with their new FrameBar. Tell Leon your Frame TV finish selection and voila!, they will send you a perfect width and color matched bar to mount below the TV. Our installation featured a decorative frame from Frame My TV and Leon picked a wooden finish they call "Modern Brown" to complement. How would it look and sound? We set off to find out.
Installation
After unboxing the FrameBar, we (including a few members of Team Livewire) set about deciding on placement and installation specifics. The actual work itself is no different than any soundbar installation and the whole project took about three hours to complete. Leon offers the FrameBar in passive and active models with center channel only and left/center/right (LCR) options. Our version is LR powered by Leon's OTO MCA 200 amplifier. This configuration allows for easy installation with minimal wiring.
Configuration & Final Report
After we had everything connected, the moment of truth was upon us. I cued up the Mission Impossible trailer and sat back. I was immediately blown away by the sound coming from the TV. The FrameBar comes with its own remote but is designed for easy integration with any control system. I kept cranking the volume and the sound just kept getting better & better. The amplifier switches in and out of standby mode automatically based on incoming signal and the sound quality continued to impress through a few other video and music selections.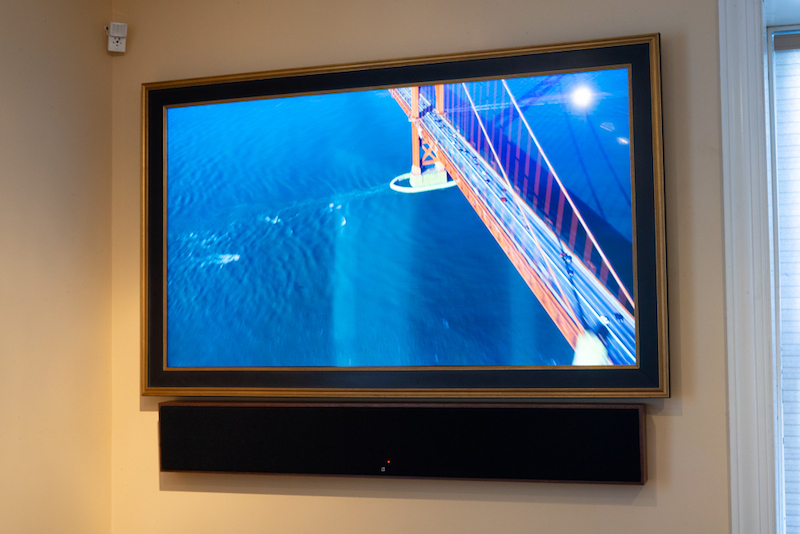 The FrameBar is another in a long line of products from Leon solving for design/performance pain points in the world of home technology. It's unique, it looks and sounds amazing, and while $4,000 might sound like a lot of money to spend on a sound bar, what's it worth to have a well-designed space that sounds as good as it looks? If you love amazing sound, the answer is "quite a bit." My hat's off to Noah Kaplan and the team at Leon. Notch another victory in the win column, and I can't wait to see what they tackle next.
Related: Leon Profile Edge Media Frame Designed to Improve Sound and Look of Video Displays