Since it was founded almost 15 years ago, Roku's business has taken many interesting turns. In those pre-smart TV days, its main focus was to design and market external set-top products that first made it possible to view Netflix and then add the growing universe of streaming services and channels.
Over time, Roku's mission expanded to selling ad time within streaming service content and then for their own highly successful Roku Channel. Roku's product range has expanded even further by adding speakers, subwoofers, and sound bars, and most recently a range of smart home devices to create a more rounded ecosystem.
Beyond the external streaming boxes, Roku has licensed their operating system and technology to TV set manufacturers and brands, giving rise to not just "smart TVs," but "Roku TVs". To date, those sets have carried the brand of the manufacturer, such as TCL, Hisense and others. However, as previously announced around CES, that is going to change. Just as Amazon has been selling Fire TV-brand sets, starting today, you are now able to buy Roku-branded sets sold under their own name.
The 11 new TV set models, available exclusively at Best Buy stores and BestBuy.com, are divided into two lines, "Roku Select Series TV" and "Roku Plus Series TV." Both obviously use the Roku OS, and the 4K models all include HDR and HDR-10+.
The Roku Select Series models are designed to be value oriented and will be available starting at an MSRP of $149 with an expected street price of $129 with HD models in 24", 32", and 40" screen sizes and 4K models in 43", 50", 55", 65", and 75" screen sizes. Among the features that you may have come to expect from Roku streamers or Roku TV models from other TV manufacturers are auto speech quality and Roku Voice Remotes.
Perhaps looking for parity with other Roku, Fire TV, and Android/Google TV products powered products, Roku is also moving a bit more up market with the Plus Series. With prices starting at $649 and expected street pricing under $500, these step-up models are all 4K with QLED-technology panels. Aimed at a more premium viewing experience, they also add Dolby Vision, automatic brightness, and local dimming.
With connectivity a key element of any smart TV, it is worth noting that the Plus Series models offer Wi-Fi 6 connectivity for faster streaming and navigation response. Audio is upgraded with Dolby Atmos and Bluetooth private listening to complement the 3.5mm headphone jack on the remote.
As one might expect, the sets are designed to expand to full wireless surround with the new Roku Wireless Soundbar, Speakers, and Subwoofer. To make navigation and control even easier, Plus Series models include the Roku Voice Remote Pro, which includes hands-free command, a lost remote finder function, personal and programmable shortcut buttons, and a rechargeable battery.
As is the case with all current Roku streamers and Roku TV sets from other brands, Roku's own sets will ship with OS Version 11.5, released six months ago. That will soon change, however, as Roku also has announced Roku OS 12, slated to start rolling out to Roku players and TVs in the next few weeks.
Along with the onboard OS that drives the system, Roku is also rolling out an updated version of their Roku Mobile App. In parallel, OS 12 will continue to be updated with new supported channel partners as the roll out progresses.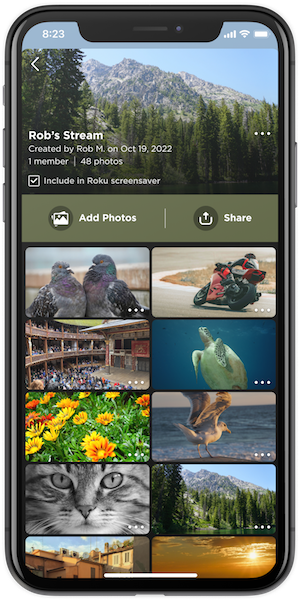 Given the current direction of streaming services and the content they deliver — including ad-supported, free "AVOD" and FAST-type services as well as paid subscription (SVOD) and pay-per-transaction business models — the latest Roku OS clearly looks to make content selection both easier and seamless, while capturing the ever widening range of content all under one OS roof.
With many broadcasters and networks reaching into the streaming world to maintain and expand viewership, it is not surprising that "Live TV" is a major category bucket aggregating more than 350 free, linear channels across a wide range of genres. A particular focus is Local News. There, the choices may be personalized by location with AI powering the recommendations. "Local News" is also being added as a search term using either the search box or voice commands. Similarly, Roku's Sports Experience will serve as the home to sports programming with content recommendations also personalized by location, favorite sport, team, or league.
As noted above, the world of streaming is constantly changing, and the ability to see and subscribe to a premium service through an OS rather than by searching it out is an important part of the business model in the smart TV world. Toward that end, Live TV Channel Guide is a new addition to Roku's "Premium Subscription." This will allow users to more easily find and subscribe to new premium services.
One other additional feature is "Continue Watching," which gives users a single location that captures frequently used channels. As the name implies, this takes you back to favorites. The list of supported channels now includes Prime Video and discovery+, with BET+, Freevee, Frndly TV, and STARZ soon to join the list of previously announced channels, including HBO Max, Netflix, Paramount+ and, of course, The Roku Channel.
In a mobile-centric world, one does not live by a big screen alone. To accommodate that, the updated Roku Mobile App will refresh a number of key elements as it rolls out over the next few months. These include a streamlined home screen with a simpler interface including a new menu button will instantly launch Live TV "Guide and dedicated Continue Watching and Sports rows for content discovery. There will be a new and improved sign-in and sign-up process, the ability to establish security, privacy and notifications preferences and additional device management control.
Rounding things out, the app update will facilitate faster and easier image uploads to the previously announced Roku Photo Streams, set streams as screen savers, and simplify tasks such as stream sharing, thumbnails choice for streams, and image addition and selection. Even better, up to 1,000 images may be uploaded per stream.
Having helped birth the smart TV concept, and with its OS already a major force with TVs that have licensed and used it for a few years, it will be interesting to track the future path of smart TV sets. Roku will continue to license its OS to other brands, as will Fire TV. Xperi, the company that owns TiVo, is also starting to license its OS, although there the TV brand's name will be in the forefront with "Powered by TiVo" in the background. Flipping things, both Samsung and LG have said that they will be licensing their own Tizen and WebOS systems, respectively, to third-party brands and manufacturers.
The introduction of Roku TV sets is yet another step in the progression of the number of options we all will have for smart TVs. It is going to be interesting to watch. Literally.