Roku Home Monitoring System SE is a starter kit with two entry sensors, a motion sensor, a hub with a built-in siren, and wireless keypad
Ask many people, "What does Roku do?" and the answer is likely to be something along the line of, "They make those devices that you connect to a TV to get streaming services, and their system also powers connected smart TV sets."
To be certain, that is where Roku started, but as we've seen particularly in the last few years, Roku is much more than that. Yes, Roku still makes hardware devices and is expanding those lines, but in recent quarters, Roku's take from ad sales and related business has been well over 80% of their revenue. Quite a change over the last 15 years!
Related: Roku Announces TV Line and Updated OS
However, keeping consumers in their hardware ecosystem means that Roku needs to innovate on that side of the fence, as well. Think of it: Amazon and Alphabet (Google's parent) not only offer a wide range of content services with both their own programs and access to the universe of streaming services, but they also have broadened their line of device options. Amazon has Ring and Blink camera and security devices along with TVs powered by Fire TV as well as their own branded sets. Under the Alphabet umbrella you have their Nest products, Google TV/Android external streamers, and sets from brands such as Sony and TV based on the Google and Android TV OS platforms. Those then are part of the funnel that leads you to YouTube and YouTube TV.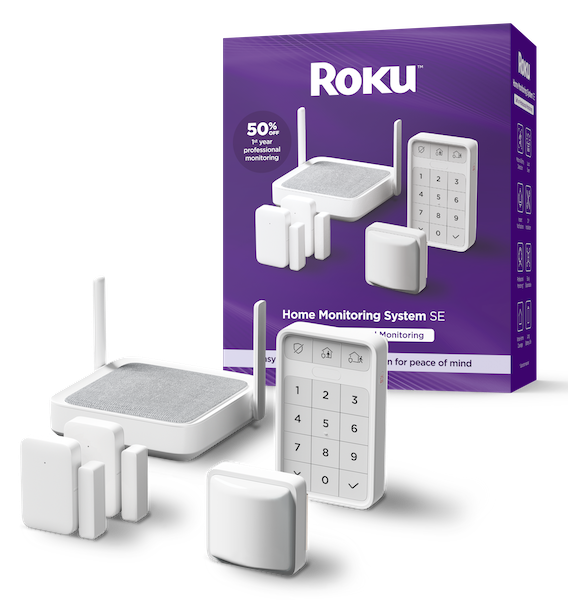 To keep up with the pack, along with third-party TV sets "Powered by Roku," in the last year Roku has introduced their own branded TV sets and home devices such as video doorbells, cameras, smart outlets, and bulbs. What had been missing from that palette of offerings were additional security sensors and professional monitoring services. Now, Roku has filled that void in their product line.
At the heart of this week's introductions is the new Roku Home Monitoring System SE. Developed with Wyze Labs, it is a value-priced, all-in-one, starter kit that includes two entry sensors, a motion sensor, a hub device with a built-in siren, and a wireless keypad with additional sensors and system components also available separately.
The key here is ease of use and installation integration as well as system integration with other Roku products. No tools are required for installation, and guided videos will take you through the physical part of the process. Similarly, the Roku Smart Home app allows for simple configuration as well arming or disarming the system; notifying users when a door is open, closed, or left open; or setting motion detection so that pet movement is ignored.
On the TV set side Roku external streaming devices or "Powered by" TV sets are obviously in the mix. New features added to the Roku TV OS for security integration include on-screen notifications for when the system is armed or a sensor is triggered. For systems with Roku's previously announced cameras and video doorbells, the viewer will be able to use the Roku Cameras app, which is automatically downloaded to the system to view live camera feeds as well as view previous recordings.
The Roku ecosystem also fits in with voice control with the Roku remote able to turn lights on or off, change their color and brightness, show camera feeds without any button clicks, and control Roku's smart plugs.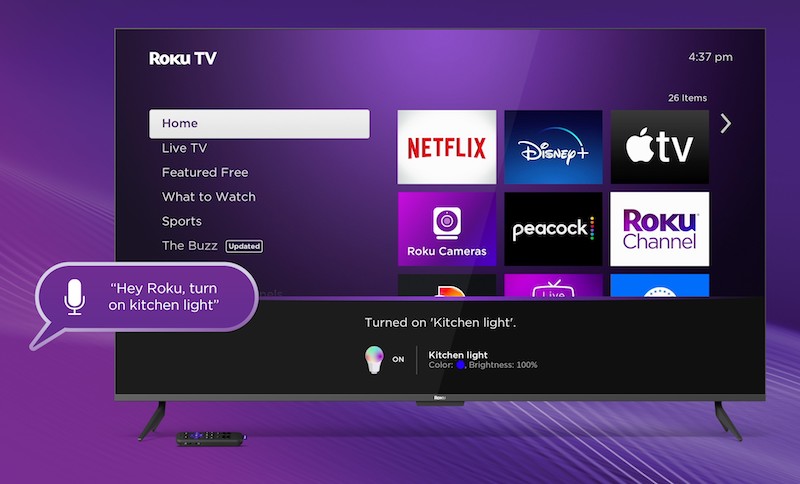 The hub and keypad control the system locally, and the phone app provides notifications as well as activating a siren or turning on a light when the motion sensor detects movement.
Professional monitoring is key to many home security systems, and that is one of the key new services that Roku is also making available. Powered by Noonlight, it provides 24/7 monitoring with immediate response from live, U.S.-based agents when an alarm is triggered or when assistance is requested through the keypad. The subscription is $9.99 per month or $99.99 subscription service with a 50% discount off the first year of the annual billing plan.
Rounding out the introductions are the new Roku Smart Light Strip+, which allows users to show up to 16 different colors at once, and a Roku Solar Panel that powers the wire-free Roku Outdoor Camera SE.
The full, five-piece, Roku Home Monitoring System SE is priced at $99. Additional entry sensors are $34.99 for a 3-pack, while additional motion sensors are $14.99 each and keypads are $24.99. The Roku Smart Light Strip+ is $34.99 for 16 feet and $49.99 for the 32-foot length. The system and added components and the Smart Light Strip+ are available online at Roku.com and at Walmart stores and Wallmart.com on May 15. The Solar Panel will be available in June.
The DIY home security market has become a very competitive one. However, given the unique integration with its huge presence in the smart TV and streaming device world this gives those already in the Roku ecosystem more home control and security capabilities a value price while using an interface that they are already familiar with.